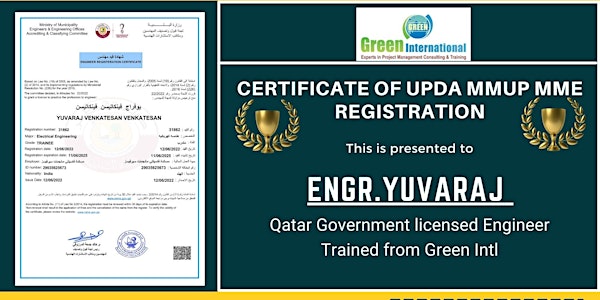 UPDA MMUP Civil Engineering Exam Qatar | Green Intl Qatar
Green International, Qatar is a Leader in UPDA Exam Preparation and Project Management Training provider in Qatar.
When and where
Location
Green Intl-MMUP UPDA Qatar Civil Mechanical Electrical Chemical Archit Engg Exam Syllabus Questions Training Center Ibn Seena Street Doha, Doha Qatar
About this event
Greetings from Green International, Qatar
Green International, Qatar is a Leader in UPDA Exam Preparation and Project Management Training provider in Qatar with Customized UPDA MMUP Civil, Mechanical, Electrical, Electronics, Architecture, and Chemical Engineering Exam Syllabus through rigorous coaching, High-Quality Exam Focused MMUP UPDA Study Material, and Mock tests with hands-on workout sessions from Previous Years UPDA Exam Question's since 2012 to 2021, based on Latest Exam Pattern and Weightage on Subjects
Green International's experts Simplified your UPDA Exam Preparation with a Right & smart Preparation Strategy and MMUP Qatar Exam Questions shared by the previous training participants. Thus, Joining the Green Intl Course today to begin a structured preparation to achieve success
This is the Smartest and best Way to Crack Your UPDA Exam on Your 1st Attempt in Qatar.
#Do not miss the early chance of achieving MME Engineer Registration / License
#Prepare Smart with Green International's UPDA Exam Courses
#Highly focused 10-15 Mockup Exams of MMUP UPDA Qatar Exam Questions
MMUP UPDA Study Material, and Exam Preparation Success Stories
Join our Qatar MMUP Exam Group on Facebook for continuous updates on UPDA Exam Preparation and schedule matters: https://www.facebook.com/groups/updammupexampm/
HOW GREEN INTL. SUPPORTING THE ENGINEERS IN QATAR TO CRACK UPDA EXAM ON 1ST ATTEMPT?
High-Quality MMUP UPDA Study Material Since 2016
Green International is the only training Institute consistently providing UPDA MMUP Exam Training on a Monthly Bais since 2016.
Rigorous Coaching by Expert Trainers along with exam-focused MMUP UPDA Study Material.
UPDA Shortcut
Green International has simplified your UPDA Exam Preparation burden with 500+ real data of repeated latest exam questions collected from our past 25,000+ training Participants.
Unlimited Live Mock test practices using exam simulation software.
98% Success Rate by UPDA Achievers
Green Intl is proud to verbalize that more than 98% of training participants have achieved their UPDA License from our Training Institute.
Green Intl. has resumed its classroom training with the Hightech facility to facilitate Hybrid Learning.
Green Intl's Value Added Services | To all Participants without Additional Charge
UPDA Documents Submission.
Police Clearance Certificate.
MME Request Letter for Qatar PCC.
Experience and Grades.
Grievance Submission.
NAS/Hukoomi Account.
MOE Equivalency
High-Tech Training Modes
High-Tech Classroom training with Live sharing on each computer screen.
Live Interactive Virtual Training option based on participants' convenience
Each Session Recorded Video sharing in their respective WhatsApp groups.
Continuous discussions doubt clarifications and sharing of the latest questions by training participants in the WhatsApp group
Continuous support until achieving MME License.
We are happy to update the Training Schedule for Aug-Sep' 2022
PMP
05/09/2022, Sat-Mon-Wed, 7.00 pm-10.00 pm for 45 Hrs
CFM – Certified Facility Manager
26/08/2022, Fri, 2.00 pm-7.00 pm & Sat, 7.00 pm-10.00 pm for 36 Hrs
UPDA Civil
23/08/2022, Sun-Tue-Thu, 7.00 pm-10.00 pm for 30 Hrs
UPDA Electrical, Electronics, Instrumentation, Communication Engg.
23/08/2022, Sun-Tue-Thu, 7.00 pm-10.00 pm for 30 Hrs
UPDA Mechanical
23/08/2022, Sun-Tue-Thu, 7.00 pm-10.00 pm for 30 Hrs
UPDA – Chemical, Petro-Chemical
24/08/2022, Sat-Mon-Wed, 7.00 pm-10.00 pm for 24 Hrs
UPDA Architecture
24/08/2022, Sat-Mon-Wed, 7.00 pm-10.00 pm for 21 Hrs
Qatar Civil Defence (QCDD) Exam Preparation- Mechanical
05/09/2022, Sat-Mon-Wed, 7.00 pm-10.00 pm for 15 Hrs
Qatar Civil Defence (QCDD) Exam Preparation- Electrical
06/09/2022, Sun-Tue-Thu, 7.00 pm-10.00 pm for 15 Hrs
Qatar Civil Defence (QCDD) Exam Preparation- Architecture
05/09/2022, Sun-Tue-Thu, 7.00 pm-10.00 pm for 15 Hrs
LEED Green Associate (LEED GA)
22/08/2022, Sat-Mon-Wed, 7.00 pm-10.00 pm for 15 Hrs
Revit Architecture
06/09/2022, Sun-Tue-Thu, 7.00 pm-10.00 pm for 30 Hrs
Revit MEP
07/09/2022, Sat-Mon-Wed, 7.00 pm-10.00 pm for 30 Hrs
CCP
13/09/2022, Sat-Mon-Wed, 7.00 pm-10.00 pm for 35 Hrs
Primavera (P6)
05/09/2022, Sun-Tue-Thu, 7.00 pm-10.00 pm for 24 Hrs
Contact our Expert Consultants:
UPDA & Management Training Programs Team
Mob/WhatsApp: +974 3340 3359/ 6646 4941 / 3110 0686 / 5501 6247
Health & Safety, CFM, ISO Training Programs Team
Mob/WhatsApp: +974 3084 4322 / 7764 7600 / 3098 8433 / 7764 7699 / 3111 4862
Email: info@greenintl.net
training@greenintl.net