How can I use my data science skills to create a social impact? What sort of skills do I need to have?
About this event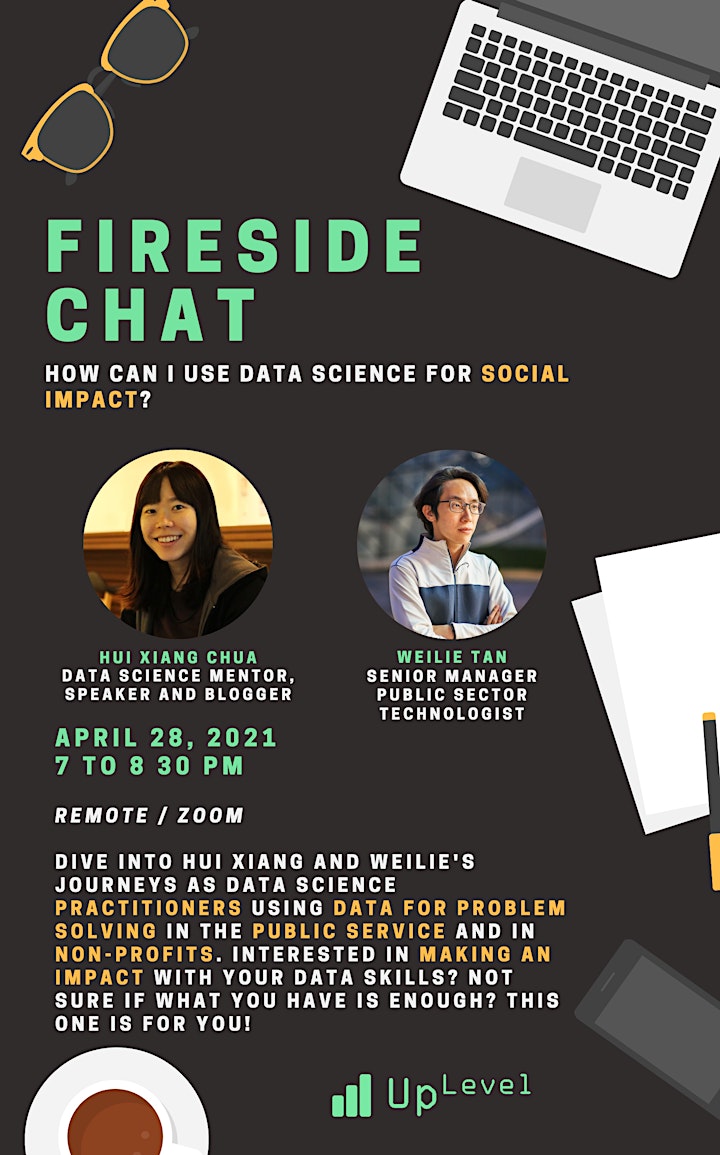 Are you
interested in making an impact with your data skills?
wondering what it takes to contribute to the public service or a non-profit?
already working for social good and hoping to incorporate data into your practices?
Join UpLevel with Hui Xiang Chua and Weilie Tan in our fourth Fireside Chat of the series to learn more!
About the Panelists
Hui Xiang Chua is a Data Science for Social Good fellow and was an instructor with General Assembly prior to joining Essence as a Senior Analytics Manager. She has over six years of experience solving problems using data in the public service. Combining her passion for education, data, and tech, she was a recipient of the KDD Impact Program award for bringing data science into a high school curriculum. She is also the #VizforSocialGood local chapter leader for Singapore and runs a data science blog called Data Double Confirm that was recognized as 2018/2019 Top 100 Data Science Resources on MastersInDataScience.com. She holds a B.Sc.(Hons) in Statistics and M.Sc. in Business Analytics from National University of Singapore.
Check out Data Double Confirm here!
Weilie Tan is a keen observer of the social world and an avid technologist. Trained as a sociologist, he started on an unexpected journey into the world of ML and full stack development after a project experimenting with food rationing using digital means. Since 2014, his professional roles as an R&D/technology funder, and then as UX researcher and data analyst, allowed him to see how technology could be used powerfully for social good. When he is free, he sketches, plays keyboard (both musical and computational), goes on food hunts, and builds things. He will share why he is most recently obsessed about, and experimenting wildly with, the idea of using NLP to enable more effective retrieval of social sector assistance information.
Check out Rice Media's coverage of Weilie here!