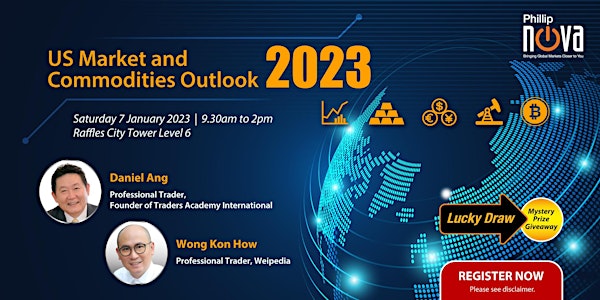 US Market and Commodities Outlook 2023
Hear from professional traders, Wong Kon How and Daniel Ang as they discuss the outlook of the US Markets and Commodities
When and where
Location
PhillipCapital 250 North Bridge Road 06-00 Singapore, 179101 Singapore
About this event
Amid of backdrop of uncertainty caused by rising interest rates, inflation and geopolitical tensions in 2022, find out where the potential opportunities are in US indices, currencies and commodities in this 2023 market outlook physical seminar featuring well known professional traders, Daniel Ang and Wong Kon How.
Do not miss this opportunity to position your trades to take advantage of upcoming trends in 2023. Register for this seminar now!
Event Agenda
9.30am - 10.00am - Registration
10.00am - 10.10am - Introduction to Phillip Nova
10.10am - 10.15am - Opening speech by Teyu Che Chern, CEO, Phillip Nova
10.15am - 10.20am - Introduction to CME Group
10.20am - 11.30am - Market outlook 2023 (US Equity and Currency) by professional trader, Daniel Ang
Outline
- Inflation vs Recession Theme
- Impact of the Fed's rate tightening
- Impact on US Equity Markets
- Impact on the USD and other major currencies
11.30am - 11.45am - Break
11.45am to 12.55pm - Commodities Outlook 2023 (Crude Oil, Gold and Cryptocurrency) by professional trader, Wong Kon How
Outline
- Key causes for inflation
- Definition of commodities as a hedge against inflation
- Crude Oil, Gold and Cryptocurrencies - which will react positively to inflation?
- Strategies to trade Commodities
12.55pm to 01.00pm - Mystery gift draw
01.00pm to 02.00pm - Lunch and networking
About the Speakers
Teyu Che Chern, CEO, Phillip Nova
Mr Teyu Che Chern is the Chief Executive Officer (CEO) of Phillip Nova. He oversees the operations of Phillip Nova Singapore and is actively involved in the business and management of other group companies' derivatives entities in the region. Che Chern joined Phillip Nova in 2002 to develop the business in derivatives and he took over as CEO in 2006. He is well-known by partners and exchanges in the industry, and holds positions in several committees including Singapore Exchange (SGX) Disciplinary, SGX-DT Advisory, SGX Rubber committee, ICE Singapore risk committee, FIA Asia Advisory Panel and Bursa Malaysia Derivatives Market Consultative Panel.
Daniel Ang, Professional Trader
Daniel begun his career as a commodity broker in 1985. He progressed to trading equity index futures in late 1986 and subsequently made a successful trading call when he shorted the Hang Seng Index in October 1987 in what was later termed Black Monday. He went on to be a gold dealer in 1989 and was a FX trader with Standard Chartered in 1992 and held the position as vice president. He ended his career with FIMAT Asia, the brokerage arm of Société Générale S.A at the end of 2006. Thereafter, he became a full-time trader and still is today.
Daniel is also part of the CME Group educational tour covering Greater China in 2007. These days Daniel is regularly sought as a speaker/coach throughout Asia. He is currently contracted as an independent speaker for the CME Group for the Asia-Pacific region and is a vendor to EUREX in the same capacity.
Wong Kon How, Professional Trader, Weipedia
Wong Kon How has more than 25 years of trading experience in the finance industry. He is an investment strategist, has experience managing his own fund and he founded Weipedia Private Limited. Both the Chicago Mercantile Exchange Group and Singapore Exchange regularly engage him to develop training content and to speak at events.
Kon How specialises in the market psychology as an investment strategist. He is also an expert is risk management. Kon How is often invited to share his views on the market and provide trading insights with the industry practitioners, fund managers, propriety traders, dealers and retail investors.