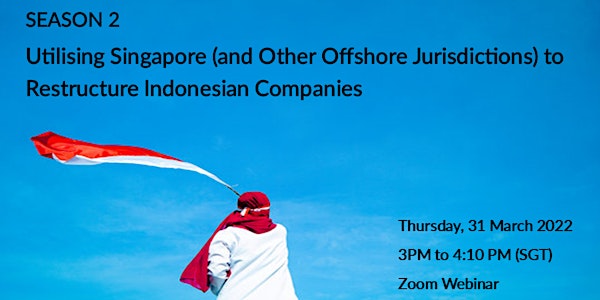 Use SG(& Other Offshore Jurisdictions) to Restructure Indonesian Companies
This is a second webinar by ABLI on the use of Singapore (and other foreign regimes) for the restructuring of Indonesian companies.
Refund Policy
Contact the organiser to request a refund.
Eventbrite's fee is nonrefundable.
About this event
This webinar takes place from 3pm to 4:10pm (Singapore time) on Thursday, 31 March 2022.
Members of the Singapore Academy of Law (SAL) who want to take advantage of their SAL credit dollars can sign up at SAL's e-commerce platform at https://store.lawnet.com/season-2-utilising-singapore-and-other-offshore-jurisdictions-to-restructure-indonesian-companies.html. Do note that SAL's system is unable to cater to promo codes specifically provided to you by ABLI.
Overview
Following a highly successful session in 2021, the Asian Business Law Institute is organising a second webinar on the use of Singapore (and other foreign regimes) for the restructuring of Indonesian companies. In our earlier session, we discussed Singapore's Insolvency, Restructuring and Dissolution Act and the Indonesian bankruptcy regime and examined why Indonesian companies are looking to restructure their debts in Singapore.
This 2022 instalment continues that discussion (with some new speakers) and will look to cover the following:
Trends of in-bound restructuring applications received in Singapore
The extent to which foreign law is a consideration to restructurings in Singapore, including the impact of the UK Gibbs rule on the decision of an Indonesian company to restructure in Singapore
Recognition of foreign restructuring proceedings by Indonesian courts
Proposed changes to Indonesia's bankruptcy legislation and PKPU proceedings
In addition, attendees may be invited to participate in a hypothetical case study that may be discussed during the webinar.
When is this webinar scheduled?
This webinar will take place from 3pm to 4:10pm (Singapore time) on Thursday, 31 March 2022.
Please be mindful of the time difference if you are joining from outside of Singapore.
Who will be speaking at this webinar (in alphabetical order)?
Tahirah Ara (Singapore)
Managing Partner, Singapore and Head of Asia, Mishcon de Reya LLP
Tahirah is the Managing Partner of the Singapore office of Mishcon de Reya and the Head of its Asian practice. She acts as lead counsel for clients in cross-border M&A transactions, joint ventures and financing transactions, including acquisition financings, receivables-backed financings, high yield syndicated loans and debt restructurings. She has been lead counsel to borrowers in some of the largest debt restructurings in Southeast Asia, including for PT Bumi Resources Tbk., one of the largest coal exporters in the world in its successful US$4.5 billion debt restructuring.
Tahirah is qualified in both the UK and Singapore and her practice has a particular focus on Indonesia. Tahirah has been recognised for expertise in restructuring matters and commended for being "commercially minded in her approach" and for her "extensive experience in the Indonesian market" by The Legal 500. She has been identified by the Global Restructuring Review as one of the "Names to know in Indonesia" and one of the most prominent women in its report on "Women in Restructuring 2019". Tahirah is a Co-Chair of the Indonesia network of IWIRC (International Women's Insolvency and Restructuring Confederation). She is also a member of the INSOL Younger Members Committee.
Emmanuel Chua (Singapore)
Local Principal, Baker & McKenzie Wong & Leow
Emmanuel Chua is a senior dispute resolution lawyer with expertise acting for multinational clients in complex, cross-border disputes and situations across Asia. He has recently been recognised by Asian Legal Business as one of Asia's Super 50 Disputes Lawyers.
Emmanuel is frequently instructed on contentious restructuring and insolvency matters, with a focus on cross-border situations in Asia. Some of the high-profile matters in which he has recently been involved include the restructurings of the Pan Brothers group, PT Modernland, PT Royal Industries and Triyards Marine Services, and in the liquidations of the Pertamina Energy Trading Limited and Hyflux. Emmanuel also coordinates and manages international arbitration and litigation processes across Asia, and regularly appears as lead counsel in these proceedings.
Emmanuel previously co-led the disputes function in a US oil & gas supermajor where he managed situations across its international business. He is presently and concurrently a facilitator for the Insolvency module of the Part B course leading to Singapore Bar qualification.
Narada Kumara (Jakarta, Indonesia)
Partner and Practice Group Head of Restructuring and Insolvency, Budidjaja International Lawyers
Narada has extensive experience in representing multinational corporations and local companies in court-assisted debt restructuring processes, popularly known as the suspension of payment (PKPU), and insolvency/bankruptcy litigation before the Indonesian Commercial Court, as well as the out-of-court debt and company restructuring.
Narada has also represented clients in complex litigation proceedings and a vast array of projects and deals, with clients from various business sectors, among others, private equity, banking and finance, IT and telecommunication, mining, waste management, and renewable energy.
Recently, Narada has been acknowledged as a Rising Star Lawyer in Restructuring & Insolvency and Dispute Resolution & Litigation by the Asialaw Leading Lawyers 2018 and Asialaw Profiles 2019, and Indonesia's Rising Star by Asian Legal Business 2021.
Narada graduated cum laude from University of Padjadjaran, majoring in Business Law with a Bachelor of Laws degree in 2013.
Narada is also Executive Director of Asosiasi Praktisi Restrukturisasi dan Insolvensi Asia Pasifik (APRIA).
Is this webinar accredited for continuing professional development (CPD) points for Singapore-admitted lawyers?
This webinar has been accredited 1 public CPD point. Attendees who wish to claim CPD points are reminded to provide their AAS numbers or other number issued by the Singapore Institute of Legal Education (SILE) during registration. You are required to strictly follow the attendance policy of SILE before CPD points can be awarded. Please refer to www.sileCPDcentre.sg for more information.
I am qualified in a jurisdiction other than Singapore. Will attending this webinar entitle me to claim relevant CPD-equivalent points in my own jurisdiction?
The answer to this question depends on the rules of the relevant governing body in your jurisdiction. In the past, we have issued letters of attendance accompanied by actual Zoom log-in records to assist non-Singapore-qualified attendees to claim their professional learning points. Therefore, if a letter of attendance and a Zoom record are all you need, we will be able to help. Likewise, we have issued the same set of documents to professionals other than lawyers who may also have such continuing education requirements.
However, if the rules of your jurisdiction require an event to be accredited, we regret that this session will not entitle you to claim points outside of Singapore.
I am a member of the Singapore Academy of Law (SAL), and would like to use my SAL credit dollars to sign for the webinar. How do I do so?
SAL members who want to take advantage of their SAL credit dollars can sign up at SAL's e-commerce platform at https://store.lawnet.com/season-2-utilising-singapore-and-other-offshore-jurisdictions-to-restructure-indonesian-companies.html. Do note that if you sign up there, you will receive an invoice generated by SAL. SAL is a GST-registered organisation. ABLI does not charge GST and will absorb GST on its own for registrations via SAL. Please note SAL's system migration time stated above.
If you are from any of ABLI's Founding Partners and would like to enjoy the discount to which you are entitled, you will need to sign up on Eventbrite as SAL's system does not cater specifically to such arrangements.
This is the same case if you have received any special promo code directly from ABLI.
How do I register for this webinar?
To register for this webinar:
Step 1: Purchase a ticket here on Eventbrite, and make sure you enter the correct email address to receive the webinar registration link that will be sent to you separately;
Step 2: Once ABLI is notified of your ticket purchase, we will email you a separate link for you to sign up for the Zoom webinar in advance. This is mandatory as the webinar link sent to you is unique and manual approval of your webinar registration ensures that your attendance can be recorded at the back-end for CPD purposes.
Step 3: After your sign-up is approved by the organiser, simply follow the instructions indicated in the approval email to attend the webinar on 31 March 2022. Please be punctual as the system captures your log-in time, which is especially relevant if you are claiming for CPD points.
Please be mindful of the time difference if you are joining from outside of Singapore.
What if I am unable to attend this webinar after registration? Are the fees paid refundable?
Unfortunately, the payments made are not refundable. If you are unable to attend the webinar, we request that you let us know as soon as possible so that we can let you transfer your slot to your colleague.
I am interested in this webinar but unable to make it for the live session. If I register, will a recording be made available to me?
Yes, a recording of the webinar can be made available upon request via a private link, though it is important to bear in mind that viewing the recording will not entitle you to any public CPD points. In principle, we only provide recording upon request by a paid attendee.
Will the materials presented at the webinar be made available to attendees?
The materials can be made available to attendees if the speakers so consent as they are the copyright owners of their presentation materials. Those who wish to receive such materials are advised to write to catherine_shen@abli.asia after the webinar for more information.
Are the fees payable inclusive of GST?
No. ABLI is not GST-registered, and therefore does not charge GST.
I want to sign up for the webinar but my organization requires registration to be done by other means, such as by sending an invoice to a dedicated portal. How do I register in this case?
In principle, your registration for the webinar is only confirmed after payment is made online. However, if you need to pay against a manual invoice by bank transfer or other means, or if you are from a Singapore government agency that uses a central invoicing system, please write to catherine_shen@abli.asia so that ABLI can arrange an alternative way of registration for you, taking your needs into consideration.
Eventbrite sends me an order confirmation after registration, but I need a formal receipt so as to submit a webinar fee claim to my employer. How do I go about doing that?
Please write to catherine_shen@abli.asia. ABLI can issue an official receipt to you for expense claim purposes upon receiving your request.
Who can I contact if I have more questions?
Please write to catherine_shen@abli.asia for any other query you may have about this webinar.