Description
User Experience Design Foundations Course Overview
From industries such as consumer products to airlines, a great experience can retain loyal customers and make them your biggest advocates. However, the reverse is also true, poor experiences can quickly drive customers away. Building great user experiences is not a 'mysterious art'; by applying user-centered design principles, any organization can identify customer pain points and create delightful products and services for its users.
This UX Foundation course focuses on the principles needed to design good user experience in digital applications. It will cover the UX process and its integration into software development cycles as well as UX best practices. Students will also be given hands-on exposure to the UX life-cycle with an exercise to design, test and iteratively enhance a digital application.
Workshop Schedule : 3 Days - 23rd to 25th Mar 2020
User Experience Design Foundations Course Outline
Day 1
AM Session: Intro to User Experience Design
What is UXD and why is it important?
Why are organizations embracing it?
How does UXD fit into the software/product development cycle?
Exercise: Reflection on what makes a great UX for you?
PM Session: Understand What Customer Really Want
UX Design frameworks – user goals, user characteristics, environment of use & product workflow
UX Design approach – Understanding, Ideating, Prototyping, Testing & Iterating
UXD and Design Thinking – How are they related?
Exercise & Quiz
Day 2
AM Session: Basic Principles of UX Design
User-centered Best Practices
Principles for User Interface Design
Exercise: Evaluation of various digital services based on best practices
Quiz
PM Session: Rapid Prototyping & Wireframing
Mapping out user flows
Sitemap Design
Wireframe Design
Exercise: Participants will be asked to design a digital solution that will require them to apply UX fundamentals, map out user flows and design screen wireframes to solve the problem.
Day 3
AM Session: Usability Testing
Fundamentals of experiment design
Effective interviewing techniques
Presentation of designs Evaluation by class and Instructor
User Experience Design Foundations
Course Outcomes
On completion of the course, the students would be able to:
Understand why UX matters and how organizations are using it to create products
Understand frameworks and principles that make up a good user experience
Understand how to prototype, test and iteratively enhance a digital product
Who Should Attend
Creative professionals such as graphic, print or visual designers who are seeking to make the transition into digital UX design.

Technical professionals who want to understand how to make their digital products and services more user-friendly and to gain a better understanding of the UX design process.

Executives or start-up founders who need to understand the basics of UX design and understand its impact in creating differentiated digital products and services.
Course Fee: SGD 2500
Participants are eligible for course subsidies under the CITREP+ framework. Subsidies range from 70% to 100% depending on which tier you fall under.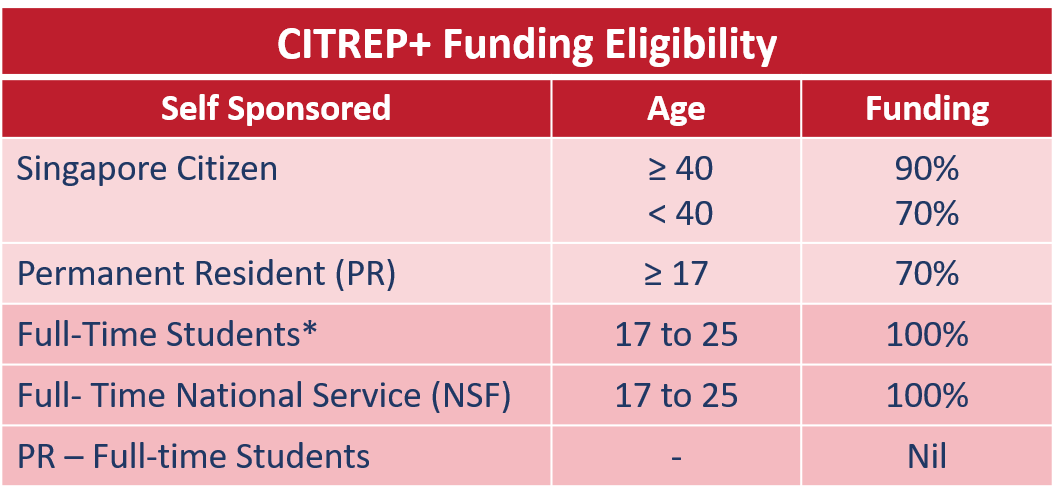 Organiser of User Experience and Design