Description
Ever wondered how some retail investors are able to beat the Market consistently?
Among those, there is a particular type of investors who are using 80% fundamental analysis and 20% technical analysis. This style of investing is also known as Value Momentum.
From studying a company's sustainable competitive advantage, looking at insider trades to identifying future growth drivers, Value Momentum encompasses all these techniques and more.
This workshop is aimed to help you increase your knowledge, your interest in this style of value investing and make you a better investor.
What you will learn from this workshop:
What exactly is Value Momentum as a method of value investing?

Why Value Momentum?

How to apply Value Momentum in your investing.

Examples of Value Momentum applied to real-life investing.
Ask questions and engage with Mr. Heartlandboy aka Alison, in an open discussion during the Q&A session.
If you're looking to learn and apply Value Momentum approach into your investing, then this workshop will help you be one step closer.
Who should attend this workshop?
This is a workshop that applies to investors of all levels - the only requirement is the desire to learn about the Value Momentum approach of investing.
Why should you attend?
To get a better understanding of the Value Momentum approach by learning from a veteran investor and blogger

Networking
Mark your calendars for 21st November, Tuesday. Registration starts at 6.30pm. Note that there will also be a 15 minute mini-presentation by CIMB Securities on their platform. Mingle and network with Alison, along with other fellow users after the workshop. Advisable to bring along your own pen and notebook.
No refreshments provided. Strictly limited seats only.
---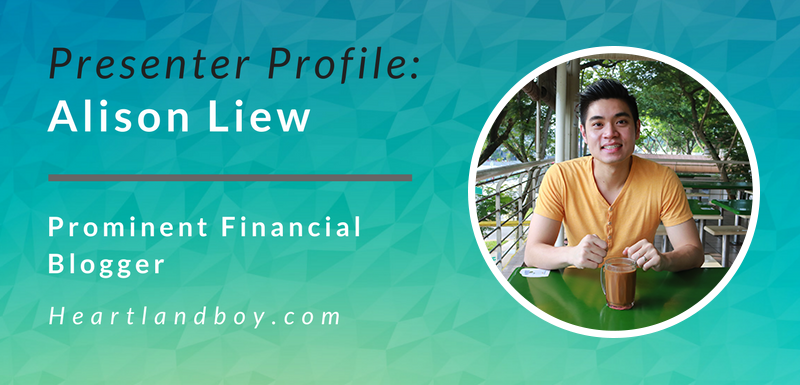 Alison Liew is the writer behind popular blog, Heartlandboy.com. It is a personal finance blog that focuses on topics that typically affect young adults. Through his articles, Alison wishes to improve financial literacy amongst his readers so that they are better equipped to handle the monetary challenges that encompass adulthood. Alison was inspired to start Heartlandboy.com to prove to his wife that his spendthrift days were truly behind him. As a young adult, he has the ambition of attaining financial freedom so that he has the option to retire before society retires him prematurely.
To achieve financial freedom, Alison invests in a portfolio of stocks and REITS listed on the Singapore stock exchange to build passive income. His investment philosophy is based on Adam Khoo's value momentum stock investment strategy. He has also spoken at public events such as Invest Fair. He is also an active veteran community member in InvestingNote, @heartlandboy.