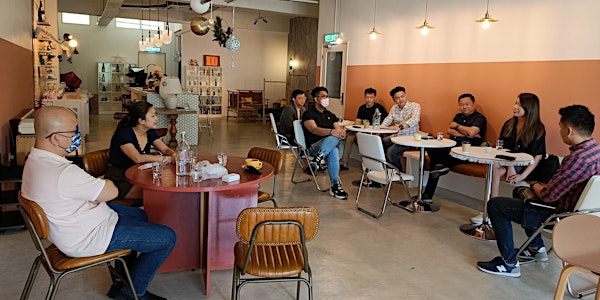 Venture Builder Group: Networking, Pitching & Coffee
Pitch your ideas, build relationship and make it happen!
When and where
Location
Craft Origin (1st floor CO2) 9 Lorong Rahim Kajai 13 TTDI Kuala Lumpur, WP 60000 Malaysia
About this event
Come out and meet like-minded entrepreneurs, techie, founders, professionals, investors and more! Pitch your ideas, build relationship and make it happen!
Event Format
There's no content or speaker at this event - just introduce yourself, have a cup of coffee and build your business network.
Each participant will have the opportunity to gives a 3 minutes presentation to talk about yourself, your business / projects :
Your name, title, and company.
What you do: products and services offered.
What you need: what you are looking for (e.g: team, intros, leads, customers, jobs, funding, services, etc).
Your offers: what can you offer to the attendees (ex: opportunities, skills, advice, referrals, discounts, free stuff, etc.)
Why people should invest in you / partner with you / buy your products / hire you / connect with you etc
+ Q&A from the audience, if any.
Thereafter, mingle, network, or may be lunch together :-).
Cost / Fee
The event is FREE. Please support the event venue by ordering at least one beverage / food.
What Can You Expect from the Event
Plenty of networking opportunities;
Creative, inspiring and passionate conversations;
Plus … a relaxed atmosphere with lots of coffee :-)
This event is for you if you are looking for opportunities, funding, mentors, co-founders, partners, investors, deal flow or just like to network and learn something new.
Keys to Successful Networking
Give with no expectations in return or Give, Give, Give then only Ask.
Network with one person at a time. Instead of spending small amounts of time with a lot of people, spend more time with a smaller number of carefully chosen people.
Consider developing an "elevator pitch"—a response you can give in any situation when someone asks you who you are or what you do.
Contribute to an effective conversation. Let him or her talk as much as possible. The more you learn about the person, the stronger the connection and, likely, the more he or she will like you.
Focus on the connection, not the sale. No one is going to buy what you're selling during the networking event. Your goal is to make a connection so that you can follow up with the person after the event.
About Us
Our background including entrepreneurs, executives, bankers, corporate lawyers, business coaches, IT and marketing experts, VCs and business angels .. Hope more can join us.
Entrepreneurs in Malaysia Meetup Group