Due to COVID-19, this mini bazaar held outside Buddha Tooth Relic Temple on Vesak Day is cancel.
About this event
Due to COVID-19, all events with 250 people or more will be suspended until June 30. Thus this event is cancel.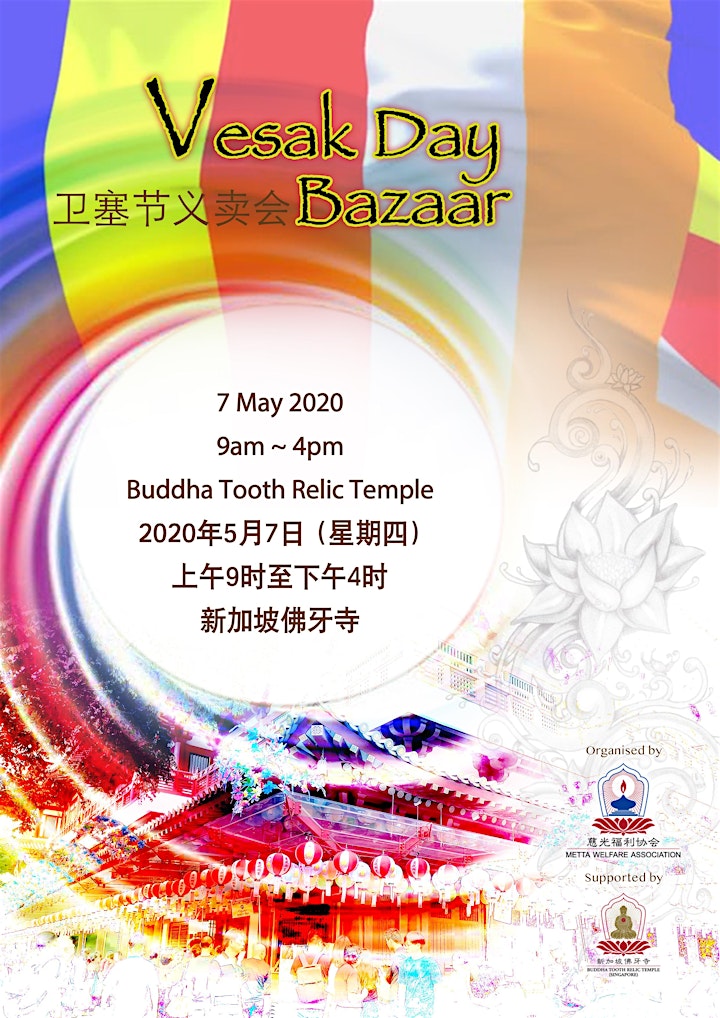 Organiser of Vesak Day Bazaar 2020
Metta Welfare Association
Metta was founded in 1992 by Venerable Shi Fa Zhao, Abbot of the Golden Pagoda Buddhist Temple. He is also the President and Abbot of the Buddha Tooth Relic Temple and Museum. Registered as a society in 1994, Metta is presently endorsed by the Ministry of Social and Family Development (MSF), Ministry of Health (MOH) and Ministry of Education (MOE). We are also members of the National Council of Social Service (NCSS), Singapore Hospice Council and Singapore Disability Sports Council. As Singapore is a multi-racial and religion country, we transcend racial and religious barriers to enhance our clients' quality of life.
Mission & Objectives
To provide accessible and affordable medical care to the less fortunate – home hospice care for the terminally ill and day rehabilitative services for elderly and stroke patients
To provide disability care, respite care, residential care and training for the intellectually disabled
To provide special education and training for children with mild intellectual disability and/or autism
To provide community care services for the elderly, students and children
To develop and provide such forms of medical care and welfare services as required by the community
Our Centres
Playing a pivotal role in realising our mission are nine welfare centres and a social enterprise that are located islandwide. Currently serving 1150 beneficiaries from various races and religions, these centres are segregated into the following areas:
Disability Care
Metta Day Activity Centre for the Intellectually Disabled (a day care centre for the intellectually disabled)
Metta Home for the Disabled (a residential home for the disabled)
Metta Home Day Activity Centre (a day care centre for the disabled)
Medical Care
Metta Day Rehabilitation Centre for the Elderly (a day rehabilitation centre for elderly and stroke patients)
Metta Hospice Care (home hospice care for the terminally ill)
Metta HomeCare
Children Care
Metta PreSchool @Punggol (preschool that offer early intervention programmes for children under two to six years old from various races and religions who are diagnosed with mild to moderate autism spectrum disorders (ASD) and/or intellectual disabilities.)
Special Education
Metta School (a special education school for children aged seven to 18 with mild intellectual disability and/or autism spectrum disorders)
Maitri School (a special education school for children aged seven to 18 with Mild Intellectually Disabled (MID) and moderate to severe Autism Spectrum Disorders (ASD). Building is slated to be ready by 2024.)
Alumni Care