Developing a sustainable and internationally competitive screen industry
About this Event
On April 28, 2021, the Motion Picture Association (MPA) and the Vietnam Film Development Association (VFDA) will host an in-person film workshop in Ho Chi Minh City. We hope to cover topics that will help to develop a sustainable and internationally competitive screen industry for Vietnam, such as building production capacity, incentivizing production, producing content that resonates both locally and for the rest of the world, the importance of strong copyright and how best to combat piracy. The panel sessions will address what actions by industry and government might help contribute towards a growing, secure, and sustainable screen industry ecosystem.
Register now to watch the event recording online on May 12, 2021.

Running time: 270 minutes
Opening Speech/Welcome Remarks
Dr. Ngo Phuong LAN – Chairperson, Vietnam Film Development Association (VFDA)
Belinda LUI – President & Managing Director, Asia Pacific, Motion Picture Association (MPA)
Mdm Hoang Thi HOA – Vice Chairwoman of the National Assembly's Committee for Culture, Education, Youth, Adolescents, and Children
Marie DAMOUR – Consul General of the United States to Ho Chi Minh City
Amb. Pham Quang VINH – Senior Advisor, Vietnam Union of Friendship Organization (VUFO)
Prof. Dr. Nguyen Trong HOAI, Vice President of the University of Economics
Session 1: The Filmmakers View
Developing quality films and television shows for the local and international market. What does the blueprint look like for a dynamic, flourishing Vietnamese screen industry? What is the focus for increasing knowledge and skills? How can the industry develop the infrastructure for a sustainable future? How can the industry develop channels of distribution, a wider exhibition circuit, and relationships with streaming companies?
Moderated by: Phan Cam TU – Vietnam Representative, Motion Picture Association
Charlie NGUYEN – Vietnamese–American film director, screenwriter and producer.
Nelson MOK – Director, Advisory, Film Group, Endeavor Content, Singapore
Phan Dang DI – Writer, Director, Producer
Session 2: Thinking Globally
How can the Vietnamese screen industry engage more closely with the international industry? What production incentive investments will generate quality productions, promote tourism, and upskill local crew? What can Vietnam learn from the experience of regional neighbours and markets with a track record of success, such as South Korea, Singapore, Australia or NZ?
Moderated by: Phan Gia Nhat LINH – Director
Jay ROEWE – SVP of Productions and Incentives, HBO
Freddie YEO – COO Infinite Studios
Nguyen Phương HOA – Director General, International Cooperation Department, Ministry of Culture, Sports and Tourism, Vietnam.
Session 3: Protecting What's Most Valuable
How does a strong copyright regime encourage and stimulate the production of creative works? What are the fundamentals to get right when developing a robust creative digital economy? What are the learnings from around the world to effectively combat piracy, boost greater revenue from legitimate channels?
Moderated by: Esther PEH – External & Regulatory Affairs, Asia-Pacific, AT&T|WarnerMedia
Ngo Thi Bich HANH – Vice President of BHD / Vietnam MediaCorp. and Vietnam Studio.
Grace CHUI – Snr Content Protection Counsel, MPA
Yew Kuin CHEAH – Principal Counsel, Antipiracy-Digital Media, Legal, The Walt Disney Company
Audience question and discussion moderated by Emcee KAY Nguyen.
Launch of 2021 MPA APSA Academy Film Fund
Bui Thac CHUYEN - Film Director & Deputy Director of the Centre for Assistance and Development of Movie Talents (TPD)
Truong Minh QUY - Filmmaker
Bianca BALBUENA - Producer, Writer, Co-founder and CEO Epicmedia Productions Inc
Closing Remarks
Dr. Ngo Phuong LAN – Chair VFDA
Phan Cam TU – Vietnam Representative, Motion Picture Association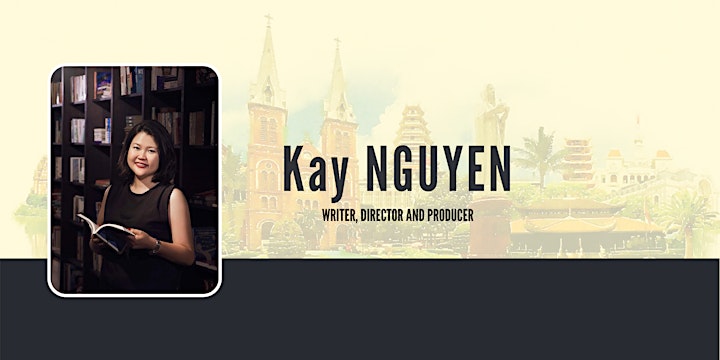 Award-winning filmmaker, Kay Nguyen, has worked in the US, England, Japan, and finally, in 2013, came home to create the writing group A Type Machine after the huge success of Teo Em. Her works represented Vietnam at the Oscars on three occasions: Co Ba Sai Gon (2017 – writer director), Hai Phuong (2018 – writer) and Mat Biec (2019 – writer/producer). Her feature film titles hold the record for both admissions and ticket sales. She directed her second feature Sac Dep Doi Tra in 2019. She wrote and produced Thien Than Ho Menh (2020), which is her 15th feature as screenwriter. Through her page, A Type Machine, she diligently builds and grows a community of creative story-tellers with her free online classes that offer technical craft skills, as well as creativity training for young aspiring screenwriters in Vietnam.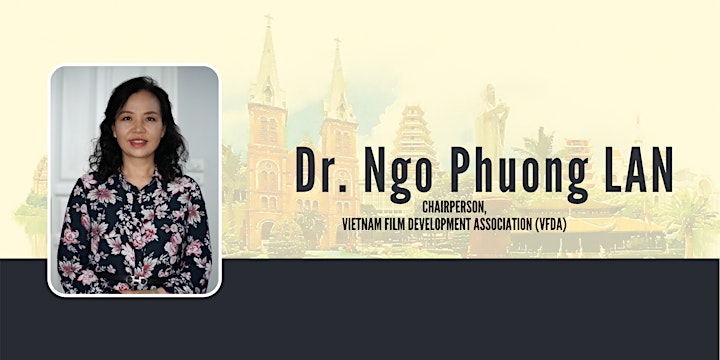 Formerly the Director of Vietnam Cinema Department (under Ministry of Culture, Sports and Tourism), Dr. Ngo Phuong Lan founded the Vietnam Film Development Association in 2019 and was elected Chairwoman by its members.
Her decorated biography also includes: Chairwoman of the Board of Theory and Criticism of Vietnam Cinema Association (2005- 2010), Director of Hanoi International Film Festival (2011-2018), Member of the Central Council for Theories and Critiques of Literature and Arts (2016-2021), Member of Network for the Promotion of Asian Cinema.
Dr. Ngo Phuong Lan served as juries in various international and national film festivals. She was the recipient of various awards, including: Golden Kite Prize by Vietnam Cinema Association for the Best cinema research and criticism book "Tinh hien dai va tinh dan toc trong dien anh Viet Nam" ("Modernity and Nationality in Vietnamese Cinema", 2005), Official Prize (First Prize) by Vietnam Cinema Association for the Best cinema research and criticism book "Dong hanh voi man anh" ("Accompanying the Screen", 1998). In 2017, she won the Vietnam Literature & Art Award for her books.
As a renowned film critic, Dr. Ngo Phuong Lan has published film critical essays and reviews in various newspapers and magazines (including Cinemaya). She is also the author and co-author of numerous books on cinema published in Vietnam and abroad.
Born in Hanoi, she graduated from Soviet Union National University of Cinematography (VGIK), Moscow in 1988. She later got her Ph.D. on History of Culture and Art at the Vietnam Institute of Culture and Arts Studies in 2005.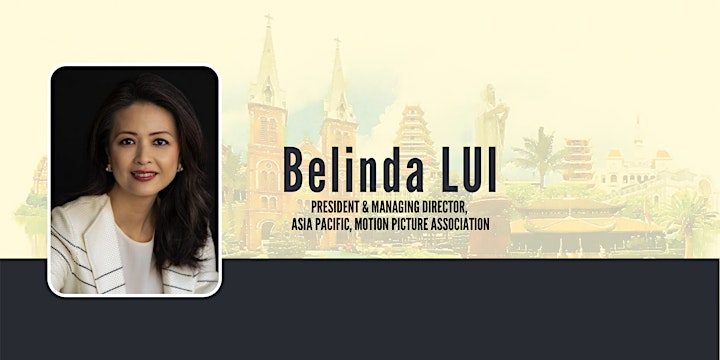 Belinda Lui is President and Managing Director of the Motion Picture Association, Asia Pacific. Ms. Lui leads the association's Asia-Pacific team to promote and protect the commercial and creative interests of the region's screen communities in the digital age. Prior to this role, and following AT&T's acquisition of Time Warner (now Warner Media), Ms. Lui managed the Asia-Pacific government affairs office for all business units of AT&T, including AT&T Communications and Warner Media (and its divisions Warner Bros., HBO, and Turner Broadcasting including CNN). Ms. Lui was also Deputy Director, Legal and Corporate Affairs at Microsoft Hong Kong where she handled Microsoft's government-relations issues and spoke to the press regularly about IP policy. Ms. Lui is admitted as a barrister and solicitor in New South Wales, Australia. She was a solicitor with international law firm Baker & McKenzie in Sydney and Hong Kong. Over the years, Ms. Lui has served on a number of boards. She was Chairperson of the Business Software Alliance in Hong Kong and Macau. She served on the boards of the US-ASEAN Business Council, National Center for APEC, American Chamber of Commerce Hong Kong, AVIA Asia Video Industry Association, and the Canadian International School of Hong Kong. Currently, she is President of the International Women's Forum-Hong Kong and sits on its board.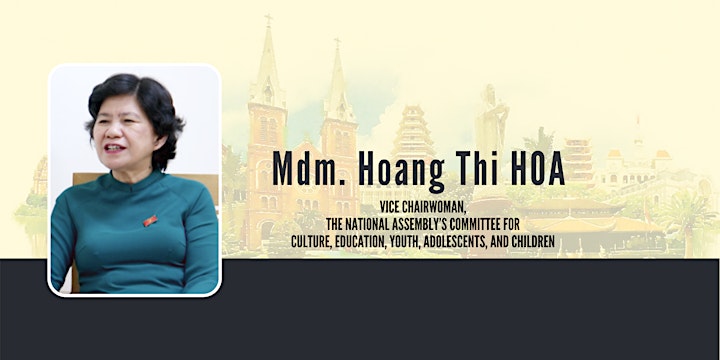 Mdm. Hoang Thi HOA is Vice Chairwoman of the National Assembly's Committee for Culture, Education, Youth, Adolescents, and Children.
Mdm. Hoa has been leading various discussions on the draft Cinema Law and is highly familiar with the development of the Cinema Law in Vietnam. She will continue to work on this project until the Law is passed, anticipated for October 2022.
Mdm. Hoa is the National Assembly's XIV Legislation Deputy. She is also the Chairwoman of the Vietnam - Egypt Parliamentary Friendship Group.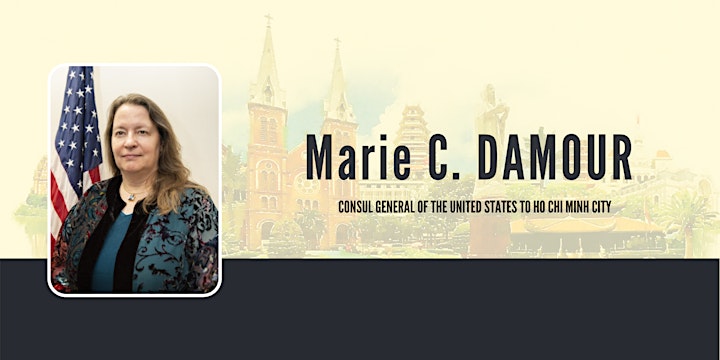 Marie C. Damour is a career member of the Senior Foreign Service, having joined the State Department in 1993, and is assigned to Ho Chi Minh City, Vietnam as Consul General beginning in August 2019. She has previously served as Director in the Office of Maritime Southeast Asia in the Bureau of East Asian and Pacific Affairs, as well as in the Office of Policy Coordination and Public Affairs in the Bureau of Consular Affairs. Previous overseas assignments include Deputy Chief of Mission in Wellington, New Zealand; Minister Counselor for Consular Affairs in Brasilia, Brazil; and Chief of Visa Services at the U.S. Embassy in London. She has also served domestically as Special Assistant in the Office of the Secretary, as well as Consular Chief overseas in Iraq, Vietnam, and Mauritania. Ms. Damour is a graduate of the College of William and Mary in Williamsburg, Virginia; she speaks French, Portuguese, and Vietnamese.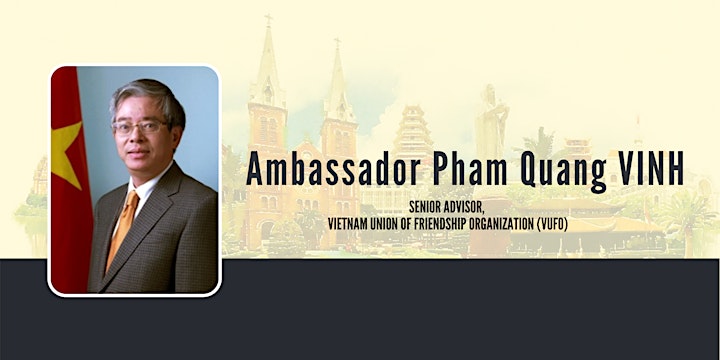 Ambassador Pham Quanh VINH was appointed by State President Truong Tan Sang as the fifth Extraordinary and Plenipotentiary Ambassador of the Socialist Republic of Vietnam to the United States in July 2014.
He was also granted the rank of second-level Ambassador, the highest diplomatic rank of the Vietnamese State. He began his term as Ambassador to Washington, D.C. in November 2014, and submitted the National Letter to US President Barack Obama on February 23, 2015.
From September 2011 to July 2014, Ambassador Pham Quang VINH held the position of Deputy Minister of Foreign Affairs, in charge of Vietnam's relations with countries in South Asia, Southeast Asia, and the South Pacific. He is the Head of the ASEAN Senior Officials' Meeting.
Ambassador Pham Quang VINH has worked for a great many years at the Department of International Organizations - Ministry of Foreign Affairs, where he started as an expert in September 1980. He was appointed as Assistant to Director in 1994 and Deputy Director in 1995, a position he assumed until December 2013.
Ambassador Pham Quang VINH served two terms at the Vietnam Permanent Mission to the United Nations (New York), the first time as an attaché from January 1987 to January 1990, and then as Counselor Ambassador - Permanent Deputy Representative of the Mission from July 1996 to August 1999. His third term in an overseas assignment was at the Vietnamese Embassy in Bangkok, Thailand, where he held the position of Ambassador Counselor from December 2003 to January 2007.
Ambassador Pham Quang VINH graduated from the Diplomatic College in Hanoi, in 1980, and graduated from the University of Canberra, Australia in 1985.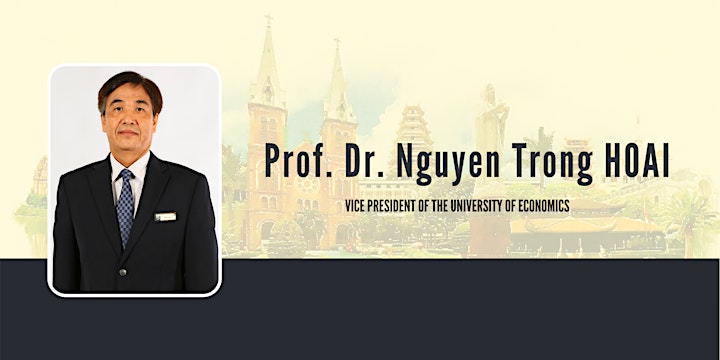 Prof. Dr. Nguyen Trong HOAI is Vice President of the University of Economics, Ho Chi Minh City. He is also Editor-in-Chief at the Journal of Asian Business and Economics Studies. He has written a number of publications on Aquaculture Economics & Management, Asian public policy, Real estate management and valuation, social work in health care and development economics.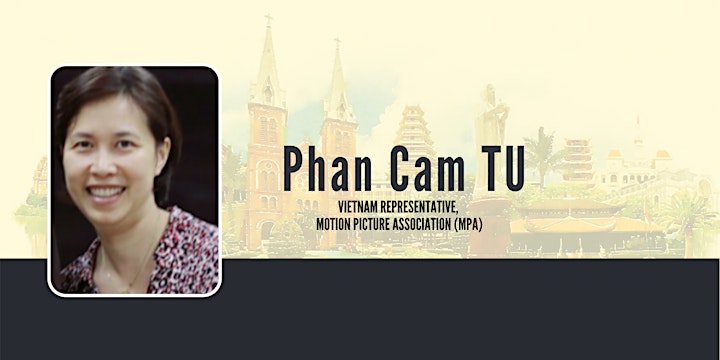 Tu is a consultant, specializing on IP issues. She has worked with many right holders, local and international, to encourage them to jointly work on copyright protection and improve the effectiveness of IPR protection environment in Vietnam. Tu has been consulting the Motion Picture Association (MPA) in Vietnam on matters related to copyrights and participated in various activities that MPA conducted in Vietnam since 2013.
Tu has almost 20 year working on IP issues and had a chance to work with Vietnamese authorities in the drafting process of a number of significant IP regulations including the IP Law and IP crime provisions of the Penal Code. She also worked on other matters involving foreign direct investment into Vietnam while working for Freehills Hollingdale & Page, an Australian law firm, in Hanoi after graduating from the Hanoi Law University.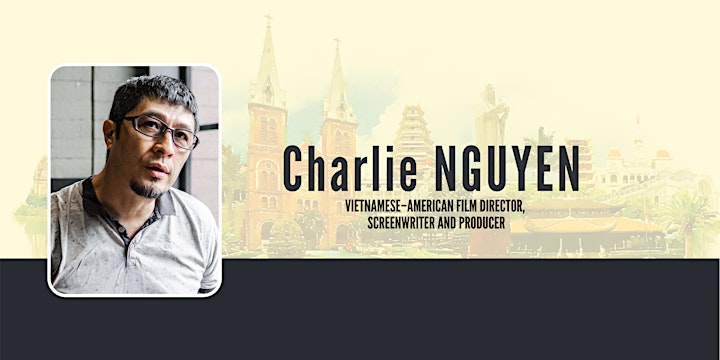 Charlie Nguyen is Vietnamese–American film director, screenwriter and producer.
In 1992, Nguyen started his own production company called Cinema Pictures, which was later evolved into Chanh Phuong Films in 2004.
His film credits include Hung Vuong the 18th/Thời Hùng Vương 18 (1994, writer/director), Chances Are/Vật Đổi Sao Dời (2002, writer/director), Finding Madison (2005, co-producer), Fool For Love/Để Mai Tính (2009, director), the award-winning hit release by The Weinstein Company, The Rebel/Dòng Máu Anh Hùng (2006, co-writer/co-producer/director), The Prince and the Pagoda Boy/Khát Vọng Thăng Long (2010, writer), the Vietnam box office record comedy - Big Boss/Long Ruồi (2011, director), Love Puzzles/Cưới Ngay Kẻo lỡ (2012, writer/director), Little Teo/Tèo Em (2013, writer/director), Vietnam banned martial arts gangster - Cho Lon/Bụi Đời Chợ Lớn (2013, writer/director), Vampire Diary (2014, additional action director), Fool For Love 2/Để Mai Tính 2 (2014, director/co-writer) and Crouching Tiger Hidden Dragon 2 (2015, producer), Fanatic/Fan Cuồng (2016, writer/director), Jailbait/Em Chưa 18 (2017, producer/co-writer), Daddy Issues/Hồn Papa, Da Con Gái (2018, producer), My Mr. Wife/Chàng Vợ Của Em (2018, co-writer/director)and What We Forgot to Remember/Người Cần Quên Phải Nhớ (2020, producer/story by).
He's currently in development of a sci-fi/heist thriller called Transmission/Phóng and also directing numerous TV commercials in Saigon.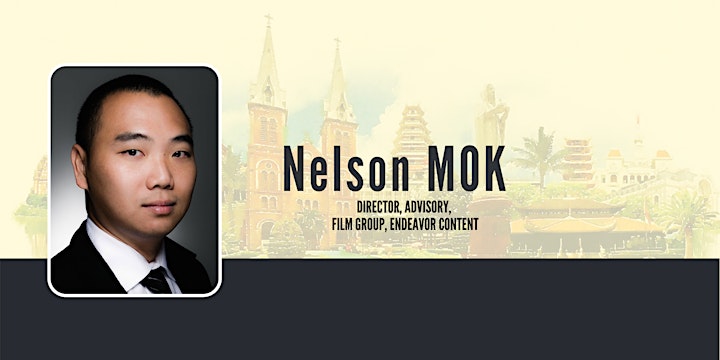 Nelson Mok has over 22 years of experience in the cinema industry and has worked in every facet of the business ranging from exhibition, distribution, sales, marketing, acquisition and producing. He started his career as a cinema executive in Golden Village, and subsequently specialised in distribution for Warner Bros in Singapore and Golden Harvest in Hong Kong.
As Director of International Business at Singapore-based mm2 Entertainment, he was involved in licensing Taiwanese romantic drama MORE THAN BLUE to mainland China, where it grossed US$135m.
He is now at Endeavor Content as Director, Advisory, Film Group where he focuses on international sales for Asia-produced content, as well as developing and financing films within the region, tapping into the burgeoning growth in Southeast Asia, Hong Kong and Taiwan film industries.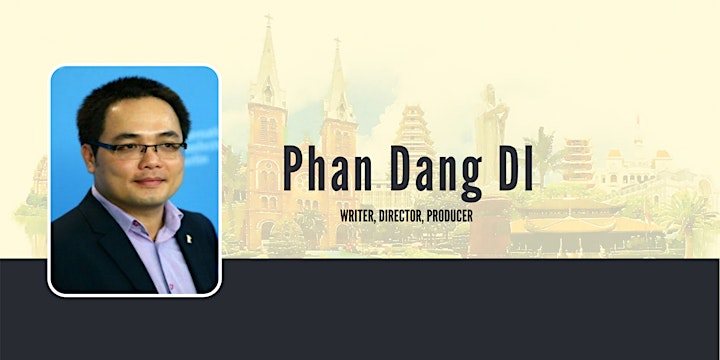 After graduating from the Faculty of Screenwriting at Hanoi Academy of Theatre and Cinema, DI started his career as an independent filmmaker. His vision was to establish a team of young directors to create a "new wave" in Vietnamese cinema.
Di made two short feature films: When I am 20 (2006) and Lotus (2005). When I am 20 was the first Vietnamese film that was selected in competition – Venice IFF 2008.
In 2007, his feature script entitled Adrift (directed by Bui Thac CHUYEN) won FIPRESCI Prize Venice IFF 2009. It was also nominated for Best Script-Writer at Asia Film Award 2010.
DI made Bi, Don't Be Afraid - the first feature film in which DI worked as a producer, screenwriter, and director, in 2009. The film project won the Busan Film Commission Award at the Pusan IFF 2007, and was selected for the Cannes L'ATELIER 2008. It received funding from the World Cinema Fund (Berlin IFF 2008), from Fond SUD and from Arte Cinema 2009. The film won two prizes at Cannes Critic's Week 2010. It also won many other awards from Vancouver, Hong Kong, Stockholm and other international film festivals.
DI's second film Big father, small father and other stories… was supported by World Cinema Fund (Germany), Hubert Bals Fund and Hubert Bals Fund Plus (Netherlands) World Cinema Support (France) and had its World Premiere in Berlin IFF 2015. The film also was invited to more than 50 film festivals around the world and is known as the first ever Vietnamese film to be entered into the official competition in Berlin.
DI has produced for some young Vietnamese indie filmmakers such as Nguyen Hoang Diep's feature debut Flapping in the Middle of Nowhere. The film won the Critics' Award at Critics Week, Venice 2014. He supported Do Quoc Trung's film Cha Cha Cha, a feature debut project which was selected for Asian Project Market – Busan IFF 2015.
Besides his career as an independent filmmaker and producer, DI also taught Film History and Screen-Writing at Hanoi National University and Saigon International Film School. DI was an international jury member of Stockholm IFF (2015), Osaka Asian Film Festival (2015) and an official member of the Asia Film Award (Hong kong IFF). DI organized the Autumn Meeting, an annual international cinema event in Da Nang, Vietnam from 2013.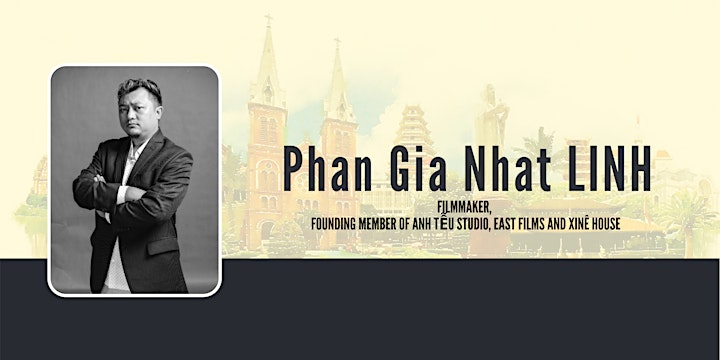 Director Phanxine developed a special passion for cinema from the age of four, growing up watching outdoor movies in his mother's company's backyard during the 1980s in Ho Chi Minh city. He loves the story, the visual elements, the emotion, and most importantly, the reaction of people found in cinema. In a single moment, people from different backgrounds become one when they share the same experience, the same emotion.
Director Phanxine started his film-related career in 1997 as a journalist. In 2006, he became managing editor for Vietnam's Movie & Theater Monthly Special Issue Magazine while administrating the two biggest movie forums - Moviesboom & Yxine. He was also the first in Vietnam to be granted a Ford Foundation fellowship in Film Production with USC's School of Cinematic Arts. From 2007 - 2010, he studied at USC and helped the Ford Foundation coordinate two summer courses for Vietnamese filmmakers at USC. During his time at USC's School of Cinematic Arts, he learned about the Hollywood system and the independent filmmaker community, and the importance of representing personal voices in cinema.
After he graduated, Director Phanxine returned to Vietnam to contribute to the local film industry. He has worked on many projects, including Charlie Nguyen's Love Puzzle (as BTS director), Nguyen Quang Dung's The Lady Assassin 3D (as 1st AD and B-unit director) and directed the musical TV series Kitchen Musical.
His first feature film, Em la ba noi cua anh (Sweet 20), produced by CJ E&M and HKFilms, was the number one box office in its first two opening weekends, beating Star Wars at the box office in Vietnam to become at that point the highest-grossing Vietnamese film of all time.
His second feature film, adapted from Nguyen Nhat Anh's Co gai den tu hom qua (The girl from yesterday) also reached over one million admissions, becoming the 2nd highest box office Vietnamese film in 2017. In 2020, his first film as a producer, Tiec Trang Mau (Blood-Moon Party), produced by his new studio, Anh Teu Studio, and SATE, became the biggest box office in Vietnam.
He also co-founded a new studio called EAST Films, focusing on Vietnamese arthouse and genre films, which co-produced Rom, the first Vietnamese film to win the highest award at Busan Film Festival in 2019; and Be Water, an acclaimed documentary about Bruce Lee.
Phan Gia Nhat Linh also is a founder of YxineFF (2010-2015), the first online short film festival in Vietnam, and Xine House, a cinema space for young filmmakers and cinephiles since 2018.
His new movie, Trang Ti, will be released by the end of April, 2021, and his next feature film is Em va Trinh (Trinh Cong Son and his muses), will rate as the highest budget biopic on the topic one of the most famous Vietnamese composers.
Jay Roewe is Senior Vice President, Production & Incentives at HBO/WarnerMedia, based in Santa Monica, CA. He helps manage the physical production of HBO's films, limited series, and scripted series filmed all over the world. He also manages the film & TV incentives both domestically and internationally for all productions produced by HBO.
Jay is a 40-plus year veteran of film and television production, with experience ranging from news, documentaries, music videos, concerts, and commercials to television movies, mini-series, and theatrical releases.
He joined HBO in 1994, originally serving as Vice President of Production for HBO Pictures. In 2000, he began overseeing the mini-series division as well until 2010 when he was promoted to Head of Physical Production at HBO for all scripted original production. Jay has been involved with programs ranging from Real Time with Bill Maher to Game of Thrones.
Jay is a member of the DGA (Director's Guild of America), the PGA (Producer's Guild America), the ATAS (Academy of Television Arts and Sciences) and BAFTA (British Academy of Film and Television).
As a graduate of Boston University where he studied Television Production & Business, Jay now sits on the Board of Overseers for the University as well as the Board of Advisors for the College of Communication.
In 2019, Jay was given a Doctor of Letters Honorary Degree from Ulster University for his services to the Screen Industry in Northern Ireland for his work on Game of Thrones.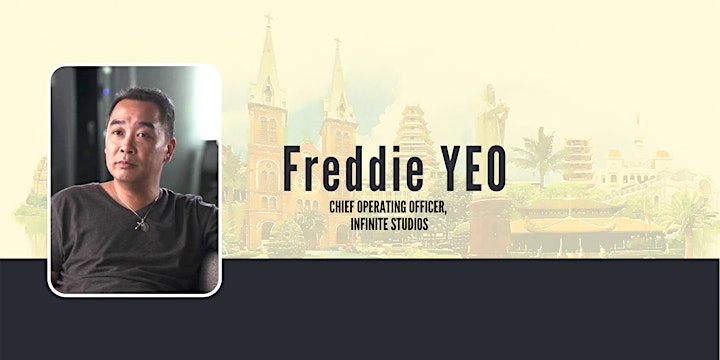 Freddie is the Chief Operating Officer of Infinite Studios and has more than 25 years of media industry experience. He manages the entire media operations of Infinite Studios in Singapore and Indonesia.
Freddie is also a Film & TV Producer. His producing credits include "My Magic" which was in competition for the Palme D'Or in 2008, "Be With Me" and "Tatsumi'' all of which were directed by Singapore film auteur Eric Khoo and premiered in Cannes. Other producing credits include HBO Asia's and ABC's epic period drama series "Serangoon Road", HBO Asia's "Halfworlds", Fox International Pictures' "Agent 47", Scott Free Films' "Equals", Warner Bros' Golden Globe nominated and worldwide box office sensation "Crazy Rich Asians" and HBO's Emmy winning series Westworld 3.
He has been an Advisory Committee member of the Singapore Film Commission (SFC) since 2005 and served on the Board of Governors at Nanyang Polytechnic for 9 years (2010-2019) and was Chairman of Nanyang Polytechnic's School of Interactive Digital Media Advisory Committee for 12 years (2007-2019) and Institute of Technical Education's School of Design and Media for 9 years (2010-2019).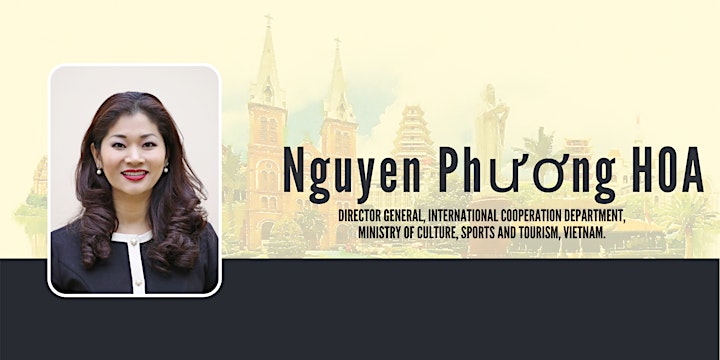 Nguyen Phuong Hoa has been working at the Ministry of Culture of Vietnam for nearly 20 years. She is one of the main authors of Vietnam's National Strategy on International Cultural Relations and has been actively involved in organizing numerous Vietnamese cultural days abroad, as well as hosting a number of international art festivals in Vietnam. She is the national contact point for the 2005 UNESCO Convention on the protection and promotion of Diversity of Cultural Expressions and has strongly supported and advocated for the National Strategy for the development of Vietnamese Cultural Industries until 2020, vision 2030. Ms. Hoa has participated in the organization of the Hanoi International Film Festival since its early editions. She has been actively facilitating co-production with foreign film crews, promoting Vietnamese film aboard by organizing Vietnamese Film Weeks. She is now Vice President of Vietnam Film Promotion & Development Association.She is currently Commissioner General of Vietnam Section in Expo Dubai 2020, and serves as a Board member of International Federation of Arts Councils and Culture Agencies (IFACCA).Nguyen Phuong Hoa holds a BA in International Relations (Diplomatic Academy of Vietnam) and an MA in Cultural Policy and Arts Administrationfrom Goldsmiths, University of London, UK.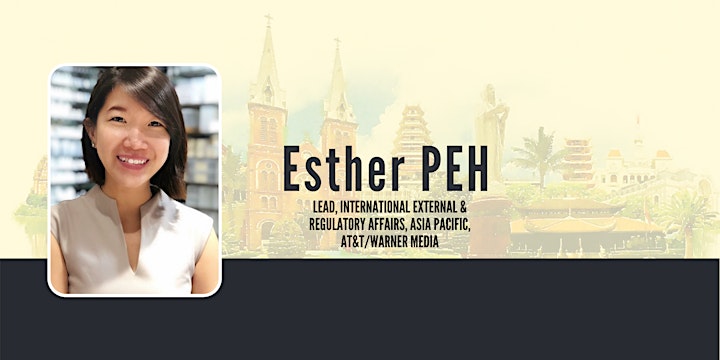 Esther Peh works on the International External & Regulatory Affairs team at AT&T and is based in Singapore. Esther is responsible for strategy and execution of media and emerging policy issues, such as cross-border data flows, privacy, digital services tax and content protection, across the Asia Pacific region. She also leads regional engagements for global policy and advocacy with international organizations, including the World Trade Organization (WTO) and Asia Pacific Economic Cooperation (APEC).
Prior to AT&T, Esther worked for the Ministry of Trade and Industry in Singapore. During domestic and international assignments, she negotiated the EU-Singapore Free Trade Agreement and the Comprehensive and Progressive Agreement for Trans-Pacific Partnership. She also advanced Singapore's foreign economic policy at the WTO, APEC, OECD and G20. Esther was the former Chair of the WTO Committee on Technical Barriers to Trade.
She is passionate about music and books – actual hard copy ones. One day, she hopes to learn how to speak Python.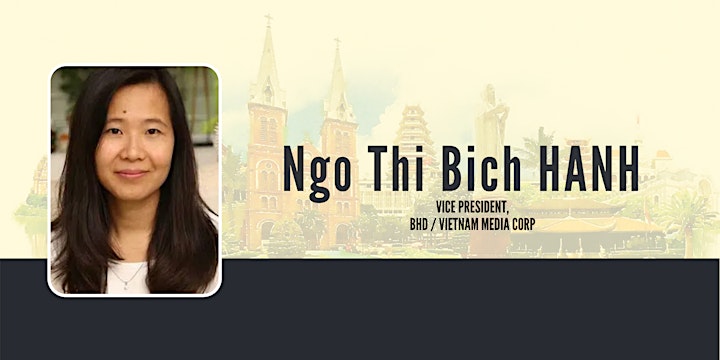 Ngo Thi Bich HANH is one of the founders and now Vice President of BHD / Vietnam Media Corp. and Vietnam Studio – specializing in TV and film distribution and production. With more than 20 years of experience with BHD and Vietnam Media, HANH has been involved in many of the company's activities in Vietnam, including introducing the first Korean Drama Series from KBS to Vietnamese viewers in 1996.
She played an important role in introducing an MTV channel to Vietnamese audiences in 1998, Celestial movie channel in 2008, and Astro Cam Xuc in 2008. She also helped to set up the initial period for FBNC, the first HD business and financial news channel of HTVC in Vietnam since 2009.
HANH has been working closely with many partners for TV and movie activities, including Fremantle, Endemol, Warner Brothers, Colombia TriStar, UIP, 20th Century Fox, Nickelodeon, VH1, Fremantle, Rai Trade, TF1, Celestial, Astro, MBC, and KBS, to produce many top-rated TV programs in Vietnam.
Every year the company produce hundreds of hours of TV and movie content with top- rating TV shows in Vietnam, such as Ugly Betty, Vietnam Idol, Vietnam Got Talents, Master Chef, Amazing Race. Many titles have broken box office records in Vietnam.
HANH has devoted her time to introducing Vietnamese TV and movies to international film festivals in Cannes, Berlin, Venice, Pusan, Montreal, and Goternberg. She has produced and distributed Vietnamese films and television to many countries around the world.
HANH was a founding member of AFIN (Asia Film Industry Network) together with KOFIC (Korea), UniJapan, and Thailand Movie Association, and also acted as the Honorable Advisors for Asia Film Award in Hong Kong from 2010 to 2012.
In recent years, BHD has been moving aggressively into cinema eExhibition business with BHD Star Cineplex. The company now has 7 Cinema complexes in Hanoi and Ho Chi Minh city with a total of 46 screens and nearly 7,000 seats catering to millions of customers every year. In Nov 2016, the company introduced BHD Star First Class, BHD Star Kitchen and Dolby Atmos Screening room in Hanoi. BHD Star Cineplex is now one of the leading Cinema Exhibitors in Vietnam.
After many years of preparation, in October 2016, BHD launched Danet – a leading legal Video on Demand Service where clients can watch what they want, when they want, on any devices (TV, PC, Tablet or mobile) with the largest legal content from hollywood studios, to local blockbusters and lots of drama series and TV shows from Korea, China, other countries, and especially content from Vietnam.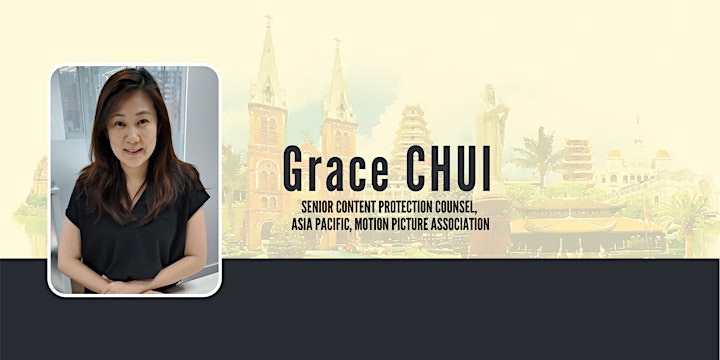 Grace CHUI is the Senior Content Protection Counsel of the Asia Pacific Region for the Motion Picture Association (MPA). In this role, she works with the Senior Vice President, Deputy General Counsel, Global Content Protection as well as the Vice President, Regional Legal Counsel in content protection objectives including assisting with content protection civil litigations and providing legal support in connection with all enforcement efforts to the APAC Content Protection Hub based in Hong Kong. Grace has extensive experience working on content protection matters, including civil litigations and working with the Hong Kong Customs to support criminal cases.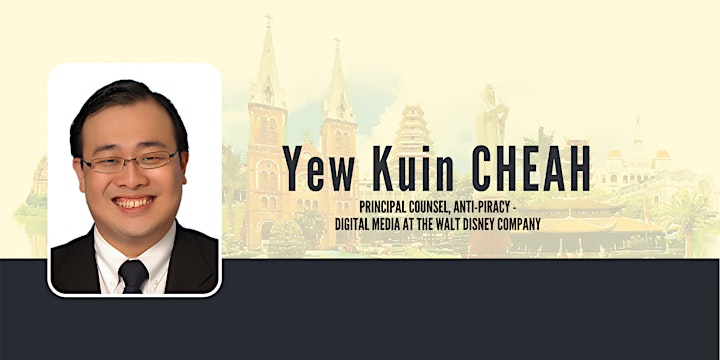 Yew Kuin presently oversees a range of anti-piracy matters in the Asia Pacific Region and he regularly works with industry associations and local authorities to develop strategies to take action against content piracy, and to ensure that appropriate laws are implemented to allow for efficient and effective enforcement actions to take place. Prior to his current role, Yew Kuin was practicing in an International Law Firm and has almost two decades of experience in dealing with contentious and commercial IP matters.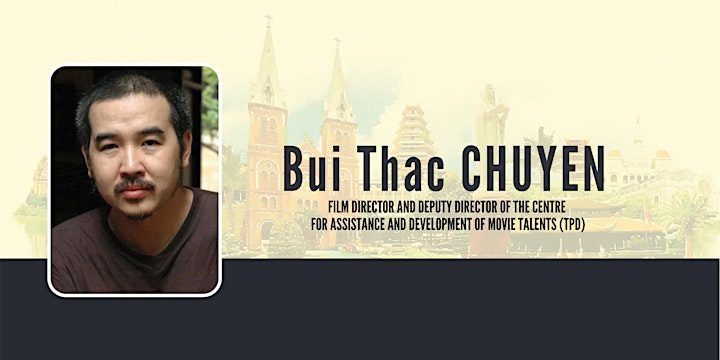 BUI Thac CHUYEN is a film director and deputy director of the Centre for Assistance and Development of Movie Talents (TPD), with the Vietnam Cinema Association. He is known for his feature films Blood Curse (2021), Adrift (2009), and Living in Fear (2005). His early experience in the creative arts was as an actor in a number of high profile stage productions. He moved into cinema in 2020 as a screenwriter and director of feature films, documentaries, TV series and TVCs. He has mentored many young filmmakers, supporting their work in short form filmmaking. He has won multiple awards, including the Fipresci Award (International Federation of Film Critics) for his feature film Adrift, at the Venice Film Festival in 2009. His films have been nominated and won awards at the Hong Kong International Film Festival, Granada International Film Festival, Bangkok International Film Festival, Vietnam National Film Festival, Toronto International Film Festival, London International Film Festival, Busan International Film Festival, Shanghai International Film Festival, and the Taipei Film Festival. He was a mentor for the Asia Pacific Screen Academy Lab in 2016.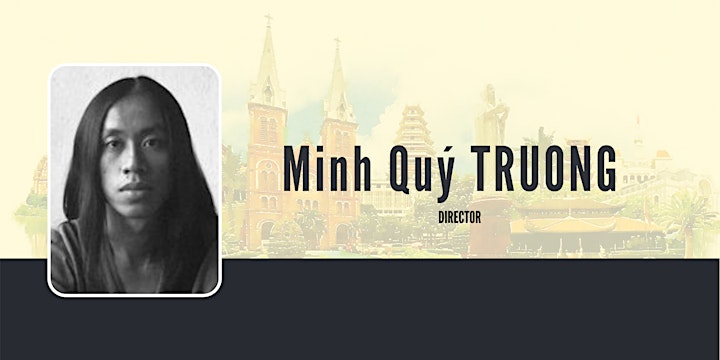 TRUONG Minh Quý was born 1990 in Buon Ma Thuot, a small city in the Central Highlands of Vietnam. In his films, he experiments with the combination of abstract concepts and images with realistic improvisations during shooting. He is an alumnus of the 2012 Asian Film Academy (Busan International Film Festival) and 2016 Berlinale Talents. His films have been selected for international film festivals and exhibitions such as the Locarno International Film Festival, New York Film Festival, Clermont-Ferrand Film Festival, International Short Film Festival Oberhausen, IFFR, Busan International Film Festival and Les Rencontres Internationales Paris/Berlin. He won the main Art Prize at the 20th VideoBrasil (São Paulo) in 2017. His second feature, The Tree House (2019), premiered at Locarno Film Festival where it was called "one of the festival's three best premieres" by MUBI and "a singular entrancing ode to memory and filmmaking" by The Film Stage. The film went on to screen at major festivals worldwide.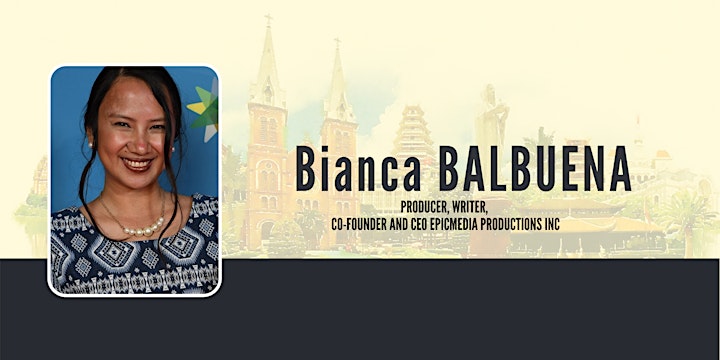 Bianca Balbuena is a 30-year old producer, writer, co-founder and CEO of Epicmedia Productions Inc which has produced over 25 feature films most notably Venice Film Festival 2009 Lion of the Future and Orrizonti Best Film: Engkwentro by Pepe Diokno and Berlinale 2016 Silver Bear A Lullaby To The Sorrowful Mystery by Lav Diaz.
She has attended Produire Au Sud, Rotterdam Producers Lab, Talent Campus Tokyo, Cannes' La Fabrique des Cinemas du Monde, EAVE Ties That Bind and Berlinale Talent Project Market where she won the ARTE Prize for her film, Above The Clouds, her first venture into French co-production. She has mentored in film labs and served as jury of film festivals in Fribourg and Durban. She was also nominated Best Foreign Producer at the Madrid International Film Festival.
Her next collaboration with Lav Diaz is his upcoming musical feature The Season Of The Devil which will premiere early next year. She has produced films which have premiered and won in festivals such as Venice, Berlinale, San Sebastián, Toronto, Busan, Tokyo, Thessaloniki, Rotterdam, Taipei Golden Horse, Sydney and Karlovy Vary. In the Philippines, she is most known for producing Antoinette Jadaone's That Thing Called Tadhana which became one of the highest grossing independent films in Philippine box office history in terms of investment-profit ratio.
She is currently producing Bradley Liew's Motel Acacia which was part of the 2017 Jerusalem Sam Spiegel International Film Lab and has been supported by BiFan's NAFF IT Project and EAVE Ties That Bind. Liew's debut feature, Singing In Graveyards, premiered at Venice Film Festival Critics Week 2016 and is chosen to compete at the Asia Pacific Screen Awards 2017 along with yet another film she produced, Those Long Haired Nights.
Her mission is to strengthen collaborations within the region and help deserving directors bring their films to the global scale. She also believes that cinema is our voice of struggle and hope in these dark times, a powerful voice that has the ability to affect change.