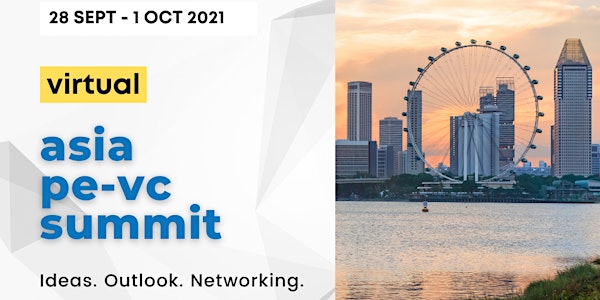 Virtual | Asia PE-VC Summit 2021
In its sixth year, the 2021 edition of Asia's largest sector-agnostic private equity and venture capital summit
Refund Policy
Refunds up to 7 days before event
About this event
In its sixth year now, Asia PE-VC Summit is where you'd want to be for the most well-rounded conference experience for the investment and startup community alike. So far, the annual summit has drawn over 4000 attendees from 50 plus countries, the majority of whom are senior executives.
Stay ahead of the curve as our topline sessions offer you exclusive insight into the next big opportunity. Build relationships with professionals at the top of their game as we make available to you our growing list of 600+ attendees. And, zero in on trends and sectoral bets in Asia's constantly evolving markets against the pandemic backdrop.
Confirmed speakers
As of 23 August 2021
Weijian Shan – Group Chairman & CEO – PAG
Sunil Mishra – Partner, Primary Investments – Adam Street Partners
Cyrus Driver – Managing Director – Partners Group
Edwin Wong – Managing Partner & CEO – Ares SSG
John Riady – CEO – PT. Lippo Karawaci
Jefrey Joe – Co-Founder & General Partner – Alpha JWC Ventures
Minette Navarrete – Co-Founder, President & Vice-Chairman – Kickstart Ventures, Inc
Nicholas Cator – Founder & Managing Partner – Venturi Partners
Haresh Chawla – Partner – True North
Tilman Ehrbeck – Managing Partner – Flourish Ventures
Sarah Chen – Co-founder and Managing Partner – The Billion Dollar Fund for Woman & Beyond the Billion
Rajive Keshup – Director – Cathay Innovation
Edward Tirtanata – CEO & Co-Founder – Kopi Kenangan
Rui Ma - China Tech Analyst - Tech Buzz China
Finian Tan - Founder - Vickers Venture Partners
Nicholas Bloy - Co-Managing Partner - Navis Capital
Dr Amit Verma - Managing Partner - Quadria Capital
Jie Gong - Partner - Pantheon
Patrick Walujo - Co-Founder - Northstar Group
Atul Kapur - Co-Founder - Everstone Group
OFFERS & PROMOTIONS
If you are a DealStreetAsia subscriber, avail 20-40% off on existing ticket prices, even early-bird! Subscribe now.
Join the summit with your colleagues and get a group discount of 30% (3 or more attendees). Write to us to get the discount code.