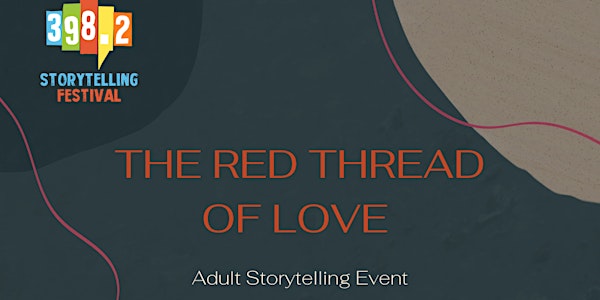 Virtual event:The Red Thread Of Love -Storytelling event for adult audience
In tales ancient and modern, our tellers untwist the threads of love that weave their way through our lives.
By Storytelling Association (Singapore)
Date and time
Sat, 27 Nov 2021 04:00 - 05:30 PST
Refund Policy
Contact the organiser to request a refund.
About this event
Brought to you by Storytelling Association (Singapore), 398.2 Storytelling festival presents: THE RED THREAD OF LOVE - Be enchanted by fascinating personal tales and folktales.
Six storytellers venture and celebrate the commonest of all human experiences: Love. Let them take you deep into their personal experiences and to faraway lands to savour the multifaceted dimensions of love. Let their stories fill your heart with warmth and put a smile on your face.
This programme is for adults.
This is a hybrid event. To buy tickets to watch the show LIVE at The Projector, please click here: https://www.eventbrite.sg/e/210580129837
About the Storytellers
Anamika Bhati
Anamika is an educator working with children in schools, libraries, and festivals locally and internationally. She nurtures children's creativity by bringing stories to life through role-playing ensuring engaging and holistic learning.
Anna Ong
Anna is the host and creator of What's Your Story Slam. She believes in the power of personal narratives to connect, engage and inspire.
Chan Earn Meng
Earn Meng grew up in a kampong flying kites, plucking guava, and getting caned. The best thing that happened in school was meeting his wife. Now, he attempts to recollect and make sense of those precious moments of life.
Juriah Atan
Juriah is a storyteller from Singapore. As an educator and workshop facilitator, she uses stories to engage participants. She has been telling stories to children and adults since 2006.
Roger Jenkins
Roger founded the 398.2 Festival in 2015. He is delighted to continue as a performer, sharing stories in his conversational and often comical style.
Verena Tay
Verena is a storyteller, writer, editor and theatre practitioner. She has published two collections of short stories and four volumes of plays.
About the organiser
Storytelling Association (Singapore) promotes the practice and appreciation of oral storytelling, at home, in schools, in the community and at work.  We provide opportunities for our members to share oral stories and hone their skills through workshops and performances.