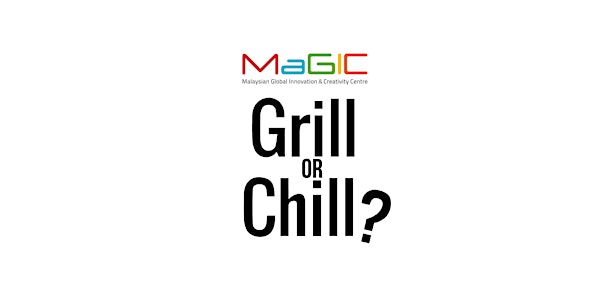 Virtual Grill or Chill #December 2020
Virtual Grill or Chill #December 2020
About this event
MaGIC pitching session Grill or Chill is Back! this time around we will be conducting Grill or Chill virtually. So take a seat, relax and chill from the comforts of your home while enjoying the session.
Meanwhile, we're calling startup & entrepreneurs who have an idea to solve a real problem to pitch and validate your idea.
About Grill or Chill
Grill or Chill (GoC) is a platform for startups to showcase their products and get valuable feedback from experts in the startup ecosystem.
Interested as a startup to pitch in next virtual Grill or Chill, apply here: http://bit.ly/GrillorChill
How does it work?
Each startup to be grilled are given minutes:
3 minutes – Startup to showcase their product
5 minutes – Startup to be grilled by grillers
Agenda
2.55 pm: Audience check-in via zoom
3.00 pm: GRILLing or CHILLing session starts
4.00 pm: 5 minutes Sharing session by Grillers
4.30 pm: Networking via Zoom Chat
5.00 pm: End
Startups to be Grilled
1.gobnd - Selling fresh produce, meats, dairy products and, often, bakery goods alongside canned, frozen and prepared foods. In addition, a grocery store will also sell a full range of household, healthcare and personal care items.
2.LIPAN Integrated Recycling Technologies PLT - Integrated Waste Management Platform
3.Corwin Asset Management - Money Management System
4.Alex Snow School for Myanmar Youths - Technological Education
5.Aital - Home Nurse for everyone
6.Betacard - All Your Cards, All Your Contacts, Always Updated in One App. It's everything a modern business card platform should be.
7.Tech4Bi - We are providing Software Education to SME to inspire more people how can software improve their business operation.
8.nikahsatu - consolidates all aspects of wedding planning into one platform, from vendor-sourcing to facilitating wedding financing via monthly installment payments ahead of the wedding date.
9. Blue J - One platform that solves your everyday hassle. It is a social technological community that everyone can be a part of. Our logo is our animal spirit the Blue Jay bird which symbolise, truth, faithfulness, and solidarity because we are vigilant in our tasks."
10.Travl - providing an organized trip with engineered structure redesigned during post Covid-19. Travl is safer, more convenient, and convincing travel methods for inbound tourists who are hugely starting to hesitant to travel abroad, especially Malaysia, with confidence and certainty
11.Spark Fit - Fitness trainers, personal trainings, and classes you'll love, or try something new.
12.Supageneous -Decode hidden messages in your DNA Be the best version of yourself by understanding your unique DNA profile.Help you to learn more about your nutrient needs, optimal diets, fitness, skincare sensitivity and intolerances, health risk* and traits.
13.Alpha Reliance - Alpha Reliance has always been focusing in giving the best manufacturing plastic solutions, delivering good quality and cost-effective products.
Grillers
1.Malcolm Tan - Netrove
2.Dennis Oakley - Head of Business Model Innovation at Denis Oakley Oakley & Co