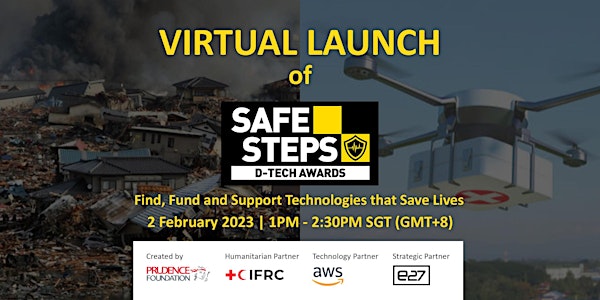 Virtual Launch of SAFE STEPS D-Tech 2023 Competition for disaster tech
Join us on 2 February 2023 to find out more.
By Prudence Foundation x e27
Date and time
Starts on Wed, 1 Feb 2023 21:00 PST
About this event
Prudence Foundation, in partnership with e27, is launching the SAFE STEPS Disaster Tech (D-Tech) competition on 2 February 2023 through a virtual webinar for 1.5 hour
The SAFE STEPS D-Tech Awards looks to find, fund and support technology solutions which protects and saves lives before, during or after natural disaster events. The SAFE STEPS D-Tech Awards was created out of the belief that technology innovation has a significant role to play in improving disaster preparedness, recovery and resilience. Get to know more about the awards and also connect with leading disaster leaders around the world. This virtual launch is open for public for organizations around the globe: Startup, Non-Profit, Tech Entrepreneurs, and Ecosystem Player!
What's in it for you if you join the virtual launch?
How you can apply and get to know all the rewards and recognition! Organisations participating in the Awards will stand a chance to win cash prizes as well as in-kind support from AWS credits! Semi-finalists and finalists will have access to expert coaching and mentoring, and finalists will be invited to pitch their solutions to a panel of judges and showcase at the upcoming Echelon Summit 2023 organized by e27 at the end of May in Singapore!
Chances to learn and gain tips on how to submit a successful application from last year finalists and participants! Early applicants will have a better chance to be in the finalists! Don't miss out!
Get connected with a global cohort and communities on disaster tech. We have an audience coming in not only from startup, but also venture capitalists, researchers and experts in the disaster space. You will be part of global community for disaster tech! Including past winners/participants/judges.
Opportunity to learn much more if you join the session!
Join the virtual launch event to find out more,
Notes : if you are an ecosystem partner (investors, ecosystem players) who would like to collaborate with us on this program please do joined the session, and get connected directly with us at programs@e27.sg!
About the Awards | SAFE STEPS D-Tech Awards