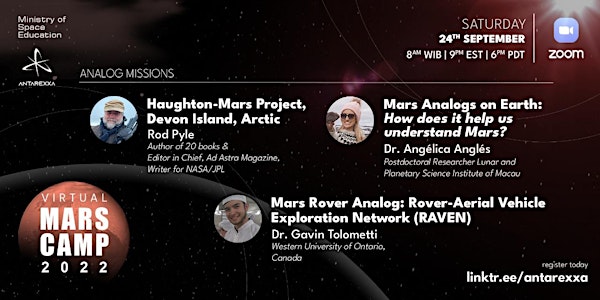 Virtual Mars Camp 2022: Mars Analogs on Earth
Mars Camp is a series of webinars on a variety of topics related to Mars Exploration for the purpose of public outreach and awareness.
About this event
Younger students than 12 year old must be attended by parents unless well mannered in a webinar setting independently. We cannot allow younger students in our learning session as we would like to maximize our learning sessions opportunity.
SESSION #10 Analog Missions
PART ONE: Haughton-Mars Project, Devon Island, Arctic
Rod Pyle
Author of 20 books & Editor in Chief, Ad Astra Magazine, Writer for NASA/JPL
ABOUT ROD
Rod Pyle is a space historian and author who has created and offered executive leadership and innovation training at NASA's Johnson Space Center. Rod has received endorsements and recognition from the outgoing Deputy Director of NASA, Johnson Space Center's Chief Knowledge Officer for his work.
PART TWO: Mars Analog on Earth: How does it help us to understand Mars?
Space Educator: Dr. Angélica AnglésPostdoctoral Researcher Lunar and Planetary Science Institute of Macau
Dr. Angélica Anglés studies extreme environments on Earth as Mars analogs, mostly the Qaidam Basin in the Tibetan Plateau and, only a few weeks ago, the volcanic areas and lava fields in Iceland. In this presentation she will explain her expeditions and will share her results obtained from samples taken from the sites she visited, both in Tibet and in Iceland. Additionally, she will also share her experience of being one of the five analog astronauts for the first UK analogue space research mission.
ABOUT DR. ANGELICA ANGLES
Dr. Angélica Anglés is a planetary scientist and astrobiologist, and her research is centred around the search for extraterrestrial life on Mars. She completed three MSc degrees and a PhD in Astrobiology/Planetary Exploration at the University of Hong Kong, where she prepared for future Mars sample return missions by studying the geological features of the Qaidam Basin in Tibet. Thanks to her research in Tibet, she was invited to be part of the Landing Site Selection team for the NASA Mars 2020 planetary mission. A few months ago, she was one of the five analog astronauts for the first UK analogue space research mission, where they simulated a space mission to explore another planet. She has won several awards and scholarships to study extreme environments on Earth, such as the Pilbara in Australia, the hot springs in Rotorua (New Zealand), Lake Ciso in Spain or the French Pyrénées. She is also the Principal Investigator of a Mars Analog Expedition to search for habitable environments in Iceland, where she is collaborating with the Iceland Space Agency, NASA and the Space Exploration Institute of Macau. She has published several scientific publications in peer reviewed journals and co-authored a book a few years ago. She has done a lot of public outreach, with multiple radio interviews, TV and social media appearances. Two years ago, Harper's BAZAAR magazine awarded her the title of Visionary Woman 2020, aimed to recognize and honor high-achieving female leaders with true vision in several different fields, and she was also appointed the Chair of the Explorers Club Hong Kong Chapter. She also holds a degree in piano, so when she is not thinking about Mars exploration she performs in concerts and events. One day she hopes to play piano on Mars!
PART THREE: Mars Rover Analog: Rover-Aerial Vehicle Exploration Network (RAVEN)
Science Communicator: Dr. Gavin Tolometti
Western University
ABOUT DR. GAVIN TOLOMETTI
Dr Gavin Tolometti is an outreach high school programs coordinator at Western University's Faculty of Engineering in Canada, and a science communicator for planetary science and space exploration. He obtained has Bachelor of Science degree in Geology at the University of St Andrews in 2012 in Scotland and has PhD in Earth and Planetary Science at Western University, Canada in 2021. He has published his PhD research in three peer-reviewed scientific journals and is actively collaborating with research groups across the United States, Canada, France, and Poland.Before he became an outreach coordinator and science communicator, Gavin studied lunar and terrestrial lava flows using a combination of field work and radar remote sensing data. His research involved studying the surface roughness and chemistry of lava flows found in Idaho, USA, and Iceland to understand how lava flows were emplaced millions of years ago on the Moon. He continues to expand his research knowledge as a science communicator by bringing awareness to space spin-off technology, and the benefits space exploration has brought to humanity. He also has an extensive background in lunar and Mars analogue research and field work, working on planetary volcanism and rover mission architectures in Iceland, the United States, Spain, and Canada. His two most recent expeditions include collaborating with the NASA-funded Rover-Aerial Vehicle Exploration Network team in Iceland and astronaut geology training at the Mistastin Lake impact structure located in Labrador, Canada. Gavin is also the host and creator of the space podcast The Diaries of Space Explorers where he works to engage with the public by interviewing different members of the space community. His goal is to bridge the gap between the space sector and the public by highlighting how spin-off technology has improved human lives, and how people can join the space sector through non-traditional career paths.
UPDATES & ANNOUNCEMENTS
Please join our Whatsapp or Telegram Group t.me/antarexxa for updates and reminders regarding the session. Follow our social media accounts for updates as well. All links are here linktr.ee/antarexxa
*** If you have any questions regarding Mars Camp, please email us at info@antarexxa.com or DM us at our social media accounts.
We look forward to welcoming you back to our program (for returning students) and welcome new faces - your attendance and participation at our sessions are much appreciated! Never stop learning.
Ad Astra,
Ministry of Space Education by Antarexxa Space Global
Instagram: @antarexxa, @ministryofspace_edu