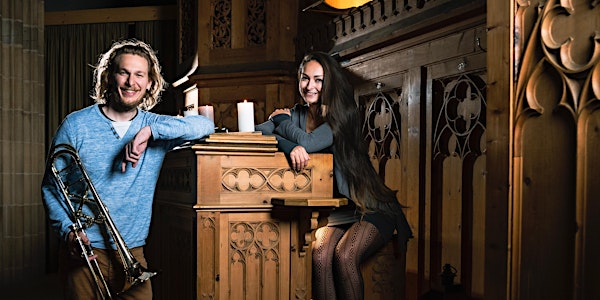 Visiting Artists Series: Peter Steiner Trombone Recital
The Steiner-Hochwartner Duo performs a programme of music for trombone and piano.
When and where
Location
Yong Siew Toh Conservatory of Music YST Concert Hall Singapore, Singapore 117376 Singapore
About this event
PETER STEINER, trombone
CONSTANZE HOCHWARTNER, piano
PROGRAMME
BERTRAND MOREN
Psychedelia
FERDINAND DAVID
Concertino
MYKOLA LYSSENKO arr. HOCHWARTNER/STEINER
Elegy
– Intermission  –
EMILY HORTON
Fantasy in G minor
NICCOLÒ PAGANINI arr. EMILY HORTON
Moses Variations on a Theme
JAN FREIDLIN arr. HOCHWARTNER/STEINER
Towards the Light
JOHANNES BRAHMS arr. HOCHWARTNER/STEINER
Hungarian Dance No. 5
ABOUT THE ARTIST
Italian trombonist Peter Steiner's playing has been described as "beautifully controlled with a vocal sound" and he is recognized around the world as "a new trombone star within his generation" who "plays with total control". In 2019 he was honoured as a Prize Winner at the XVI International Tchaikovsky Competition in Russia.
At the age of 23, Peter Steiner was appointed Trombonist of the Vienna State Opera and Vienna Philharmonic for the 2016-2017 season. Prior to that engagement he served as Principal Trombonist with the Colorado Symphony for the 2014-2015 season. He has performed as guest trombonist with the Munich Philharmonic, Staatskapelle Dresden, New York Philharmonic, Dallas Symphony Orchestra, Seattle Symphony Orchestra and BBC Scottish Symphony Orchestra.
Mr. Steiner performs exclusively on Bach Trombones - his signature is the Artisan 47XPS.
Austrian artist Constanze Hochwartner is an international touring solo organist and pianist as well as part of the Duo Steiner-Hochwartner. Her 2022/2023 season involves tours throughout Asia, Scandinavia and the USA. In addition she will give solo performances on the organ as well as duo concerts in Austria, Belgium, Italy and Switzerland.
Constanze has given solo performances around the globe, including organ concerts in Europe, the United States and South America. She performed as a soloist in the Graz Cathedral in 2015 and 2016 and at the "Grazer Orgelfrühling" 2016 in the Herz Jesu-Kirche in Graz. In June 2017 she gave a recital in the parish church of St. Xaver in Leoben and concerts with the brass ensemble of the University of Music and Performing Arts.
ABOUT THIS EVENT
The Steiner-Hochwartner Duo performs a programme of music for trombone and piano.
TICKETING INFORMATION
Out of respect for other concertgoers, no children under 6 years of age will be allowed admission.
To help keep our community safe, here are the measures that we will be adhering to:
• Only individuals who are fully vaccinated or exempted from Vaccination-Differentiated Safe Management Measures (VDS)* may be admitted to performances with more than 500 audience members.
• *Exempted from VDS: Individuals who have recovered from a COVID-19 infection and are within 180 days of their first positive test result, individuals who are medically ineligible for COVID-19 vaccination, and children aged 12 and below.
• All audience members must warrant that all vaccination and VDS information is correct when requested for disclosure.
• All audience members must consent to the collection, use and disclosure of personal data in relation to the ticket holders' vaccination and VDS data.
• Do bring along your photo identification and proof of vaccination. We regret that patrons who do not have their photo ID or proof of vaccination may be denied entry. Please visit the MOH website for details.
* Please refer to ystmusic.nus.edu.sg for the latest event updates.