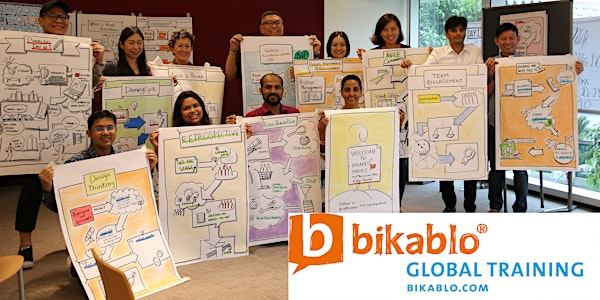 Visual Facilitation - 2 day bikablo basics - No drawing skills required
Bring your ideas to life with bikablo technique that make them pop. Visualisation makes content and process visible in real time. In present
Date and time
Wed, 26 Apr 2023 09:00 - Thu, 27 Apr 2023 17:00 +08
Location
Near Mountbatten Road Mountbatten Road Singapore, Singapore 427664 Singapore
About this event
1 day 8 hours

Mobile eTicket
Bring your ideas to life with bikablo technique that make them pop.
Visualisation makes content and process visible in real time. In presentations, workshops, coaching sessions, training and meetings - whenever people engage in dialogue, are working together and want to learn from each other in an impactful way - the bikablo® technique opens the door to the world of visual thinking and dialogue.
Irrespective of your artistic talent, you will learn visual language that you can use for notes in small formats as well as for flip charts and pin boards.
Five reasons you should learn Bikablo in Singapore:
Bikablo is a tried and tested technique developed in Germany by Martin Hausmann

Bikablo is a curriculum delivered exclusively by certified Trainers around the world using Bikablo tools and Bikablo techniques.

Bikablo has benefited thousands of learners who apply it to enhance their communication skills

Bikablo training in Singapore  has a maximum size of 12 participants to ensure that everyone gets personal attention at every stage of the training. 

Bikablo trainings ensure that the participants upon completion of the training feel a sense of achievement and confidently say "Yes - I can draw!"
 Bikablo is a visual language & drawing technique developed and refined in Germany by Martin Hausmann over 15 years. The Bikablo technique uses German rigour in its step by step process, clear rules and easy to follow method. This systematic technique allows people who cannot draw learn how to in a day.
Research has shown that Powerpoint presentations are not able to keep the focus and attention while Bikablo gives you the tools to create engagement, participation and dialogue.
The Bikablo visualisation technique helps you to structure and present ideas and explain strategies and processes simply. It also increases participation in team discussions as it is more inclusive with everyone being able to see their contribution in real time.
This results in a visual record which is clear, attractive, creates a common understanding which is easy to recall.
bikablo® Visual Facilitation - The world of visual language
In this fundamentals training you'll be guided step by step into the the world of visual facilitation. You will warm up your drawing skills before we move on deeper into more enhanced techniques.
What to expect in our 2 day training:
Regardless of your drawing experience - or belief in your talent - you will learn how to use small details to make large spaces look clear, attractive and lively. 
Holding the pen and drawing the line: How do I draw clean lines and structure my space on the flip chart? 

Graphics and text containers: How do I create simple arrows and connecting elements from basic geometric shapes in order to present related topics? Which text containers (e.g. speech bubbles) can be used to support which kind of messages?

Objects and symbols: How do I draw simple symbols to underline messages? What is essential, what can be left out?

Figures: What easy ways does bikablo® provide to draw people, roles, groups and situations?

Colour and space: What are simple and fast options to colour elements and spaces in a quick and simple way that supports the graphic structure?

Writing: how do I improve my handwriting on the flip chart to make it more legible and attractive?

Mobile Elements

Live scribing: How can I use easy step-by-step techniques to record a dialogue in real-time and enhance a recorded poster with a key visual?

Posters and settings: How do I combine the ingredients (graphics, writing, symbols, figures and colour) to create to the point visual translations of content and meaningful posters for different purposes (welcome agenda, instructions, group work)?
Benefits
bikablo® certificate: every participant receives a bikablo® certificate after completing the training

bikablo® StarterSet 1 & 2: Each participant will get an exclusive StarterSet with 4 visualisation markers from Neuland and the StarterBooklet that summarises the principles, contents and techniques of the training on 60 pages. 

Documentation: For your follow-up you will receive photo documentation of all drawings and content.

Invitation to join the exclusive bikablo® Online Community for alumni with a user forum and a specialist knowledge database.

One-off 10% discount for purchase of Neuland material.

International Coach Federation (ICF) gives you 14 CCEUs for attending the program.

Project Management Institute (PMI) gives you 13 Professional Development Units for attending the program

Scrum Alliance gives you 13 Education Units for attending the program.
Who is it for?
Are you working in an area where communication and collaboration between people is essential? Maybe you work in one of these roles...
Manager & Leader

Project Manager, Agile Coach, Scrum Master or Iteration Manager

Trainer, Coach or Facilitator

User Experience Expert, Business Analyst

Product Owners / Product Managers

Agile Team Leader, Delivery Lead

Knowledge worker like Software Developers or Science

...then this training is especially for you!
What our past participants said:
 "I highly recommend this workshop to anyone who wants to illustrate ideas with pictures: facilitators, coaches, trainers... Step by step, you will learn simple yet effective techniques to draw building blocks like titles, concepts or people. Then you'll learn how to combine them in order to achieve more complex activities like story telling or live visual recording. Coming from a "I can't draw" background, I was amazed at what I managed to draw after 2 days only!" Sylvain Mahe, Agile Coach
"The Bikablo training is fun and engaging. Everyone comes with an open mind to learn and share. Since the training, I start integrating visual learning in my work and delighting my customers. We understand our customers' needs clearly and shorten the sales cycles. I highly recommend this training and welcome you to the world of visuals." Angela Tan, IT Consultant
"Visual Facilitation is about drawing to communicate. Bikablo gives you a clear, simple, visual grammar, that gets the team away from arguing and toward collaborating… After the course, my meetings, and abilities as a facilitator took a 180* turn around. - Bikablo's structure and framework is an indispensable skill that should be a part of any professional's toolkit. - Go do It! you won't regret it." Jesko von den Steinen, Associate Director HR
Trainer: Jaya Machet - Certified bikablo trainer
About the organiser

All Lined Up was founded by Jaya Machet, who is passionate about people and believes that human interaction can generate limitless possibilities. She has put together tools to help teams create this magic.
Jaya Machet is a  Bikablo Certified Visual Trainer, Executive coach & Leadership Faciliator. 
Jaya combines executive coaching and facilitation with visual thinking. She believes in the power of visuals and incorporates them in her work. She has seen the positive impact of visuals on the participants and how bikablo techniques open the door to visual thinking and dialogue. She loves the structured bikablo approach which enables everyone to make their work more visual.
Jaya has a strong foundation of 20+ years in senior management positions in the corporate world. She thrives in cross cultural environments and is passionate about learning and growth.
She is based in Singapore and holds Swiss and French passports and is an Overseas Citizen of India. She enjoys traveling, good food and wine.
Jaya conducts one day bikablo® visual facilitation training sessions in Singapore and would be delighted to connect with you to answer any questions you may have.
www.alllinedup.biz