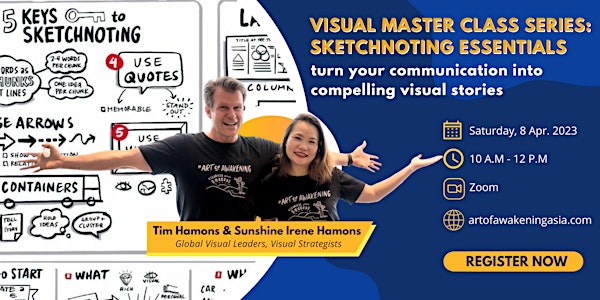 Visual Master Class Series - Sketch Noting Essentials
Turn your communication into compelling visual stories which clarify your thinking, create connection, and boost collaboration
Date and time
Starts on Fri, 7 Apr 2023 7:00 PM PDT
Refund Policy
Contact the organiser to request a refund.
Eventbrite's fee is nonrefundable.
About this event
Too much content and not enough connection. This is what could be said about many of our virtual and even in-person meetings. Connection is what we crave as humans. We can create connection through story, and story, through visuals. When you bring visuals into your notes and meetings, everyone's brain lights up. People lean in, become curious, and become more active participants.
In this hands-on masterclass with visual strategist Tim Hamons, you will learn how to transform written or verbal ideas and messages into compelling visual summaries. The many benefits of sketchnoting include increased engagement, better memory and retention, and a boost in your sense-making through connection ideas.
You will learn how to summarize messages into visual narratives for yourself and your audience, explore various layouts, visual frameworks, and keys to sketchnoting, and create your own first (or next) sketchnote. You will learn the keys to being a better listener and how to look for the visual narrative.
You will build on your learning through practical exercises and receive invaluable feedback from Tim and your peers through collaborative exercises throughout the session.
Whether you are a manager, educator, researcher, facilitator, content creator, coach, or consultant, visual sketchnoting will help you organize and clarify your thinking and will impact and inspire the participants in your meetings and presentations.
✍️ Course Content (120min)
Intro to Sketchnotes and the Power of visual note-making
Listening & Drawing: your visual superpower
5 Keys to Sketchnoting: practice the foundations
3 Foundational Layouts
Visual Brainstorming: icons and visual language for visual storytelling
Frameworks for Transforming Content from verbal to visual
Create a sketchnote together
Applications to your meetings, classrooms, presentations, and more!
Q & A
🌟 ㊕ BONUS #1 (40min)
Breathing In - Drawing Out (BIDO)
Using a combination of creative visualization ad drawing tools, you will explore what is something you would like to bring in, and something you would like to let go of.
This session can support your integration of new skill learning in the sketchnoting class and develop confidence in its applications in personal and professional development
Release
Reflect
Reimagine
... using visual tools
🌟 ㊕ BONUS #2 (20min)
Digital Sketchnoting Tips
We will share some of the best practices, apps, and tools to both transfer and create your paper sketchnotes into a digital format. The apps we use are Procreate, and Sketches School. We also share a few visual thinking resources you might already have in your smartphone.
About the Coach
Tim Hamons is a visual thinking strategist who works with individuals, teams, and organizations to transform their meetings and inspire joyful communications through visuals. He is the director of Art of Awakening, a visual thinking consultancy he runs with his wife Irene Hamons in Singapore. Over the past 11 years, Tim has been in over 800 meetings, drawing the process of change in each one of them. His passion is in reframing our relationship to drawing as our best tool for thinking, and in the process helping individuals to re-discover the power of their own creativity.
Course Details
Date: Saturday 8 April 2023
Time: 10: 00 am- 12:00pm Singapore/ Hong Kong (GMT+8)
7:30 am IST | 10.00pm EST | 12pm NSW | 6pm PST
FAQs
1. Do I need to be able to draw?
Sketchnotes are about thinking & Learning. What is most important are the ideas. So, no, you don't need to have skills in drawing. If you can draw a stick person, that's probably a good start.
2. Can I work on paper or on a tablet?
Either is fine depending on what is most comfortable to you. When Im learning or teaching I prefer the simplicity of paper and pen. Then, the skill can be easily transferred onto a tablet later and you can scale your work using the technology.
3. Will I need to show my work on screen?
It's up to you. We encourage people to do so, as this creates community. Seeing the work of others also helps to lower the level of self-consciousness around drawing and creates momentum.
4. How will I use these skills of visual sketchnoting after the workshop?
There are many ways. Participants use them primarily for personal or professional note-taking. it's a great way to create tangible artifacts from a learning event or from listening to your favorite Ted talks. Others have used it in professional meetings with teams and clients. As with any skill, the more you practice, the more your skills will develop and you will want to use this in a variety of ways.
5. What if I don't have professional markers available?
That's fine, any simple colored markers or pens will do. Do you have a student at home? You might want to borrow a few colors from their creative kit - students often learn sketchnoting and other creative note-taking skills at school. Invite them to join you! Kids are great teachers of creativity!
6. But really, isn't drawing your notes kind of childish?
Not at all. Sketchnoting is taught in many levels of education. We have taught these skills to senior leaders in banking, government, and many other sectors for over 12 years. One thing they do say is that this work helps them to see their ideas with new eyes. Perhaps these are the eyes of a child.
About the organiser
Our visual thinking tools and trainings, support teams to generate more ideas, focus on the shared vision and see the big picture. We create an environment allowing participants to re-ignite and focus creativity in individuals, teams, and organizations!
Some of our Programmes include:
Visual Facilitation Lab, VFL (Signature Programme)
Virtual Visual Facilitation Lab (VVFL)
Visual Recording 2.0 *NEW*
Visual Sketchnoting (Introduction)
Visual Sketchnoting (Intermediate)
Breathing In, Drawing Out (BIDO)