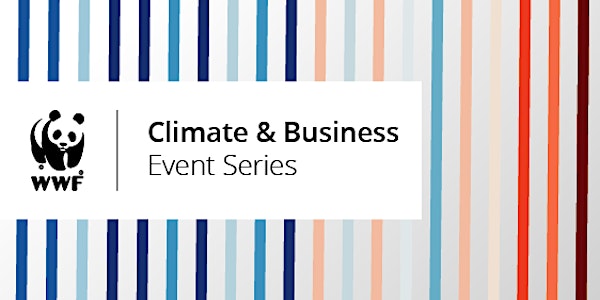 Voices from COP26: Why it matters to businesses in Singapore
COP26 concluded last week. The announcements signify the goal to keep the 1.5°C global warming within reach. How does it affect businesses?
By World Wide Fund for Nature (WWF)
Date and time
Wed, 24 Nov 2021 23:00 - Thu, 25 Nov 2021 00:30 PST
About this event
COP26 concluded last week with the outcome of a completed rule-book that aims to help countries and institutions deliver the goal of meaningful climate action. The policies and actions set forward in this momentous event represent the blueprint to our collective progress.
Whether you're a global conglomerate or a budding start-up, the policies drafted at COP26 can help guide you towards a sustainable and conscious way of doing business.
Given its significance, WWF-Singapore is hosting this event, Voices from COP26: Why it matters to businesses in Singapore, to share the key outcomes of the conference, especially the ones relevant for businesses in Singapore and the region.
Voices from COP26: Why it matters to businesses in Singapore is the first in the four-part Climate & Business series by WWF-Singapore that aims to address the importance of the corporate sector taking strong and meaningful action and accelerating efforts to avoid the worst of the climate crisis.
Event Agenda
Date: 25th November 2021
Time: 3:00 PM – 4:30 PM (GMT+08:00)
Format: Zoom Webinar Platform
3:00 PM - Opening remarks by Seán Mallon, Climate Specialist and Programme Manager, Climate Business Network, WWF International
3:10 PM - Expert sharing on outcomes of COP26 by Dr Winston Chow, Associate Professor of Science, Technology and Society, Singapore Management University
3:25 PM - Expert sharing on new NetZero Standard under Science-based Targets Initiative (SBTi) by Alberto Carrillo Pineda, Managing Director, The Science Based Targets initiative
3:35 PM - Panel discussion with Singapore-based corporate leaders and Q&A, with
Chris Stephens, Director, Asia and Africa, The Carbon Trust
Donald Chan, Managing Director, Asia-Pacific, CDP
Franziska Zimmermann, Director, Sustainability, Climate Change Strategy, ESG Investment Management and Institutional Relations, Temasek
Dr Hui Mien Lee, Senior Director, Group Environment Sustainability, Singtel
Moderated by Ms Swati Mandloi, Market Transformation Manager, WWF-Singapore
4:25 PM - Closing remarks by Stefanie Beitien, Head of Market Transformation, WWF-Singapore.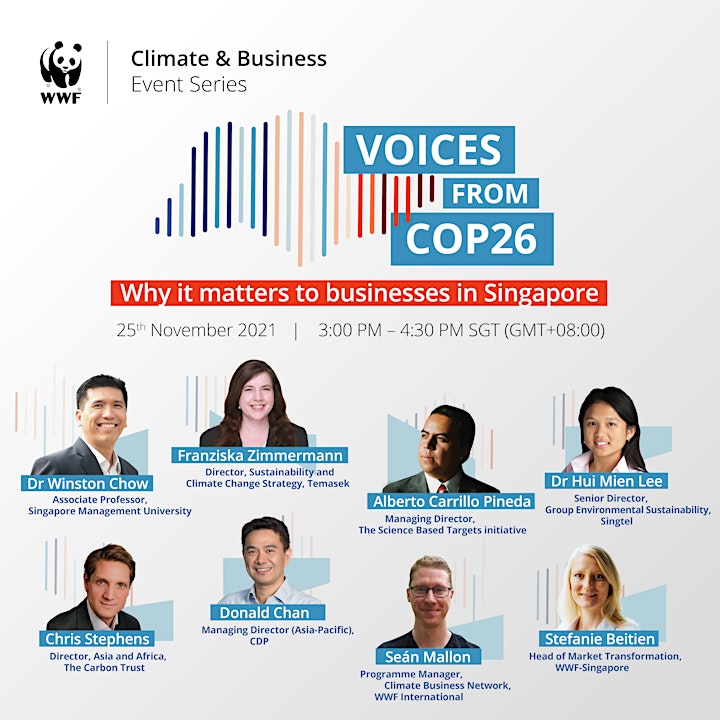 Disclaimer: By registering to this webinar series, you agree to WWF International's Privacy Policy and WWF Singapore's Privacy Policy. Please note that the event will be recorded for sharing purposes.