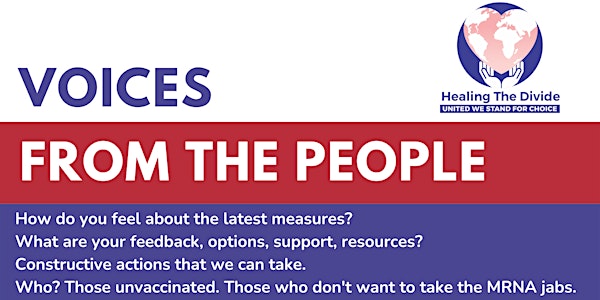 Voices from the People. How do you feel about the latest measures?
How do you feel about the latest covid measures? These would affected the unvaccinated and those who do not want to take the MrNA jabs.
About this event
It is a response to the current measures set out by the Singapore Government to ban the unvaccinated from malls, hawker centres, coffee shops etc. Some people have lost their jobs as well.
Further more, on 23rd Oct, the Government further tightened the discriminatory measures to disallow those who are unvaccinated to not be able to go to work, unless need to take a ART test in the clinics everyday.
We object to these measures as they threaten the livelihoods of those who do not want to be vaccinated without valid reasons, except to coerce the MrNA jabs in people.
This event is for those who would like to be able to deal with what is happening without breaking down, especially if you do not have valid support.
The event will be a few parts:
1) Tell us how you feel. Your feedback and explore your options. We will actively work to collect feedback for these upcoming measures.
2) Healing the Divide Support Initiative: Neighbours For Neighbours Programme to support those who may need help with daily living, cope with stress, medical etc. We discuss directory of services for the unvaxxed.
3) Those who wish to list services/businesses for the unvaxxed can do so here.
4) Call for community to step up and assist to support the 100,000 people who may soon be affected by the measures in January.
If you would like to join our Neighbours For Neighbours Programme and to support this huge growing group, or need some support yourself, go to.
To learn more about us, go to www.healingthedivide.cc
Feel free to join our Community Form so we can better support you. This form is required to attend the meeting. bit.ly/htdcomform
Thank you.
Iris.