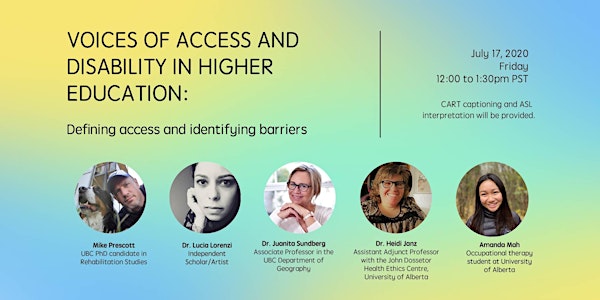 Voices of Access and Disability in Higher Education: Part 1
This is the first of a two-part webinar series that seeks to address and highlight disability inclusion and access in higher education.
When and where
Date and time
Fri, Jul 17, 2020 12:00 PM - 1:30 PM PDT
About this event
Closed captioning and ASL interpreting will be provided. Contact cheangrchl@hotmail.com with any questions about accessibility.
Voices of Access and Disability in Higher Education is a 2-part webinar series that seeks to address and highlight disability inclusion and access.
In this first panel, we will define access and identify barriers rooted in ableism that impede access to education spaces. This webinar series aim to centre lived experiences of disability in education and academia and encourage dialogue around addressing and challenging ableism in our institutions.
We hope that this webinar series will initiate conversations within our universities and other learning spaces around the importance of broadening our understanding of access and disability as a justice-centred issue. For education to be truly inclusive, we need to care for students, staff and faculty with disabilities beyond means of accommodation. How can we better support our campus community made up of learners and educators with diverse abilities in an equitable manner?
A recording and transcript of the webinar will be emailed to participants after the webinar.
Agenda
12:00pm to 12:15pm - Introduction
12:15pm to 12:45pm - Moderated Q&A
12:45pm to 12:50pm - Break
12:50pm to 1:20pm - Audience Q&A
1:20pm to 1:30pm - Wrap up and conclude
Panel speakers:
Mike Prescott is a PhD candidate at the University of British Columbia in Rehabilitation Studies within the Faculty of Medicine. He has a Master's in Urban Planning from the University of Waterloo, an MBA from Simon Fraser University, and a BSc in Kinesiology from the University of Illinois where he was an All-American in wheelchair basketball and track medalist. Mike was the Manager, Accessible Tourism for the 2010 Games in Vancouver and has developed accessibility strategies for communities and organizations across North America. His current research focuses on the mobility and navigation of people with disabilities in the pedestrian environment. His findings suggest that there is a large gap between the needs of people with disabilities and the design and management of the environment to meet these needs.
(Image description: Mike is wearing a blue and white cap. He is looking at the camera as he bends down for the photo on a grass patch with his dog beside him.)
Dr. Lucia Lorenzi is a Black queer scholar-artist living with post-concussion syndrome and chronic illness on the unceded territories of the Kwikwetlem First Nation. Trained as a Canadianist, Lucia received her PhD from the University of British Columbia in 2016. Her academic research focuses on the aesthetics and politics of silence in literary representations of sexualized and gendered violence. Lucia's activism has also centred on sexualized and gendered violence, primarily in post-secondary institutions: in 2016, she was awarded the Governor General's Award in Commemoration of the Persons Case for this work. Her visual art engages grief, trauma, and relationality, as well as Black diasporic life in Canada.
(Image description: A black and white headshot of Lucia, who has long hair swept to one side over her shoulder. She is looking at the camera and smiling slightly with her chin in her hand, and she is wearing a dark shirt printed with small hearts.)
Dr. Juanita Sundberg is an Associate Professor in the Department of Geography at the University of British Columbia. Her research brings the insights of feminist political ecology and the sensibilities of ethnography to bear on the politics of nature. Dr. Sundberg's work seeks to foster conversations between more-than-human geographies, critical Indigenous studies, and critical theories of race and ableism in relation to climate change and extinction in settler colonial societies in the Americas. A new collaborative project with Leticia Durand, UNAM, centers on vegetal politics with a focus on how sargassum intervenes in political ecologies on the Riviera Maya.
(Image description: Juanita is wearing a white top and a pair of black frame glasses with blonde hair. She is propping her head up with her hands clasped together and smiling at the camera at an angle.)
Dr. Heidi Janz is a Core Faculty Member and Assistant Adjunct Professor with the John Dossetor Health Ethics Centre at the University of Alberta. Her areas of specialization include Disability Ethics, Critical Disability Studies, and Research-Based Drama. She is also the Chair of the Council of Canadians with Disabilities, Ending-of-Life Ethics Committee. In her "other life," she is a writer/playwright and filmmaker. Her creative work focuses on making the experiences of people with disabilities accessible to audiences made up of both people with disabilities and people who are temporarily able-bodied. Heidi Janz also has cerebral palsy.
(Image description: Heidi is wearing a pair of black frame glasses and a patterned shirt. She is sitting on a wheelchair and smiling at the camera.)
Moderator:
Amanda Mah (she/her) is a second-year occupational therapy student at the University of Alberta. She is a daughter, sister and third-generation Chinese-Canadian settler who calls what are now the western Canadian provinces her home. Amanda completed her undergraduate education at the University of British Columbia, combining studies in Behavioural Neuroscience, Physiology and Epigenetics to understand how stress impacts the human experience in a complex way. As a non-disabled comrade, Amanda works to view her current studies through the lens that it is a universal right to participate and engage in the activities of life which make us who we are. She is committed to exploring and reclaiming occupational therapy's roots in activism and growing a community of practitioners and students to do the same. In her laptop-free time, you'll find Amanda outside, listening to a podcast or the more likely combination of the two!
(Image description: Amanda is smiling directly into the camera and surrounded by the blurred background of a fall forest. She is an Asian woman with freckles and long black hair, wearing a black, puffy down jacket with the strap of a purse draped across her front.)
We gratefully acknowledge Creating Accessible Neighbourhoods BC, UTown@UBC's Community of Caring grant and the UBC Department of Geography's Equity and Diversity Committee for their financial support to this event.
Instead of a set ticket price, we ask that you contribute what you can to the Vancouver Black Therapy and Advocacy Fund and the Black in BC Community Support Fund for COVID-19. While we aim to make this programming accessible to all, a suggested contribution of $10, $15, whatever you can afford, will go a long way to create safety networks for Black communities struggling with mental health and financial hardships due to COVID-19. Thank you.