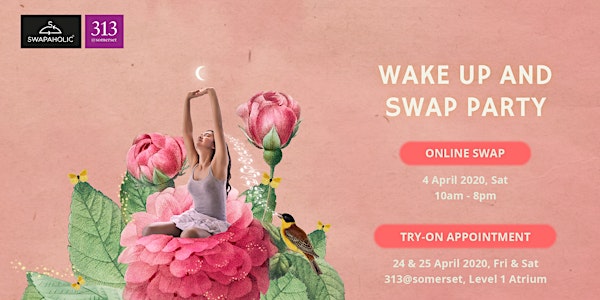 Wake Up And Swap 2020
Wake Up And Swap Party 2020
About this event
IMPORTANT NOTICE:
Register online at www.swapaholicevents.com to be qualified for the swap party. You will be able to schedule for your items to be picked up for quality checks.
Eventbrite sign ups will not be qualified for the swap.
The WAKE UP AND SWAP PARTY 2020 represents us waking up from a slumber of inaction and swapping our mindsets and our consumption choices. This is the first online swap party in the history of swaps!
On 4 April 2020, get introduced to a brand new swapping experience at the comfort of their homes – ONLINE! The Online Swap link will ONLY be valid for 10 hours with a private swap access link. At the online swap party, you will have a wide selection of curated items to choose from, including items from influencer and fashion brands - similar to a physical swap party!
To swap, simply view items just like any e-commerce experience and add them to their cart. Now here's the fun part! You get to try out your reserved items and book a try-on appointment on 24 or 25 April 2020 at 313@somerset.
What's more, 313@somerset is subsidising the registration fee AND giving vouchers to participants when you come down to try on their items!
--------------------------------------
WAKE UP AND SWAP PARTY 2020
--------------------------------------
29 February 2020 - 14 March 2020
REGISTRATION & CLOTHES COLLECTION FROM REGISTERED SWAPPERS
4 April 2020 (10AM - 8PM)
ONLINE SWAP PARTY
24 & 25 April 2020
TRY-ON APPOINTMENT AT 313@SOMERSET, LEVEL 1 ATRIUM
View full event details on our Facebook event page: https://www.facebook.com/events/181673353251637/
REGISTRATION FEE: 40 SGD FLAT FEE (Up to 10 items only)
Our generous sponsor 313@somerset is offering first 300 swappers a 50% discount on your registration fee (Yes! You will only need to pay 20 SGD! Limited time period only).
Note: No promo code required. Discount is automated if qualified.
HOW THE SWAP PARTY WORKS
STEP 1:
a. Register online at www.swapaholicevents.com
b. During registration, select a convenient slot for us to collect your items.
STEP 2:
Using Swapaholic's unique system, our Swapaholic Police will then quality check and allocate point to your items.
STEP 3:
Approve your points via the e-mail which you will receive within 5-7 working days from the day your items were collected.
STEP 4:
a. Swap till you drop ONLINE from wherever you are on 4 April 2020 between 10AM - 8PM.
b. Once you've shortlisted your swapalicious finds, select a convenient appointment slot on either 24 or 25 April 2020 to try on your items at 313@somerset.
STEP 5:
Come down to 313@somerset on your pre-selected try-on appointment slot, to ensure your swapalicious finds fit you — just like how you could at a physical swap party.
More questions? Write in to us and we'll answer them all: hello@swapaholic.com