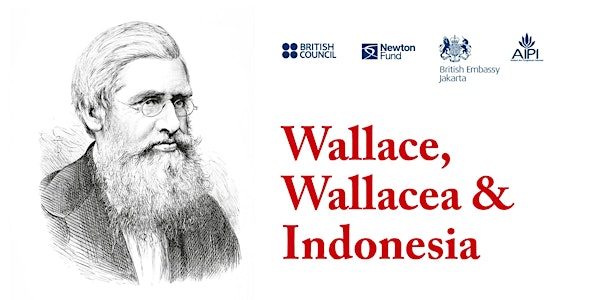 WALLACE, WALLACEA & INDONESIA. WALLACEA WEEK 2017 (Public Lecture)
When and where
Location
Film Auditorium, 2nd Floor, NATIONAL LIBRARY 11 Jalan Medan Merdeka Selatan Gambir, Daerah Khusus Ibukota Jakarta 10110 Indonesia
Description
OBJECTIVE
Spark a multi-stakeholder conversation in understanding the potential of Wallacea region, with interdisciplinary scientific findings as the first basis of discussion.
AUDIENCE
Sweeping a broad audience, we hope what will bring people together to the public lecture is a sense of curiosity of what the Wallacea region has to offer. This includes students, researchers, development workers, government entities and private sector having an interest to work in or already working in the geographical area spanning East of Bali and West of Papua.
We expect approximately 300 participants, 40% of which coming from academia and an even split of the remaining from government, private sector and development sector.
SESSION STRUCTURE
The one-day public lecture is split into three topic-specific panels (natural history-knowledge production, biogeography-biodiversity & human-cultural diversity) and a wash-up panel on identifying 'what's next' for Wallacea.
Each panel will last for 60 minutes, with each of the panellists given a 10-minute speaking slot. There will be 20 minutes at the end of each session for Q&A and discussion led by a moderator.
PROPOSED PROGRAMME (all speakers are to be confirmed)
09.00 – 10.00 : OPENING
10.00 – 11.00 First session (Alfred Russel Wallace: natural history & knowledge production in Wallacea region) It was the informative geography of now Wallacea region that famously inspired Alfred Russell Wallace to develop his theory of evolution by natural selection. His observation for years on the distinctiveness of species in the imaginary divided areas in the archipelago led to the development of sciences, such as biogeography, ecology, evolution, anthropology, and environmental studies. This panel will explore his processes of knowledge production and how locals contribute to it. In the post colonialism era and after more than 150 years of his endeavour in the archipelago, what we can learn from the process and make use of it for the future?
Speaker: Dr John van Wyhe – NUS, Andre Schuiteman - KEW & Prof Sangkot Marzuki—AIPI
Moderator: tbc
11.00 – 12.00 Second session (The movements of earth, the shaping of life. Wallacea as case study of biogeography and biodiversity) Wallacea's unique species is a result of its equally unique land formation process. Islands in the region were neither part of Asian nor Australian continent. And the region still evolves, resulting specification and hybridisation of species, give it challenging environmental issues which were also coined by Wallace. This panel will lay out what we know so far of how movements of earth affect biodiversity, including the wider ecosystem in the region.
Speakers: Prof Jatna Supriatna – AIPI/UI & UK speaker – tbc
Moderator: Berry Juliandi – ALMI/IPB
12.00 – 13.30 Lunch break
13.30 – 14.30 Third session (Wallacea: a living laboratory of human diversity) When talking about biodiversity, we rarely include human diversity in our minds when in fact Homo sapiens is actually the least understood species. The diversity of ethnic groups in the Wallacea region is a living laboratory that provides problems as well as potential solutions in which science can contribute in, i.e. social and cultural aspects, medicine, and health. This panel will explore the biological (genetic) and cultural diversity of people living in Wallacea.
Speakers: Prof Herawati Sudoyo – AIPI/Eijkman Institute & ID speaker - tbc
Moderator: Prof Irawan Yusuf—AIPI/Unhas
14.30 – 15.30 Fourth session (Exploring Wallacea, the future of Indonesia) After mapping what Indonesia has in Wallacea, the next proposed step is identifying what still needs to be done. This panel convenes relevant government representatives who will identify relevant policy/activity to benefit from the Wallacea region. This ranges from general development plan, what science is still needed to deliver the plan, what specific cultural approach will work and types of economic development well-fitting for the region.
1.

Ministry of National Planning – natural capital asset for development

2.

Ministry of Research, Technology & Higher Education – science on the ground, research for socio-economic development

3.

Dr. Harry Widianto, Direktur Pelestarian Cagar Budaya dan Pemusiuman

Ministry of Education & Culture – cultural assets development

4.

Dadang Rizki Ratman. Deputi Menteri Pariwisata Bidang Pengembangan Destinasi,

Ministry of Tourism – ecotourism branding
Moderator: Petrarca Karetji, Knowledge Sector Initiative
15.30 – 16.00 Closing remarks
17.00 – 18.00 (Wallacea soiree) A casual afternoon tea convening stakeholders featuring a showcase of first edition of Wallace's The Malay Archipelago. The reception will also invite potential sponsors for Wallacea media expedition with KOMPAS.
* Disclaimer: All sessions might be delivered in English and no interpreter provided.