Description
Want to Lose Weight But Don't Know How?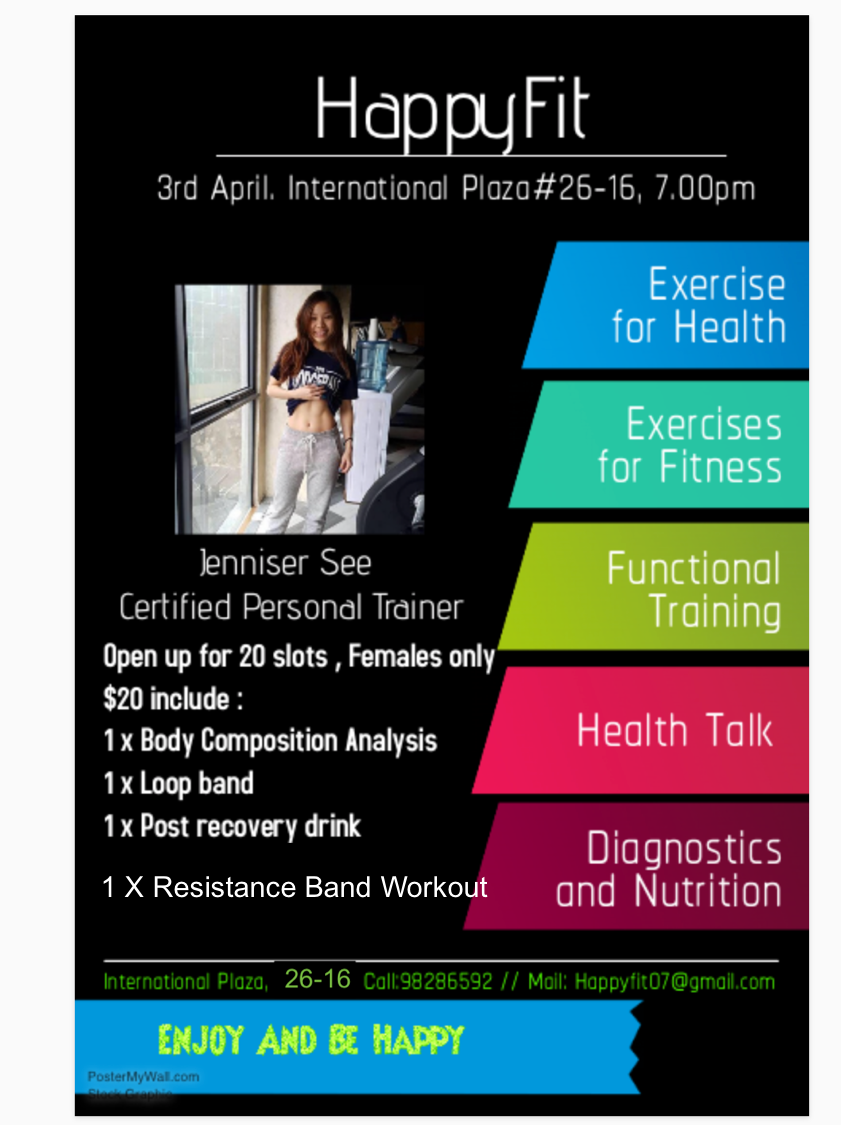 What is the objective of this event?
The objective of this event is to bring all women together to form a community and spread the positive vibes and that is how I came up with my brand name "HappyFit". It doesn't cost anything to be happy yet many people are always unhappy with their life. Be Grateful and Be Happy Always.
Have you been on dieting/exercise and yet you don't not know whether you are burning skeletal muscle or fats?
Many times, we google and search all various ways to lose weight and try to follow youtube video workout.
This can be dangerous because you might be doing the wrong way without proper guidance. In this workshop, you will understand your current state and how you can improve from it.
Have you been exercising but don't not know whether you are on the right track ?
Have a fit bit device with you and start tracking your calories burnt and heart beat per minute. In this workshop, you will know what is the maximimum that you can push yourself to reach your goal.
Have you been wanting to start living healthily and positivily but do not know how to start?
Join me, regardless which level you are at. A community with like-minded people will motivate each other and achieve goal together. I would like to end off with this quote "If you want to go fast, go alone. If you want to go far, go together.
====================================================================
Hi, I'm Coach Jenniser,
I used to be an athlete in school. However, when I step into the workforce, I stop exercising and eat junk foods to satisfied my hunger. As time passed, I started to gained weight and unwanted fats surfaced up. I felt demoralized and helpless of how I can gain back my hour-glass shape.
In 2014, I decided to make a change, I went to enrol in Sports and Wellness course in Nanyang Polytechnic to understand how this course change my lifestyle and since then, my desire to become healthy and fit came back till today. Most importantly, I surround myself with people who have the same mindset - this is very important because this factor can influence me in deciding how I'm going to spend my time and energy on.
All along, I have been training my client one on one basis and has been seeing their progession. This makes me want to do even more. This year, my dream is to share my passion and knowledge to 500 females and you are one of them. Do join me at "Want to Lose Weight But Don't Know How?" workshop. You will get a free body composition analysis and a resistance band to kick start your fitness journey.
I will be inviting 2 special guests :
1) Yanley, Working Professional
Yanley prepare her healthy lunch meals personally. In the workshop, she will share with you her secret receipes and where she get her fresh ingrediants from. If you are a busy professionals and no time to prepare for meal. Not to worry, I have alternatives for you!
2) Dr Andrew, Arc Of Life Chirapractic
Dr Andrew advanced into the area of Chiropractic. He subsequently graduated with Honours Magna Cum Laude from Life Chiropractic College West (LCCW, USA). Dr Andrew has extensive experience of over fifteen years, dispensing chiropractic care to people from working executives, active sportsmen, the elderly and even babies!
What does this workshop consist?
1) Free Body Composition Analysis to understand your current condition
2) Free resistance band to kick start your fitness journey
3) 30 minutes fitness workout with 1 post recovery drink
4) Prepare your meals - Know the type of food that is good for your health
5) How to take care of your health - Arc Life Chirapractic
What do I need to bring?
1) Yoga mat
2) Water bottle
3) Device that can keep track your calories burnt and bpm (beat per minute)
4) Take light meal before coming to workshop
Organised by
HappyFit
Jenniser