Description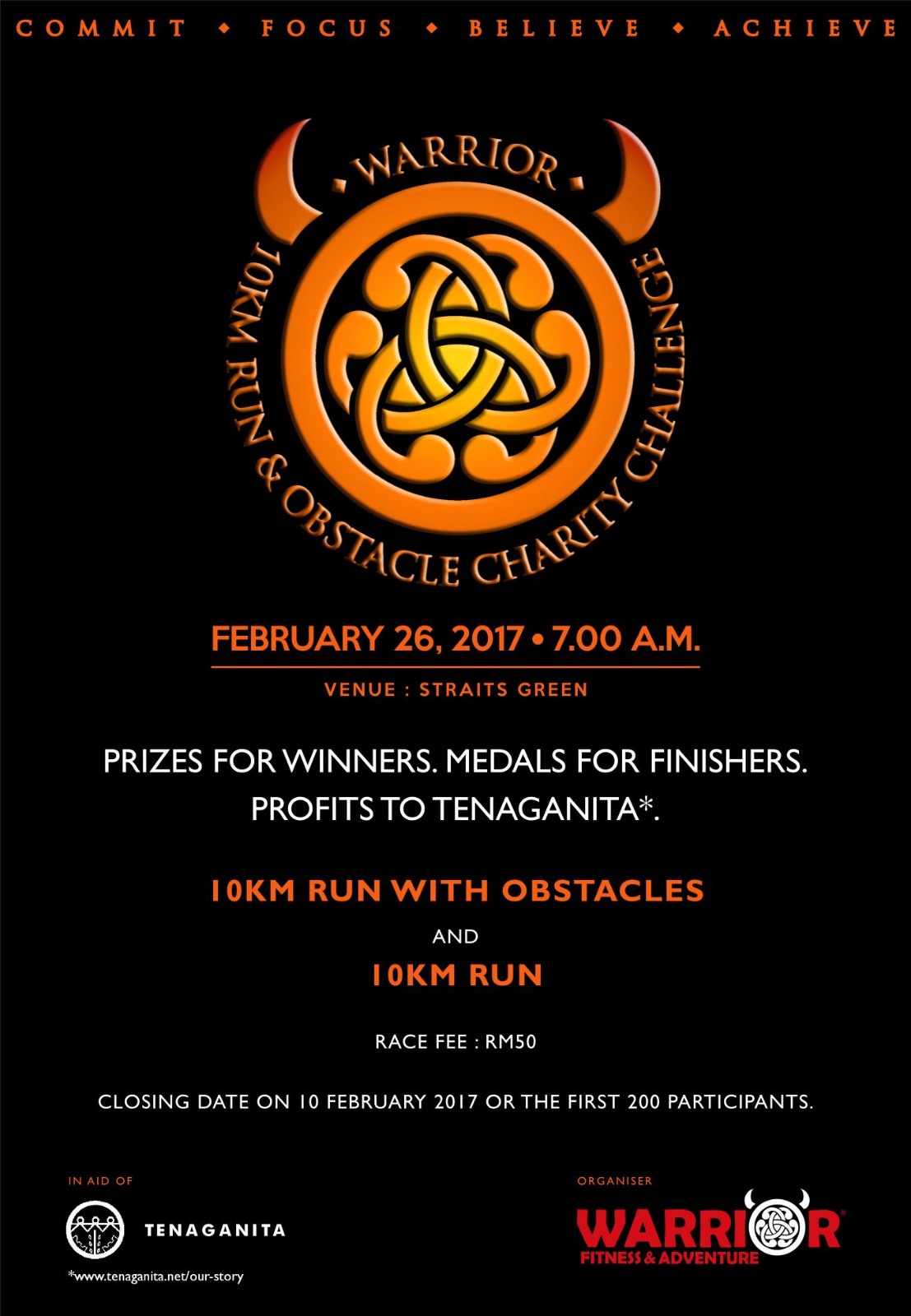 Join us for our first Warrior event of the year! We're holding a 10 km race with 2 options- as a run or as an obstacle challenge.
Open to all Warriors and friends, we will have two categories of racers:
10km Run with Obstacles. Perfect for those training for the Spartan Race and for those who want a greater challenge.
10KM Run. A good option for those who would like to time their running speed or would like to challenge themselves to complete a 10 km race.
Race entitlements: 1st, 2nd, 3rd position trophies, finisher medals, and lucky draw prizes to be won.

This is a Charity Event and ALL profits will go to support the great work that Tenaganita does. Find out more about Tenaganita and their work to protect and promote the rights of women, migrants & refugees: http://www.tenaganita.net/
Look for updates on our Facebook Events page: https://www.facebook.com/events/368716136830913/
RACE DETAILS
Race Kit collection at Subway (2nd floor) at Straits Quay Marina Mall on
- 24th Feb (Fri) 7pm-8pm
- 25th Feb (Sat) 3pm-6pm
06:30 AM- Race Briefing (Mandatory attendance)
06:45 AM- Warm-up by Coach Chin Lee of Warrior Fitness.
07:00 AM- Race starts- Men 10 KM Obstacle Race
07:02 AM- Race starts- Women 10 KM Obstacle Race
07:05 AM- Race starts- 10 KM Run (Men & Women)
09:15 AM- Cut-off time (for those who have not completed 3 laps)
09:30 AM- Prize-giving ceremony to Winners
10:30 AM- Goodbye and see you at the next Warrior Event!
Race day Parking: Parking available at Tesco and Straits Quay Marina Mall car parks.
Bring your paper tickets or confirmation email.
Rules/Regulations:
- The event organizers reserve the rights to postpone or cancel the race, in which case, the fees are non-refundable.
- Race entry is non-transferable and non-refundable.
- The event organizers reserve the right to close registration before the official closing date should participation reach its capacity before the date mentioned.
Safety & Medical Advisory:
- Should any participant feel unwell in the course of the race, he/she should stop and seek from the coaches.
- Participants should prepare themselves adequately and gradually increase the duration and intensity of their training over several weeks prior to the event, at least three times per week of high intensity training.
- Participants are advised not to attend the event should they have a fever, cough, breathing difficulties, or severe muscle aches.
- Participants who have doubts about their suitability to participate in this event (e.g. those on medication or those who have had recent health complaints) are advised to consult their medical practitioner prior to participation in the event.
- Participants are advised against the consumption of alcohol or stimulants or any kind of drugs within 24 hours of the race.
- Participants are advised to wear suitable attire for the run and ensure that they are well-rested & hydrated on the day of the event.
Race:
- While every reasonable precaution will be taken by the event organizers to ensure participants' safety, participants take part at their own risk and the event organizer shall not be liable for any loss and/or damage, whether personal or otherwise, and howsoever arising.
- The event organizers reserve the right to stop any participant deemed physically unfit (i.e. severe physical harm) from continuing the race.
- All participants who successfully complete the race will be awarded a Warrior Finisher's Medal at the Finish Line, with the race bib as proof of participation.
- All participants must complete the assigned exercise at each workout station, failure to observe the race rules will result in a 20 belly burpee penalty.
- The race cutoff time is 9:15am. The organiser will have the right to stop participants who do not cross the line to the 4th loop.
- All participants must wear their assigned race bib. Transfer of race bibs are strictly not allowed.
FAQs
What should I bring?
Sports attire, lots of water, towel/ change of clothes, and plenty of CAN DO ATTITUDE!
Is there an age limit to enter the event?
Only 15 years old and above.
Where can I contact the organiser with any questions?
You can call/ Whatsapp +6012-486 9819 for more information.
What if I don't have a Paypal account?
Not to worry, you can still pay using your debit/ credit card through Paypal's system without signing up for an account. Just follow the instructions below:
1) After filling in your registration details, click on "PayPal Check Out".

2) Instead of logging in, choose "Check out as Guest". (Note that sometimes this same button is titled "Create an Account", please click on it anyway. You do not have to actually create an account to pay.)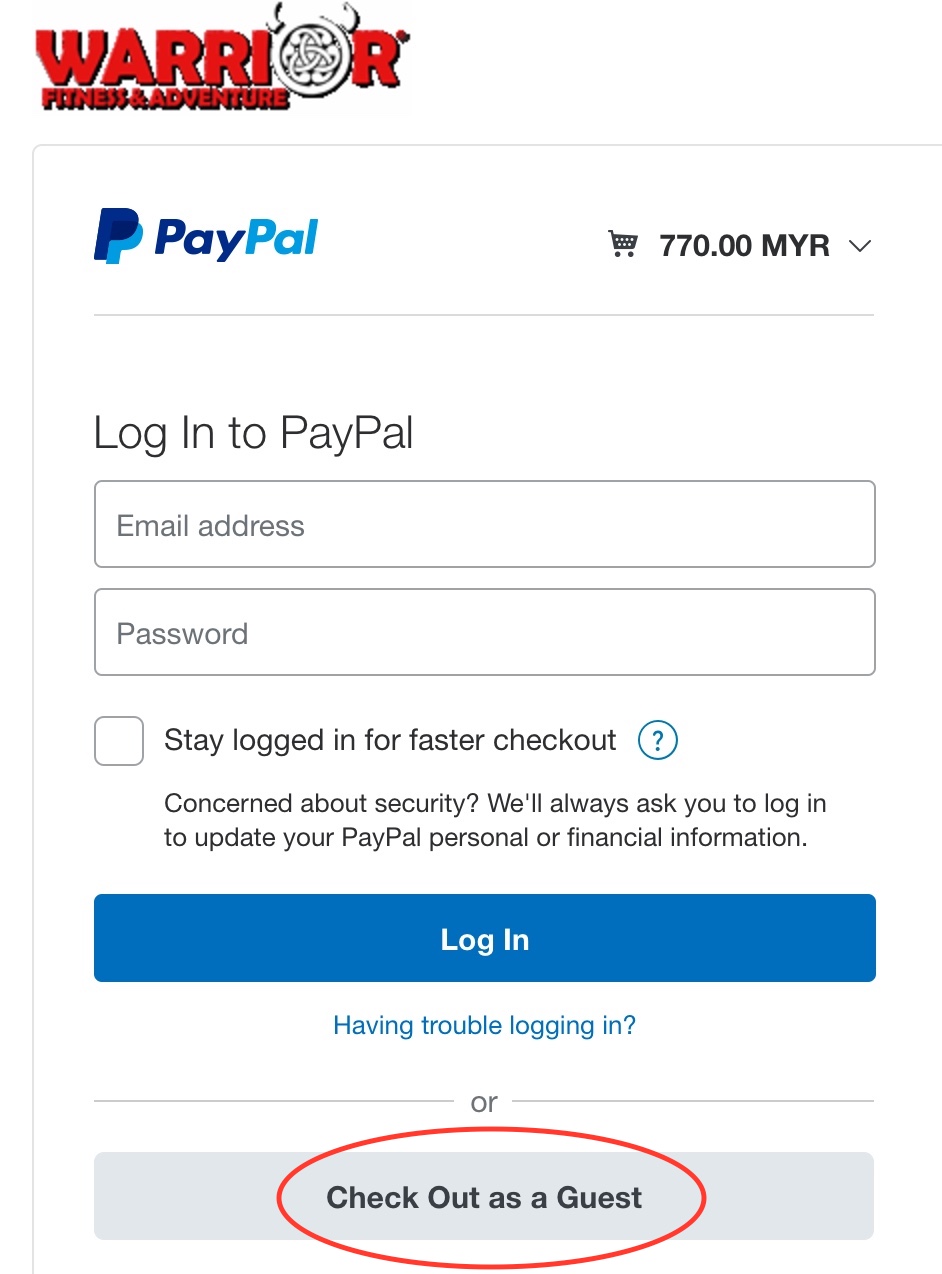 3) Proceed to enter your debit or credit card details and make payment. The End!