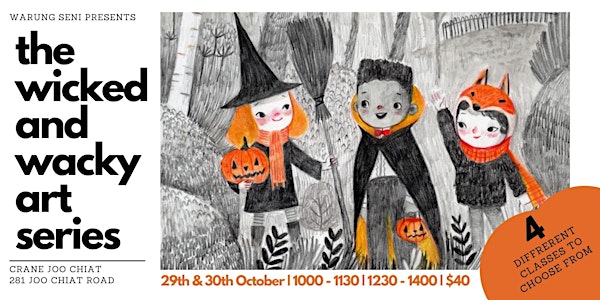 Warung Seni : Wicked & Wacky Art Series
A Craneum Kids' Event
When and where
Location
Crane Joo Chiat 285 Joo Chiat Road Singapore, 427539 Singapore
Refund Policy
Contact the organiser to request a refund.
Eventbrite's fee is nonrefundable.
About this event
Yayoi Kusama's Dotty World of Pumpkins
Learn all about the fascinating spotty world of Japanese artist Yayoi Kusama!
Date: Saturday, 29th October 2022
Time: 1000 - 1130
Ages: 4 - 8 year olds
Fee: $40
Pumpkins, colours, dots, and MORE dots! Looking for a fun art lesson for your little one?
Check out Warung Seni's Yayoi Kusama Dot Pumpkin workshop! In this lesson, we will introduce little artists to the weird and wonderful world of the Princess of Polka Dots.
This workshop is inspired by Yayoi Kusama's painting of pumpkins that uses patterns of polka dots and nets! We will be exploring her gorgeous works, and then creating our very own original masterpiece using watercolor, acrylic paints and Chinese ink!
Who Let the Cats Out? It's me(ow)!
An ameowzing workshop for the little ones who love to doodle and explore their creative minds.
Date: Saturday, 29th October 2022
Time: 1230 - 1400
Ages: 6 - 13 year olds
Fee: $40
An ode to the purrfect furry creature, this workshop is crafted for the older artists who are ready to have some serious doodling fun. They'll get to create the most wacky, the most cool-looking cats they could imagine - from Harry Potter cats, to cats floating in space, and even superhero kittens!
In this 90-minute session, the little artists will keep their creative juices chugging as they learn the tips and tricks to make their simple doodles into a magical-looking masterpiece!
Let's get crafty: Mask-Making Workshop with Warung Seni
Date: Sunday, 30th October 2022
Time: 1000 - 1130
Ages: 5 - 12 year olds
Fee: $40
Get your hands crafty and messy with our favourite mask-making workshop with Warung Seni! We'll be using colourful and creative recycled materials, and repurposing them to create the most weird and wackiest of masks.
And the best thing is - there's endless possibilities of what the mask masterpiece would finally look like. It's all up to the amazing minds of the little artists! Let's get tinkering, crafting, and cutting!
Sunset Silhouette Painting: Spooky House edition
Date: Sunday, 30th October 2022
Time: 1230 - 1200
Ages: 5 - 12 year olds
Fee: $40
Who's brave enough to step into this spooky house workshop with Warung Seni? With looming black bats and screeching crows, this workshop is perfect for those who love the creepy and eerie things in life.
The 90-minute guided art session will see little artists learn how to blend colours, use radial patterns and master their art techniques while creating the most drop-dead scary haunted house! 🦇🦇💀💀
All events take place at Crane Joo Chiat
Check out our other Halloween programming at wearecrane.com