Description
"Let the waters settle and you will see the moon and the stars mirrored in your own being."
Do you feel drawn to water? Or maybe you want to step out of your comfort zone in the terrestrial and want to experience a deeper connection to another nature element - water.
Water Dreaming combines nature connection and kayaking into a mindful, sensuous experience, on water. Drifting with gentle waves, immersing in a symphony of rhythmic water gurgles, and noticing the lives that water support, you will find yourself easing into a zone of tranquility. You will be invited to connect with nature and water through gentle facilitation. Finding your harmony through a tea ceremony, witnessed by the setting sun and crimson sky, you leave renewed, having found your 'moon and stars'. This programme is crafted to be gentle, soothing and safe, and no pior experience in kayaking is required.
The Water Dreaming is a collaboration between Xiu Nature Connections and SplashAxis.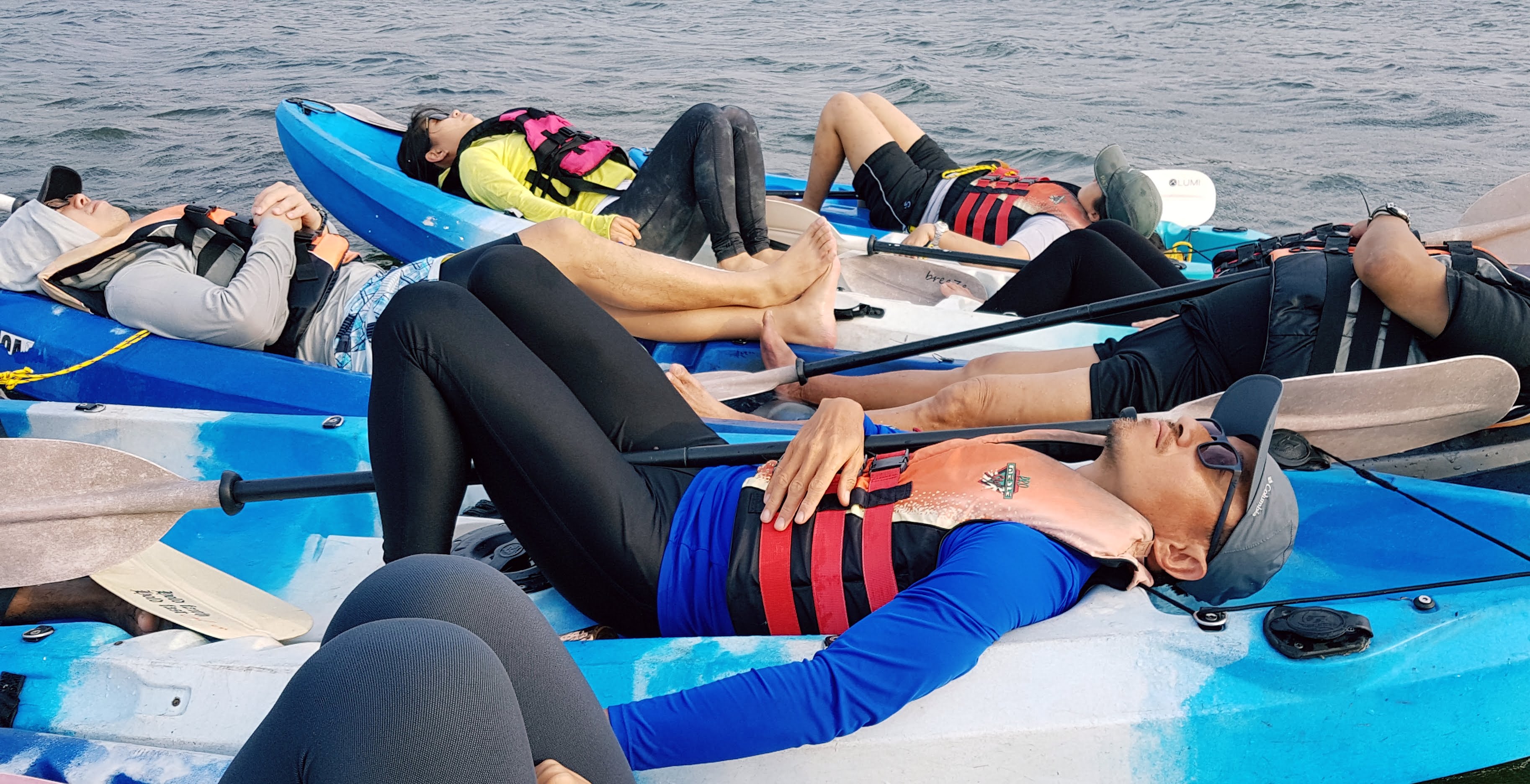 Limited to 20 participants only.
**DOUBLE SPECIAL** To celebrate Earth Day 2018, register as a pair/double before 22 April 2018 and enjoy a special rate!
---
FAQS
Am I suitable for the Water Dreaming programme if I have no kayaking experience?
No prior kayaking experience is required. At the start of the programme, certified kayaking instructor(s) will be going through the basics of kayaking. We will not be kayaking for long distances. The kayaks used in this programme are sit-on-top kayaks, which are very stable on water. Wearing of life vests is compulsory, and we will provide the life vests.
Is there a minimum age requirement for this event?
The Water Dreaming programme is designed based on the principles of forest bathing. As it is a slow, mindful and contemplative experience on water, it may not be suitable for children under the age of 15.
What if it rains?
In situations where there are lightning alerts, low visibility, or if the authorities (PUB in this case, as we are using the reservoir) are performing any compulsory water works, we will personally contact you at least 45 minutes before the meeting time to confirm if the programme will proceed or be cancelled. If cancelled before the commencement of the programme, participants can register for another similar replacement session without any additional charges.
What happens when there are not enough participants to start the session?
We rarely cancel sessions due to small number of participants. However, if we do, paid registrants will receive notifications from us and can opt for a full refund or opt to register for another similar replacement session without any additional charges.
---
About your guide
You Min is a certified nature and forest therapy guide with the Association of Nature and Forest Therapy Guides and Programs, USA. A pioneer guide in Singapore, she is passionate about sharing nature and forest therapy for well-being, especially for stressed out and disconnected city dwellers. She also guides with Singapore's National Parks Board, conducting nature therapy programmes for elderly care centres as well as various nature connection programmes for families. Spearheading nature therapy for wellness in the ASEAN region, You Min leads forest bathings at wellness retreats in Chiang Mai, Thailand. She is the founder of Xiu Nature Connections and is an active contributor of the Shinrin-yoku 森林浴 Forest Bathing - Singapore community.
Please read our Terms and Conditions.
For enquiries, please email to xiunatureconnections@gmail.com