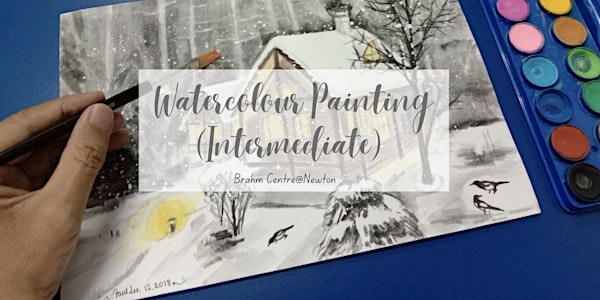 Watercolour Painting Course (Intermediate) by Paul Lee - NT20221003WPCI
Build on your skills and learn more advanced techniques of watercolour for different themes professionally with joy and confidence.
When and where
Location
Brahm Centre @ Newton 47 Scotts Road Goldbell Towers #04-02A Singapore, 228233 Singapore
About this event
Pre-requisites for Watercolour Painting - Intermediate Course. This course is open to participants who have taken a Watercolour Beginners Course that covers the basics of Watercolour Painting.
WHAT?
In this watercolour intermediate course, participants who have completed a beginners' course will be able to build on their skills and develop them further as they learn more techniques of watercolour painting, working on different themes. They will get to exercise their creativity and express themselves using watercolour with joy and confidence.
Course Outline (Topics Covered)
Session 1: Introduction, overview of watercolour medium. Understanding light and colourful shadow. Practice painting Still Life Subject
Session 2: Use of dry brush to create texture effect. Practice painting Mountain landscape
Session 3: Exploring reflection with watercolour medium. Practice painting Waterbirds
Session 4: To learn and practise technique of painting night scenery effect(City Park View)
Session 5: To learn how to create furry effect of Animal. Use of brushes and related strokes for desired outcome
Session 6: To learn and practise wet on wet technique. Practice painting with flowers theme
Session 7 : Understanding how to do line and Wash with Watercolour. Practice painting on urban theme and cityscape
Session 8: Free style of painting with Watercolour. Practice painting coconut palm tree
Learning Outcome
Further understand and explore the watercolour medium
Develop repertoire of watercolour painting techniques
Be able to paint different themes using watercolour
Deepen understanding of light and shadow of watercolouring and enhance execution skills
Create watercolour painting with texture with greater ease and sophistication.
Art Materials are included as follows :
Watercolour set – 16 colours
A4 Sketch Book
Permanent fine marker
Basic Stationery Set ( Pencil, eraser, sharpener, ruler)
Brush Set (3 brushes)
Things for participants to bring from home:
Kitchen Towel or small used rag for cleaning the Painting Brushes
*Participants can also prepare newspaper and cloth for their own usage. The newspaper helps prevent accidental dirtying of the tables and the cloths will allow you to clean the brushes given to you.
WHEN?
Monday, 3 October - 2pm-4pm
Monday, 10 October - 2pm-4pm
Monday, 17 October - 2pm-4pm
Monday, 7 November - 2pm-4pm
Monday, 14 November - 2pm-4pm
Monday, 21 November - 2pm-4pm
Monday, 28 November - 2pm-4pm
Monday, 5 December - 2pm-4pm
No of Sessions: 8
**Minimum 12 participants to start class.
WHERE?
Brahm Centre @ Newton
__________________________________________________________________________
Course Fee: $280 |$56 for seniors eligible for National Silver Academy (NSA) subsidy*
*NSA subsidy is for Singaporeans and Permanent Residents aged 50 and above.
In addition to NSA subsidy, course fee may be offset by SkillsFuture Credit (SFC).
First, course participants are to make payment for the course through Brahm Centre Eventbrite page.
Brahm Centre will reimburse the amount that is successfully claimed upon receipt of the funds from SFC.
Notes:
Please note that payments for courses are non-refundable.
There are no make-up lessons if you miss any session.
If you miss the first session, you are allowed to proceed with the course. However, the trainer is not obligated to do a recap during the second session.
Trainer Profile
Paul Lee Mr Lee Thiam Seng (Paul) is a Singapore-born artist, art therapist, and consultant. He is the founder of UniqArts and Technologies. Mr Lee holds a Master in Arts-Art Therapy with LASALLE College of the Arts, and a Bachelor of Management Degree with Royal Melbourne Institute of Technologies. He is also trained in fine arts at the Nanyang Academy of Fine Arts (NAFA). Mr Lee is the creator of the virtual art classroom www.onlineartclass.com and author of the children's book - Drawing is Easy. Mr Lee has facilitated many creative art projects for therapeutic and developmental purposes, both for children and adults. He has experience running individual and group art therapy treatment for children and adults in schools and hospitals.