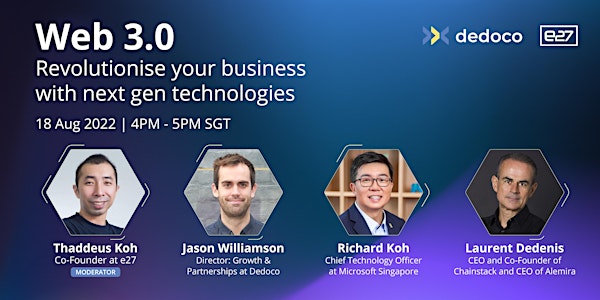 Web 3.0 - Revolutionise your Business with Next-Gen Technologies
Early-stage applications of Web 3.0 are already here. Learn more about how it could transform your business or learn new opportunity
About this event
As futuristic as it sounds, early-stage applications of the Spatial Web or Web 3.0 are already here. Now is the time for leaders to understand what this next era of computing entails, how it could transform businesses, and how it can create new value as it unfolds.
In the coming years, we expect to see business adoption of Web 3.0 in some form or another, as they evolve and expand business boundaries. Watch this webinar as our experts deliver their perspectives on Web 3.0 and provide actionable insights for founders, innovators, tech, enterprises, service providers, and technology vendors, companies, organizations
What questions will the webinar answer?
Why Web 3.0 and why now
Key challenges and opportunities in adopting Web 3.0
What's the real case study of the usage of Web 3.0 and how to integrate it into my business
Learn what your business can do to start mapping Web 3.0 to your business now
Panelists:
Jason Williamson: Jason is the Director of Growth & Partnerships for Dedoco - an API-first, Digital Document Management-as-a-Service that seamlessly transforms the way enterprises manage digital workflows and deliver digital trust within their operations. The company is both ISO-certified and IMDA-accredited for Singapore government procurement and globally has offices and teams in the US, Australia, Indonesia, Malaysia, Singapore, and Vietnam.
Richard Koh: Richard is the chief technology officer of Microsoft Singapore. In this role, he is responsible for engaging with key executive leaders across government, industry and academia; bringing in the macro technology landscape; and helping customers leverage technology innovations for their digital transformation. His focus areas include guiding technology policies, standards, legal and regulatory matters, as well as security, privacy and compliance decisions.
Laurent Dedenis: Laurent is a French citizen and the founder of several companies around the world. Currently CEO and co-founder of Chainstack and CEO of Alemira, he has more than 20 years of global experience managing teams and technology companies such as Microsoft Dynamics, Parallels, Acumatica and Acronis, both at start-up and growth stages in the Americas, EMEA, and Asia Pacific. Until 2019, Laurent was the Chief Revenue Officer and in charge of operations at Acronis, a large B2B cyber protection software company.
Moderator:
Thaddeus Koh: Thaddeus is a co-founder at e27 and also the company's Head of Platform and Memberships. He has traveled & spoke extensively in Asia on the Southeast Asia tech and startup ecosystem. He has secured consulting work with government agencies in the South East Asia markets. He is passionate about the growth of the Southeast Asia startup ecosystem and strives to link up even larger mature markets to the various pieces in South East Asia with e27 as the centerfold. Currently, in e27, he is in charge of building up a new business unit under platform and memberships.