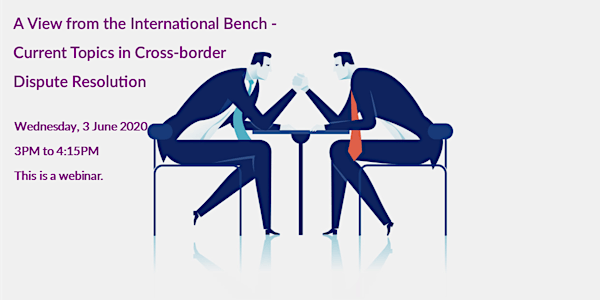 (WEBINAR) A View from the International Bench - Current Topics in Cross-bor...
Sales Have Ended
Ticket sales have ended
Thank you for your interest. This seminar has been fully subscribed and is no longer accepting registration. We look forward to welcoming you in our next event!
Description
Overview
The world of international dispute resolution has witnessed a flurry of major developments in the past year and more recently. The Hague Judgments Convention was signed on 2 July 2019. Together with the Hague Choice of Court Agreements Convention, they deal with two key aspects of private international law in cross-border litigation in civil and commercial matters: the international jurisdiction of courts and the recognition and enforcement of their judgments abroad. The Supreme Court of Singapore executed a memorandum of guidance (MOG) with its counterpart in Myanmar in February 2020. In addition, a number of recent Singapore court judgments have dealt with the issue of whether the Court has power to extend time limits under the Model Law for setting aside an arbitral award or an appeal against a tribunal's ruling on jurisdiction.
Organized by the Asian Business Law Institute, this webinar will cover the following topics:
Demystify MOG—what is it and what role can it play?

The two Hague Conventions—what are their roles and limitations (if any)?

Power of the court to extend time limits—what do BXS v BXT, BXY v BXX, and Bloomberry tell us?
FAQs
To whom is this webinar most relevant?
lawyers doing dispute resolution work

lawyers representing clients in international commercial arbitration

students, academics and scholars interested in private international law

representaives from international commercial courts
Who will be speaking at this webinar?
Justice Anselmo Reyes
Anselmo Reyes practises as an arbitrator. He was Professor of Legal Practice at Hong Kong University from October 2012 to September 2018. Before that, he was a judge of the Hong Kong High Court from 2003 to 2012 when he was in charge of the Construction and Arbitration List (2004 to 2008) and the Commercial and Admiralty Lists (2008 to 2012). He was Representative of the Hague Conference on Private International Law's Regional Office Asia Pacific from April 2013 to July 2017. He became an International Judge of the Singapore International Commercial Court in January 2015.
Dr Michael Hwang SC
Dr Michael Hwang SC currently practices as a Barrister and Arbitrator, focusing on international arbitration and mediation. During over 50 years of practice in the legal field, Michael has held various positions and appointments, including partner of Allen & Gledhill, Judicial Commissioner of the Supreme Court of Singapore from 1991 to the end of 1992, non-resident Deputy Chief Justice and Chief Justice of the Courts of the Dubai International Financial Centre from 2005 to 2018, among many others.
Mr Mark Fisher, Deputy Executive Director of the Asian Business Law Institute, will moderate this webinar.
Is this webinar accredited for continuing professional development (CPD) points?
This webinar has been accredited for 1 public CPD point. Attendees who wish to claim CPD points are reminded to provide their AAS numbers or other number issued by the Singapore Institute of Legal Education (SILE) during registration. You are required to strictly follow the attendance policy of SILE before CPD points can be awarded. Please refer to www.sileCPDcentre.sg for more information.
[UPDATE] I am a member of the Singapore Academy of Law (SAL), and would like to use my SAL credit dollars to sign for the webinar. How can I do so?
SAL members who want to take advantage of their SAL credit dollars can sign up at https://www.sal-e.org.sg/webinar-a-view-from-the-international-bench-current-topics-in-cross-border-dispute-resolution. Do note that if you sign up there, you will receive an invoice generated by SAL. SAL is a GST-registered organization. ABLI does not charge GST and will absorb GST on its own for registrations via SAL.
How do I register for this webinar?
To register for this webinar event:
Step 1: Purchase a ticket here on Eventbrite, and make sure you enter the correct email address to receive the webinar link that will be sent to you separately;
Step 2: Once the organisers are notified of your ticket purchase, we will email you a separate link for you to sign up for the Zoom webinar in advance. This is mandatory as the webinar link sent to you is unique and manual approval of your webinar registration ensures that your attendance can be recorded at the back-end for CPD purposes.
Step 3: After your sign-up is approved by the organisers, simply follow the instructions indicated in the approval email to attend the webinar on 3 June. Please be punctual as the system captures your log-in time, which is especially relevant if you are claiming for CPD points.
What if I am unable to attend this seminar after registration? Are the fees paid refundable?
Unfortunately, the payments made will not be refundable. If you are unable to attend the webinar, we request that you let us know as soon as possible so that we can let you share your slot with your colleagues.

[UPDATE] Can Eventbrite issue me an official receipt for reimbursement/claim purpose?
Eventbrite will issue an "order confirmation" and many organizations accept this order confirmation for staff claims. If an official receipt from ABLI is required before your claims can be processed internally, please write to catherine_shen@abli.asia and we will assist you with that.
Are the fees payable inclusive of GST?
No. ABLI is not GST-registered, and therefore does not charge GST.
Who can I contact if I have more questions?
Please email to catherine_shen@abli.asia for any query you may have about this webinar.