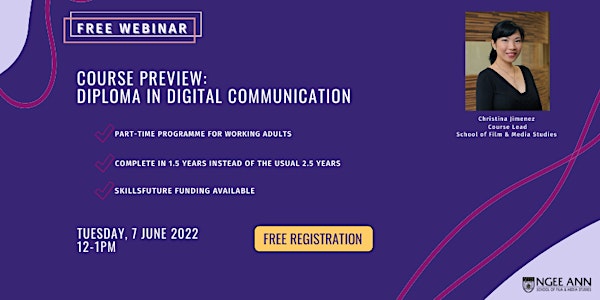 Webinar - Course Preview: Diploma in Digital Communication
Find out more about our Diploma in Digital Communication, the only part-time poly diploma programme that you can complete in 1.5 years.
About this event
Build a Strong Foundation in Digital Communication
Gain essential skills in content creation and media design to transition into the media, retail, design and technology sectors.
Find out what it takes to pivot to a career in media and how our part-time Diploma in Digital Communication programme can help you get a head start. Designed for working adults and ITE graduates and delivered by the renowned School of Film & Media Studies at Ngee Ann Polytechnic, this full-qualification diploma course can be completed in just 1.5 years based on a compressed, hybrid learning delivery format.
The session will conclude with a Q&A segment.
About the Speaker
Christina Jimenez | Course Lead
Christina Jimenez is a Course Lead and Senior Lecturer at the School of Film and Media Studies, Ngee Ann Polytechnic. Her pride and joy is training some of Singapore's marketing and advertising professionals who are now making waves in the industry. 
Prior to teaching, Christina worked in media, advertising and public relations. She handled the channel branding and promotions of MediaCorp's then Okto channel. An agency person in her past life, she worked in McCann Worldgroup Manila and JWT Manila and handled the creative campaigns of Coca-Cola, Jollibee Foods, Close-up Toothpaste, and Sunsilk Shampoo. 
Christina holds a Master of Education from the University of Melbourne, a Master of Mass Communication from Nanyang Technological University and a BSC in Commerce, Major in Marketing Management from De La Salle University, Manila.
REGISTER FOR THIS WEBINAR NOW FOR FREE!