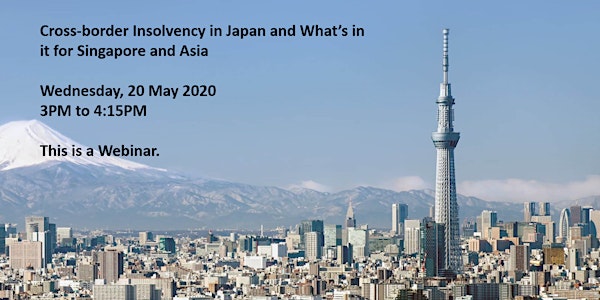 (WEBINAR) Cross-border Insolvency in Japan - What's in it for Singapore and...
Sales Have Ended
Ticket sales have ended
Thank you for your interest. This seminar has been fully subscribed and is no longer accepting registration. We look forward to welcoming you in our next event!
Description
Overview
The modern reality of businesses increasingly operating across borders means that corporate failures now also increasingly involve multiple jurisdictions. With both Japan and Singapore having implemented the UNCITRAL Model Law on Cross-Border Insolvency into their domestic laws, there has been growing interest in the region in sharing knowledge on cross-border insolvency developments. Japan and Singapore have both emerged as key jurisdictions of interest given the large regional presence of their banks and the outward-looking nature of their businesses.
This seminar, co-organized by the Asian Business Law Institute and INSOL International will cover the following topics:
Overview of Japan's restructuring and insolvency regime, and a comparison with Singapore's new regime under the "omnibus" Insolvency, Restructuring and Dissolution Bill

Coordination with foreign creditors in a Japanese insolvency – e.g, how, and to what extent, do non-Japanese courts recognise and assist in calling in foreign assets in furtherance of a Japanese insolvency? Discussion will be had in light of Singapore courts' approaches

Government intervention in insolvent companies – What happens in Japan and Singapore?

Health of businesses in Japan and Singapore due to impact from Covid-19
FAQs
What will be the format of this event? Will there be a Q&A session? Is it delivered in English?
This event, to be delivered in English, will be a webinar of one hour and 15 minutes. During the first hour, you will hear an interactive presentation from the speaker and the moderator where they will cover the points mentioned above. The last 15 minutes are reserved for questions. This is a rare opportunity to interact directly with an expert on the Japanese restructuring and insolvency regime.
I am a turnaround professional but not a restructuring lawyer. Is this event relevant to me?
Corporate restructuring and insolvency is a multidisciplinary practice that involves law, banking and accounting, to name a few. Restructuring lawyers, especially those who frequently work on cross-border matters, will undoubtedly find this webinar relevant. Lawyers practicing general corporate and banking law, in-house counsel with banks, accounting firms and consulting service providers will find this webinar instructive. Anyone interested in knowing more about the Japanese legal system are encouraged to attend.
Who will be speaking at this seminar?
Mr Zentaro Nihei, a partner in the financial insolvency and restructuring group of Anderson Mōri & Tomotsune, one of Japan's largest firms, is the main speaker of the seminar. Ms Meiyen Tan, Head of Oon & Bazul's Restructuring and Insolvency Practice, will be moderating the session.
Is this webinar accredited for continuing professional development (CPD) points?
This event had been accredited 1 public CPD point as a webinar. Attendees who wish to claim CPD points are reminded to provide their AAS numbers or other number issued by the Singapore Institute of Legal Education (SILE) during registration. You are required to strictly follow the attendance policy of SILE before CPD points can be awarded. Please refer to www.sileCPDcentre.sg for more information.
[UPDATE] I am a member of the Singapore Academy of Law (SAL), and would like to use my SAL credit dollars to sign for the webinar. How can I do so?
SAL members who want to take advantage of their SAL credit dollars can sign up at https://www.sal-e.org.sg/webinar-cross-border-insolvency-in-japan-whats-in-it-for-singapore-and-asia-2. Do note that if you sign up there, you will receive an invoice generated by SAL. SAL is a GST-registered organization. ABLI does not charge GST and will absorb GST on its own for registrations via SAL.
[UPDATE] How do I register for this event now that it is a webinar?
To register for this webinar event:
Step 1: Purchase a ticket here on Eventbrite, and make sure you enter the correct email address to receive the webinar link that will be sent to you separately;
Step 2: Once the organisers are notified of your ticket purchase, we will email you a separate link for you to sign up for the Zoom webinar in advance. This is mandatory as the webinar link sent to you is unique and manual approval of your webinar registration ensures that your attendance can be recorded at the back-end for CPD purposes.
Step 3: After your sign-up is approved by the organisers, simply follow the instructions indicated in the approval email to attend the webinar on 20 May. Please be punctual as the system captures your log-in time, which is especially relevant if you are claiming for CPD points.
What if I am unable to attend this seminar after registration? Are the fees paid refundable?
Unfortunately, the payments made will not be refundable. If you are unable to attend the webinar, we request that you let us know as soon as possible so that we can let you share your slot with your colleagues.

Are the fees payable inclusive of GST?
No. ABLI is not GST-registered, and therefore does not charge GST.
Who can I contact if I have more questions?
Please email to catherine_shen@abli.asia for any query you may have about this webinar.