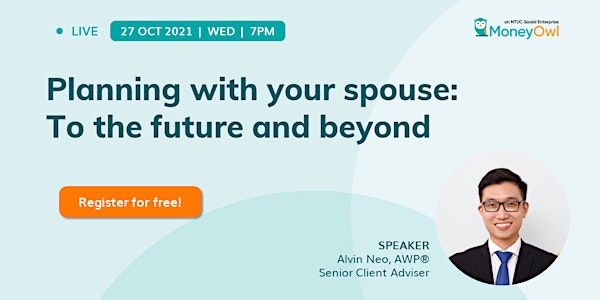 Webinar: Planning with Your Spouse - To the Future and Beyond
In this special Webinar Episode, we want to speak to those of you who recently got married OR are planning to get married soon!
About this event
Firstly, a big warm congratulations to you! You deserve a pat on your back if you have already come through all the wedding ceremonies and rituals. Take a moment to savour one of life's truly momentous events!
Now, the journey of setting up your new cosy family really begins!
During this webinar, we will be uncovering some common issues and topics that newly married couples must go through. We will share with you our perspective and hopefully give you a great head start to the journey ahead. See you in the webinar!
Some topics covered include:
1. How should we plan for our finances as a married couple – individually VS joint?
2. What are some of the upcoming bite-sized milestones that we can be prepared for?
3. What are some of the safety nets I can put in place for my new family?
About the speaker:
Alvin Neo, AWP®
Lead, Client Advisory
Since 2016, Alvin has been advising working families on their financial planning needs.
Due to his calling and strong passion to do what is right in the financial planning space, he joined the industry to make a positive contribution to his clients' financial journey. . He believes in serving and advising his clients like he would to his family and friends. Alvin simplifies complex financial planning jargons and concepts for his clients so that they understand well and are confident in taking their next steps for a better financial future.
If you've missed our previous webinar, check them out here:
By registering for this event, you are giving consent to receive communications from MoneyOwl on our services, marketing, and events. If you wish to opt-out, you can easily unsubscribe using the 'Unsubscribe' feature located in the emails. If you wish to find out more on our stance, please visit our Terms and Conditions & Privacy Policy page: https://www.moneyowl.com.sg/terms-and-conditions-privacy-policy/

Promotion: Receive up to $40 shopping vouchers from now till 31 December 2021. Terms and conditions apply. Find out more.