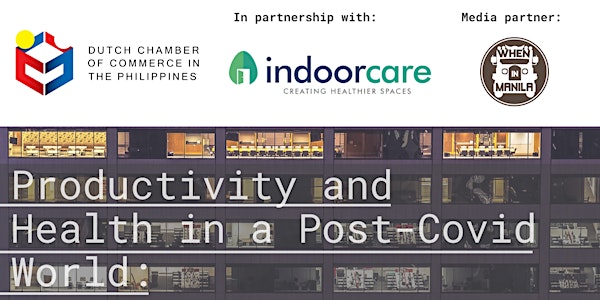 Webinar - Productivity and Health in a Post-COVID World
Practical Solutions to Prepare Your Business
About this event
The Dutch Chamber of Commerce in the Philippines would like to invite you to the following Webinar titled "Productivity and Health in a Post-Covid World: practical solutions to prepare your business".
The current Covid-19 pandemic has taken many businesses by surprise, resulting into lower productivity, lower operability and inventive ways to work with the new normal. Through the expertise of DCCP-member IndoorCare, this Webinar will take place on Thursday April 16 at 2PM (Manila time-zone).
Champions of managing your indoor environment – whether office, co–working spaces, school or manufacturing plant - IndoorCare will showcase their expertise how to minimize health implications for your business: not just related to extraordinary pandemics, but also to the seasonal coming and goings of viruses and bacteria. Because healthy and happy employees make great business!
Registration
This Webinar is free of charge for DCCP-members. A discount-code was shared by email which will wave the event-fee upon registration. Cannot find the code or unsure how to use it? Please email director@dccp.ph.
Non-members: 500PHP