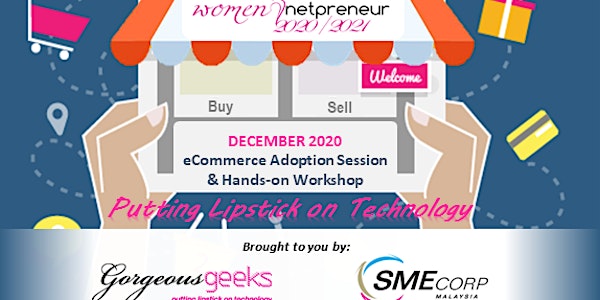 [Webinar Series] eCommerce Adoption Sessions & Workshop - Dec2020
The eCommerce Adoption Series encourages more women to leveraging technology via selling and marketing online.
About this event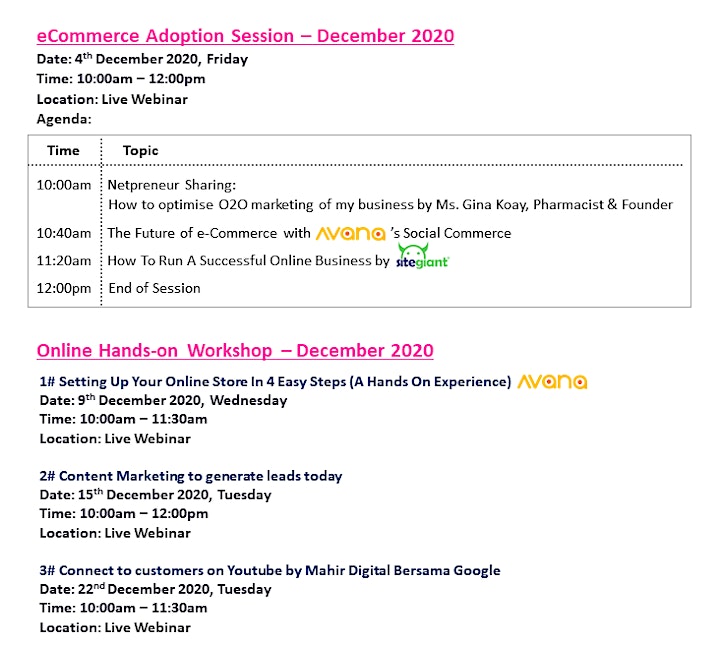 Join us at the Women Netpreneur 2020: eCommerce Adoption Series – empowered by SME Corporation Malaysia and Gorgeous Geeks. We will share the best practices and also online hands-on workshop that encourage more women to leveraging on technology via selling and marketing online.
The initiative aims to enable more women entrepreneur throughout the country to expand their business beyond the physical boundaries through eCommerce Adoption and redesign their business model for the digital era.
Who Should Attend:
- Entrepreneur who wish to expand their business beyond the retail shops
- Entrepreneurs who want to explore the online ads or marketing applications that help generating business leads
- Anyone who wish to learn the advertising tips and best practices via eCommerce platforms
Benefits:
• How to digitalize your business and grow the business revenue
• Expand your business through social media platform effortlessly
• How to generate leads by content marketing
• Connect to Customers on free video sharing website (Youtube)
---------------------------------------------------------------
The Women Netpreneur Programme is supported by SME Corporation Malaysia grant - MICRO CONNECTOR PROGRAMME (ConnectME). This programme is targeted to benefit Malaysian microenterprises to set up and run a business as well as to train the B40 community to gain new skillset for income generation through entrepreneurship. Hence, participants are required to submit the scan copy of NRIC (front & back) OR company registration certificate (SSM certificate) and email to events@gorgeousgeeks.net, as a verification process for participants to attend the full programme series for 6 months (Sept 2020-Feb 2021).
We truly appreciate for your kind corporation in this matter and we hope to receive the document from you.
Follow us for the next few months where you will be able to learn and get support from successful sellers, eCommerce providers and government to kick start your eCommerce journey!
If you have any question, please contact (Ms.) Darcy at 603 – 2288 1680 / 81 or email to events@gorgeousgeeks.net