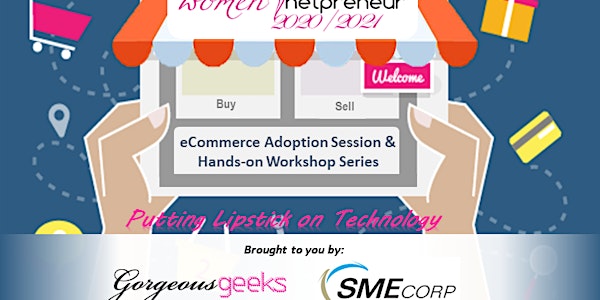 [Webinar Series] eCommerce Adoption Sessions & Workshop - MAR 2021
The eCommerce Adoption Series encourages more women to leveraging technology via selling and marketing online.
About this event
Join us at the Women Netpreneur 2021: eCommerce Adoption Series – empowered by SME Corporation Malaysia and Gorgeous Geeks. We will share the best practices and also online hands-on workshop that encourage more women to leveraging on technology via selling and marketing online.
The initiative aims to enable more women entrepreneur throughout the country to expand their business beyond the physical boundaries through eCommerce Adoption and redesign their business model for the digital era.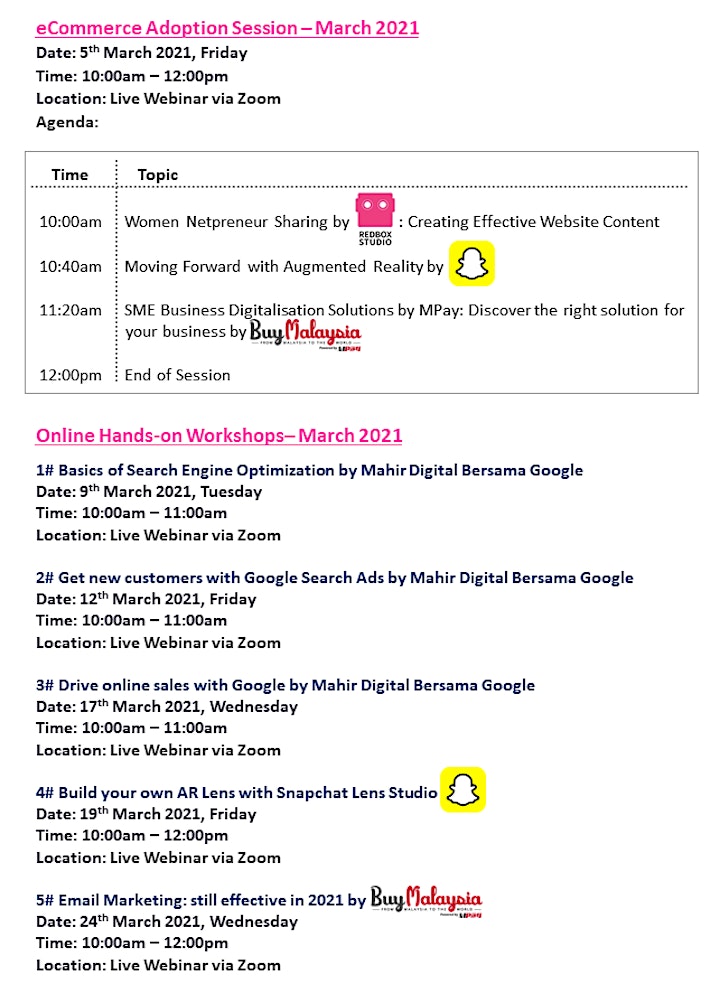 What you will learn in March sessions:
How to create visibility and credibility website content to grow your brand be seen as the authority and expert of your industry.
Which is best solution for your business and how you can capitalise on available Govt grants to try out our solutions for a year, virtually for free.
How digital transformation is changing the space and how AR is able to help make a difference in today's world (especially beauty and fashion brand)
What are the valuable tips and strategies that help you improve your website from a content point of view to attract the right prospects and customers.
Best practices to boost online sales by using Google's unique solutions such as Google Ads, Smart Shopping Campaigns, Dynamic Search Ads
_________________________________________________________________________________
Who should attend?
Entrepreneurs who wish to expand their business beyond the retail shops
Entrepreneurs who want to explore the online ads or marketing applications that help generating business lead
Entrepreneurs who wish to learn the advertising tips and best practices via eCommerce platforms
_________________________________________________________________________________
The Women Netpreneur Programme is supported by SME Corporation Malaysia grant - MICRO CONNECTOR PROGRAMME (ConnectME). This programme is targeted to benefit Malaysian microenterprises to set up and run a business as well as to train the B40 community to gain new skillset for income generation through entrepreneurship.
Follow us for the next few months where you will be able to learn and get support from successful sellers, eCommerce providers and government to kick start your eCommerce journey!
If you have any question, please contact (Ms.) Darcy +6016 3090 868 or email to events@gorgeousgeeks.net