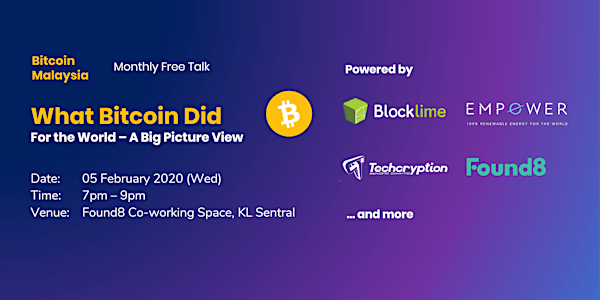 What Bitcoin Did For the World | BitcoinMalaysia Monthly Talk
When and where
Location
Found8 KL Sentral 3 Jalan Stesen Sentral Kuala Lumpur, Federal Territory of Kuala Lumpur 50470 Malaysia
Description
Bitcoin is not a company.
Bitcoin is not a club.
Bitcoin is not a get rich quick scheme.
So what is Bitcoin? Why does it exist?
Why won't it go away?
Why is Facebook attempting to launch their own cryptocurrency Libra?
Why is China looking to launch their own sovereign cryptocurrency?
Why are there thousand other cryptocurrency projects?
How do you tell what is real and what is fake?
What does it mean for you?


What this event will be about

---
In two hours, you will learn:
- What Bitcoin isn't
- What Bitcoin actually is
- Why Bitcoin matters
- Why Bitcoin won't go away
- Why Bitcoin has inspired thousand other projects
- How do you know this is real Bitcoin or fake Bitcoin
- What does this mean for you
- Why Malaysians should pay more attention to cryptocurrencies and blockchain technology.
Who is this event for?

---
This event is for people who have zero knowledge about cryptocurrencies and blockchain technology.
It is designed to be easy to understand so that you walk away with basic understanding of a technology phenomena that is widely said to be as revolutionary as the Internet.
This event is free to attend. However, please exercise courtesy by turning up or inform if you cannot attend.
Why is it free?

---
We believe that there is a lot of basic knowledge that needs to be free.

For example:
- How to know whether someone is trying to scam you.
- How to use a digital asset wallet
- How to store digital assets safely
- Not your keys; not your coins.
That is why we are pulling together resources from the industry to deliver free public education.
So that there will be greater maturity.

Success looks like when more Malaysians can identify bulls*** for themselves and I love it when I hear scammers say... "It's very difficult to scam people nowadays..." Haha! That's success.
Only then, will more people feel safe to explore blockchain technology deeper and develop new innovations to solve problems for Malaysia and the world.
Who is BitcoinMalaysia?
---
BitcoinMalaysia started out as a simple blog in 2012 that eventually grew to become the largest cryptocommunity platform in Malaysia to-date.
Our aim is to help raise the awareness of Bitcoin, cryptocurrencies and blockchain technology - a space which is filled with lots of noise, fear, uncertainty, and doubt (FUD).
Our goal is to spur the actual adoption of cryptocurrencies and blockchain technology in Malaysia so that more people can appreciate, experience and gain the benefits of being a first-adopter of what might be the largest technological revolution since the Internet.

Venue
Found8 KL Sentral


Agenda
7.00pm Registration & Arrival
7.30pm Event Start
9.00pm Event End
Till late Teh Tarik Session Kayu @ NU Sentral


SPONSORS
BitcoinMalaysia talks are free-to-attend thanks to support from our sponsors!


EVENT ORGANISER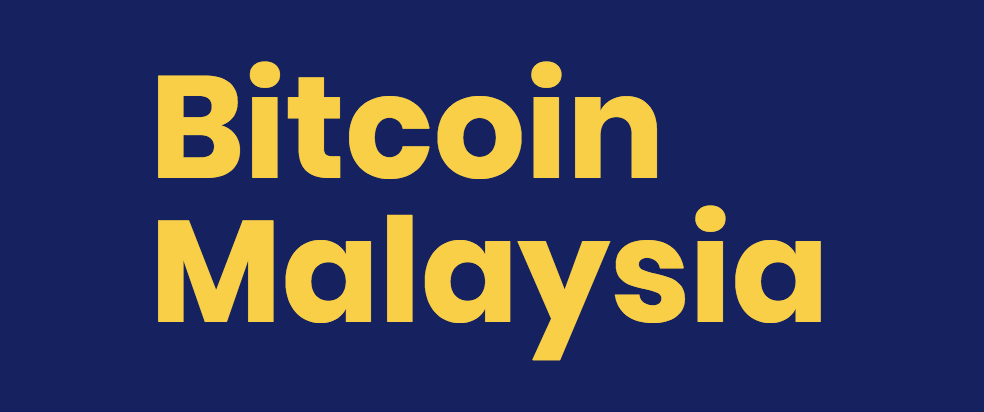 A GLIMPSE OF OUR PAST EVENTS