Description
In today's fast-paced, dynamic digital world, businesses struggle to identify customers' vision and expectations. It becomes increasingly important for businesses to be able to provide a seamless digital experience for its customers, especially through Application Programming Interface (APIs). A good API can revolutionize the way a company approaches and communicates with its customers, providing an enhanced digital experience for a sustainable relationship.
At Capgemini, it is our top priority to explore innovative solutions for businesses and to share our experiences. In conjunction with General Assembly, we would like to invite you to join us for the next What's Now: Singapore breakfast session centered on "APIs: Making the right connections for better digital experiences", with four API and Digital Experience experts at our Applied Innovation Exchange (AIE) Singapore. During the session, we will seek to explore and understand the connection between APIs and Digital Customer Experience, and its impact on industries in the near future.
Programme Flow: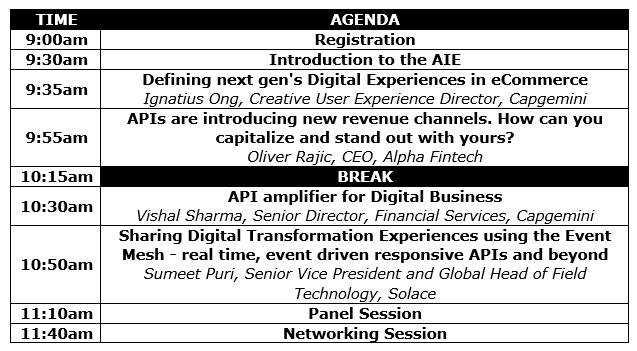 Speakers' Bios:
Ignatius Ong
Director, Creative User Experience Director, Capgemini
With over 15 years of experience in delivering multi-award-winning digital solutions for commercial and government clients in Southeast Asia and Australia, Ignatius has an excellent track record of introducing creative design strategies for enhancing user experience and driving engagement through intuitive omni-channel brand experiences. Currently, he is the Regional Lead of Backelite, a digital service design agency of Capgemini, serving the Southeast Asia, Hong Kong and Taiwan markets.
Oliver Rajic
CEO, Alpha Fintech
Oliver Rajic attended University of Southern California and pursued his MBA at Kellogg. Having worked as the Global Payments Director at First Data, he formulated a solution ecosystem connecting everyone and eliminating the friction, plaguing innovation and productivity. He was awarded by the WPS to be the "World's most influential payment professional."
Vishal Sharma
Senior Director, Financial Services, Capgemini

Vishal Sharma has acquired a wide panel of tools and experiences from his multicultural background. He currently takes on the role as a Senior Director, providing expertise in solution architecture and APIs in the Financial Services Business Unit at Capgemini. He brings along 9 years of work experience at Barclays, and some of his prior responsibilities included the formulation and delivery of a proposition used in the leading, cutting-edge technology, building Open public APIs for Barclays and engaging with different partners who were consumers of the APIs.
Sumeet Puri
Senior Vice President and Global Head of Field Technology, Solace
Sumeet Puri is leading sales engineering operations and driving innovative uses of Solace technology in different industries. Sumeet joined Solace in 2010 and has held a variety of architecture and leadership positions over the years. Sumeet has extensive experience architecting large-scale enterprise systems. He focuses on supporting clients by developing technology strategies in areas such as Cloud, Big Data, Digital Transformation and Internet of Things across multiple industries.
Ramu Arivuvel
IT Director, Capgemini
Ramu Arivuvel is an accomplished Information Technology Director (Senior Enterprise Architect) offering around 15+ years of demonstrated experience in IT Solutions, digital transformation, implementation and consulting. He has in-depth knowledge in Enterprise and Solutions Architecture and looks into new market offerings such as Omnichannel and Enterprise Mobility, API management, RPA, ML, analytics, and cloud migration. He works on solution and digital transformation-based projects, digital banking, RFI and RFPs, infra sizing, capacity planning, demo site development and CXO Consulting around ASIA, North America and Japan.
We look forward to seeing you on 23 August 2018!