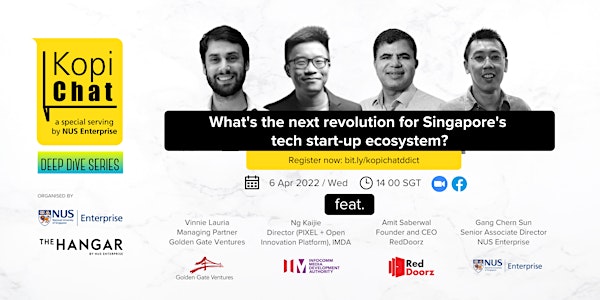 What's the next revolution for Singapore's tech start-up ecosystem?
What's the next revolution for Singapore's tech start-up ecosystem?
Date and time
Tue, 5 Apr 2022 23:00 - Wed, 6 Apr 2022 00:30 PDT
About this event
Southeast Asia's ecosystem is in a phase of remarkable transition - and Singapore is being looked up to as the forefront of it?
In the last ten years, Singapore's early generation of start-ups and investors championed business models that required relatively low capital and achieved quick returns. This meant that the likes of copycat marketplaces, cloud and digital software solutions (often clustered under "ICT") such as household names Carousell, Grab and Shopback dominated the headlines. A necessary part of every ecosystem's birth and teething years, we dare say.
In recent years, attention has been diverted to this increasingly ubiquitous term: "deep tech". This often is used to describe start-ups with solutions that are based in patentable science and technology - and hence, difficult or impossible to recreate.
Likewise, this is associated with the celebrated rise of the next generation of founders building completely new solutions to address existing critical problems (climate change, urban flooding, unequal distribution of wealth, imbalanced access to healthcare and many more). These are a lot more complex and require long term support and capital injections.
Are we beyond the tipping point for Singapore's tech start-up ecosystem? What does this mean for the early generation of founders? Is there still room for founders building ICT-based solutions to scale with VC money and government support out of Singapore - or has that been dismissed as something only for emerging markets?
Catch us at this upcoming Kopi Chat Deep Dive as we navigate a discussion with our panel of experts who've been there, done that and seen it all in the past 10 years of Singapore's tech start-up ecosystem.
We have assembled a startup founder, an investor, and a government representative for diverse points of view, and for a true deep dive into how the ecosystem has evolved.
Our curated panel of speakers include:
Vinnie Lauria, Managing Partner, Golden Gate Ventures
Ng Kaijie, Director (PIXEL Innovation Space + Open Innovation Platform), IMDA
Amit Saberwal, Founder and CEO, RedDoorz
Gang Chern Sun, Senior Associate Director (BLOCK71 Singapore), NUS Enterprise
About the organiser
NUS Enterprise plays a pivotal role in advancing innovation and entrepreneurship at NUS and beyond. It actively promotes entrepreneurship and cultivates global mind-sets and talents through the synergies of experiential entrepreneurial education, active industry partnerships for technology and commercialisation, holistic entrepreneurship support and catalytic entrepreneurship outreach. Its initiatives and global connections support a range of entrepreneurial journeys and foster ecosystem...