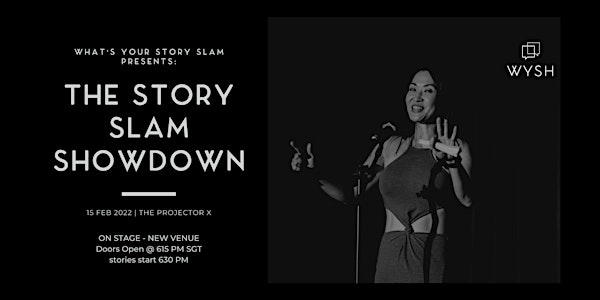 What's Your Story Slam Showdown (830pm)
The time has come for your favourite storytellers from previous What's Your Story Slams to battle it out with words and wit through stories.
When and where
Location
Projector X: Riverside 30 Merchant Road 04-13 Singapore, 058282 Singapore
Refund Policy
Contact the organiser to request a refund.
Eventbrite's fee is nonrefundable.
About this event
**Rating: Advisory 16 (Some Mature Content)**
**You need to show proof of vaccination to enter the event**
What's Your Story slam Showdown is where the previous top placers of What's Your Story Slam come to battle it out with one another with fresh new stories.
So you will see a lot of familiar faces with fresh new stories.
Since we have had two years worth of winners, we have the showdown.
Inspiration for the night: FORTUNE
Prepare a five-minute story about Lady Luck: unexpected discoveries or peeks into the future—a one in a million chance, the flip of a coin or the spin of a wheel. Wishing well wins or four-leaf clover fails. The tea leaves say the next one will be THE ONE, so when opportunity knocks, open the door.
Rating: Advisory 16
What is "What's Your Story Slam?"
What's Your Story Slam is a curated live storytelling competition. It is a hybrid between a showcase and an open mic story slam.
All stories must be true and lived by the storytellers. All storytellers must pitch their stories with creative director Anna Ong.
Storytellers have five minutes each to tell a story based on the show's theme.
Who takes part in What's Your Story Slam?
What's Your Story Slam features people like YOU entertaining the audience with the unpredictable, hilarious, and poignant turns that their lives have taken.
If you have a story to tell or want to participate in the show, please pitch your story using our pitch form. (https://bit.ly/WYSSPitch)
TIPS ON LIVE STORYTELLING
First, it must be your story to tell. Were you there? Are you one of the main characters? Your involvement in the events as they unfold is essential. No journalism!
Heads Up!
What's Your Story Slam stories are told, not read. We love how each storyteller connects with the audience when there are no papers or notepads between them. Please know your stories by "heart" by being very familiar with them.
What's at Stake?
Stakes are essential in live storytelling. What's in it for you? Are you going to win or lose? Why is what happens in this story important to you? We want to root for you! Make us care! If you can't answer this, then think of a different story.
WHAT TO DO:
Bring in the Action!
A striking first line grabs our attention and reels us in.
No: "So I was thinking about signing up for my first marathon. But then I watched a little documentary on Netflix about running, made a snack, took a nap and my mom called and vented about my dad then I did a little laundry and then I thought about it again and decided I'm going to sign up for the marathon tomorrow.
Yes: "I am freezing, wrapped under a trash bag in the heart of Shinjuku. I bounce as I wait for the marathon to start. Two thousand runners surround me - there's spandex everywhere!
Know your story and have fun!
Outline, memorise your bullet points and play with the details. Enjoy yourself. Imagine you are telling the story at a dinner party amongst close friends.
WHAT NOT TO DO:
Avoid meandering endings
They kill a story. You should know your last line from the start. Bring the audience with you as you contemplate what goes on in the story. As a storyteller, you are the tour guide. You're the one who knows where this is going. Keep your audience with you. Don't lose them!
No sales or motivational speeches
We love how motivational speakers use stories to make a point, but this isn't a Tony Robbins special, and we are not looking for the next evangelist. It isn't the place for your startup pitch.
No stand-up routines, please.
SERIOUSLY. NO. STAND-UP. Funny people need to tell funny STORIES.
No poetry or essays
We love your sweet words, musings and sonnets, and they look great--on paper. But unless you can make them gripping and set up stakes, they won't work.
No rants
Take your anger issue with your therapist/best friend/bartender. Tell stories you've already had some form of resolution.
No key takeaways
NO KEY TAKEAWAYS. Leave your audience to come up with their takeaways from your story.
New Year New Venue
We're still at the Projector, but we are checking out their new location. This time we will be doing our event at the ProjectX on Riverside Point (Boat quay/Clarke quay area).
Seats are limited, as this location is designed for safe distancing. We will only be selling 48 tickets to the show.
There are two types of seating areas. There's the VIP area (great for groups for 4) and regular seating (ideal) for groups for 2.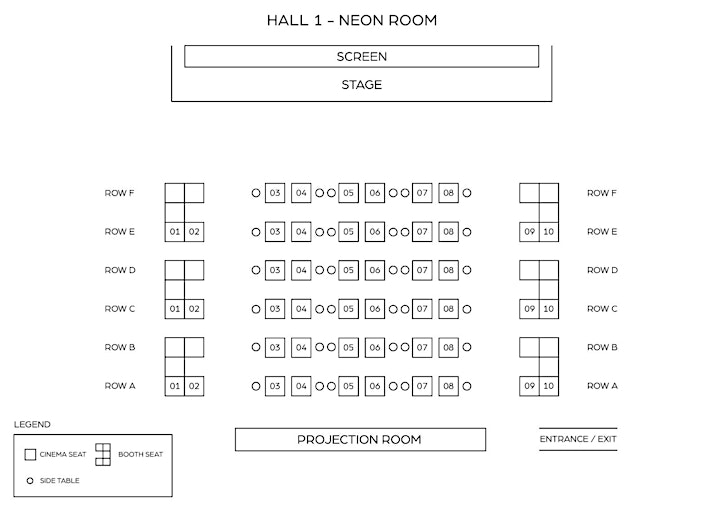 Safety Measures
WYSH (What's Your Story Huh) is committed to reviving the storytelling scene safely and responsibly. This event will comply with all Safety Management Measures specified by the Singapore Tourism Board. Such measures include, but are not limited to, the following:
The Projector's Staff will be conducting temperature and vaccination checks.
Audiences are to be seated in groups of two people, with a seat in between.
A maximum of 48 people is allowed in the event.
A safety zone of 3 meters between the audience and the storytellers.
Audiences and Staff are to keep their masks on at all times. Only storytellers on stage can remove their masks, and they must wear masks when off-stage.
Audiences can submit their stories for the show's prompt in writing or via digital means. Either option will be available upon check-in.
Ticket-holders not feeling well are strongly encouraged to stay at home and rest.
WYSH & The Projector reserve the right to remove anyone they deem breaching Safety Management Measures from the premises.
Bar Opens from 5 PM
Doors Open 8:15 PM
Stories Start 8:30 PM
Rating: Advisory 16 (Some Mature Content)