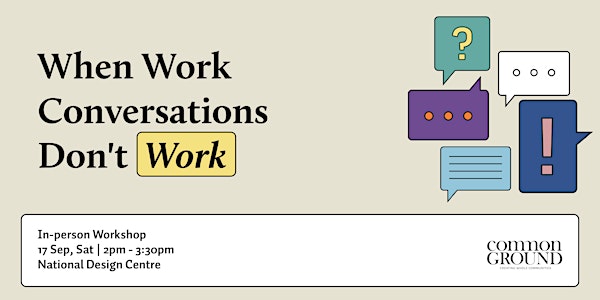 When Work Conversations Don't Work - A Conversation Design Workshop
Get introduced to our research process on what makes better conversations at work, and explore our Conversation Design field guide
When and where
Location
National Design Centre 111 Middle Road Singapore, 188969 Singapore
About this event
How can we make our Work conversations WORK better for us?
If you are a manager, leader, team member or an independent professional, and:
You have work conversations and meetings that are just not working - and you don't know how you can make them more effective and personally satisfying.
You have been tasked to manage or lead a meeting, retreat or sharing session at work - and feel challenged about how to handle the different people in the room.
You are dealing with people who are making work difficult because they are not willing or able to talk to each other about the things that must be talked about - and you are wondering if you should handle that conversation or get external help.
Join us for this interactive workshop and hear from the team behind the Conversation Design project on our research process that led to a Conversation Design field guide. More importantly, begin exploring how you can make work conversations WORK better for you.

Workshop Flow
Introduction of the Conversation Design field guide + Sharing of GDR project initiative and research process
Have a first-hand experience in using the Conversation Design field-guide for your work situation
Q&A Session with Shiao-yin and Xin Yi
Workshop Presenters
Facilitator: Shiao-yin Kuik | Executive Director, Common Ground Civic Centre & Consultancy
Facilitator: Ng Xin Yi | Associate, Common Ground Civic Centre & Consultancy

About Common Ground
All people, organisations and systems get stuck in human issues and complex conversations.
Common Ground offers the strategising, training, facilitating, research + design and coaching services you need to move forward. We are a cultural change consultancy that also leads a civic centre that helps build whole communities.
This workshop is supported by DesignSingapore Council's Good Design Research Initiative.