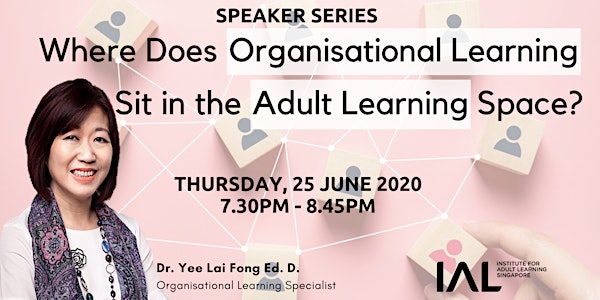 Where does Organisational Learning sit in the Adult Learning Space?
What is Organisational Learning? How might Organisational Learning inform and shape the design of Adult Learning at the workplace?
About this event
What is this topic about?
In Singapore, the adult learning space has been very much shaped by the way the Training and Adult Education (TAE) industry is organised. Unlike other industries, the TAE industry is a critical enabler for developing a future-ready workforce to support industry transformation across the economy.
According to Engestrom (2010) from the field of organisational learning, "people and organisations are all the time learning something that is not stable, not even defined or understood ahead of time. They are literally learned as they are being created."
This session introduces the field of organisational learning (OL) and explores how OL might inform and shape the design of adult learning at the workplace.
1. Overview of the TAE landscape.
2. What is organisational learning (OL)?
3. Why does OL matter in terms of developing absorptive, adaptive and anticipatory capacities in organisations?
4. How does OL occur from a systems view, a multi-level view and through the dynamics of knowledge creation?
5. Barriers to learning including unlearning, defensive routines, inhibiting loops and lack of psychological safety to challenge assumptions
6. Four roles we can play to facilitate OL - coach, curator, connector and convenor
Who is it suitable for?
Any individuals from the TAE sector as well as L&D, Organisation Development (OD) and Organisational Learning (OL) practitioners.
About the speaker
Lai Fong's career spanned 28 years, with 18 years in Public Service and 10 years in private practice. She brings with her transdisciplinary expertise in public policy, enterprise and industry development, research, organisation development and organisational learning. These have been honed through two decades of experience in designing and facilitating interventions at the national, sectoral and organisational levels, working with client organisations in the public, private and people sectors. Lai Fong holds a Doctorate in Human and Organisational Learning from The George Washington University. She is a Certified Workplace Learning Specialist, a certified practitioner in Human Systems Dynamics, and received professional training in facilitation, coaching, action learning and design thinking.
https://www.linkedin.com/in/yeelaifong
===============================
Registration closes on 24 June at 12pm.