Deepen your understanding of mental health and wellness through conversations surrounding the narratives shared in 'The White Book'
About this Event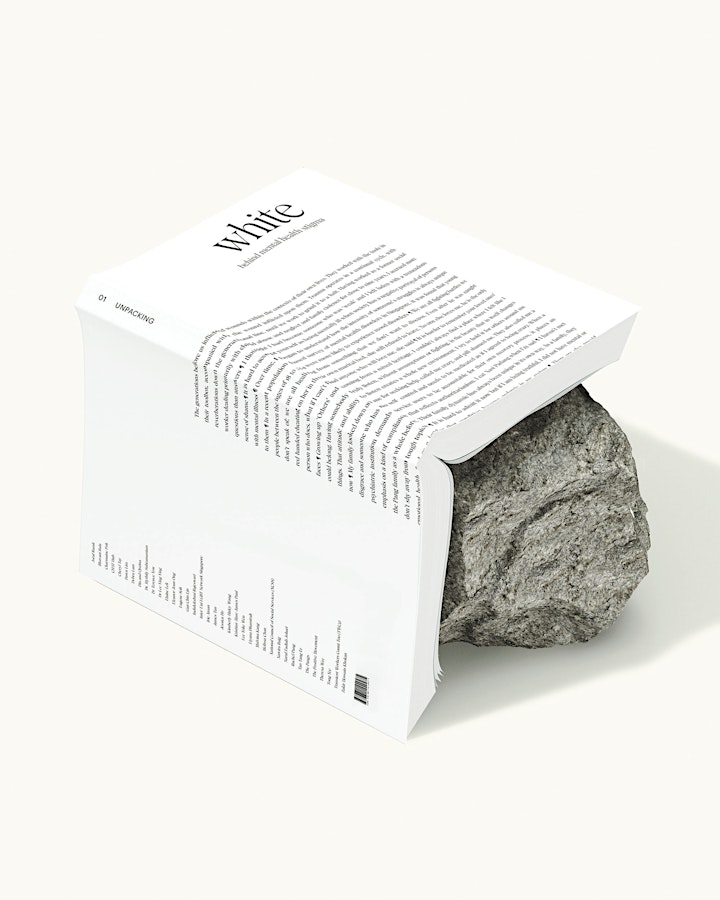 Stigma and misconceptions about our mental health remain prevalent despite growing conversations about its importance in our personal, social and civic lives. There may exist unanswered questions for many of us — questions that seek safe spaces in which to explore the more complex issues surrounding observations and experiences about our individual or collective mental health and wellbeing. Through our book club, we hope to open up a space for such conversations, led by community and held by diversity.
Every Thursday night in March, we'll be exploring different pieces from the White Book and diving deep into questions like:
Week 1: What does mental health and wellness mean to you?
Week 2: What does it mean to support a friend on their mental health journey?
Week 3: What does it mean to live meaningfully whilst managing your mental health and wellness?
Week 4: Why is it important to take care of our mental health?
We hope to bring openness and curiosity to these conversations, so that each of us can explore what it means to develop mental health and wellness not just for ourselves, but also for people around us. We invite you to come alongside us on this journey as we share our personal insights, learn, and explore new possibilities as a community.
Whilst we endeavour to provide a safe community space, our discussions may take us into issues of trauma, self harm, and suicide ideation. The sessions are designed for creating awareness and understanding, but are not meant to be a substitute for direct expert assistance, particularly in situations that may require medical or therapeutic support. If you would like professional support, please refer to the resources available here.
Read more about mental health in Singapore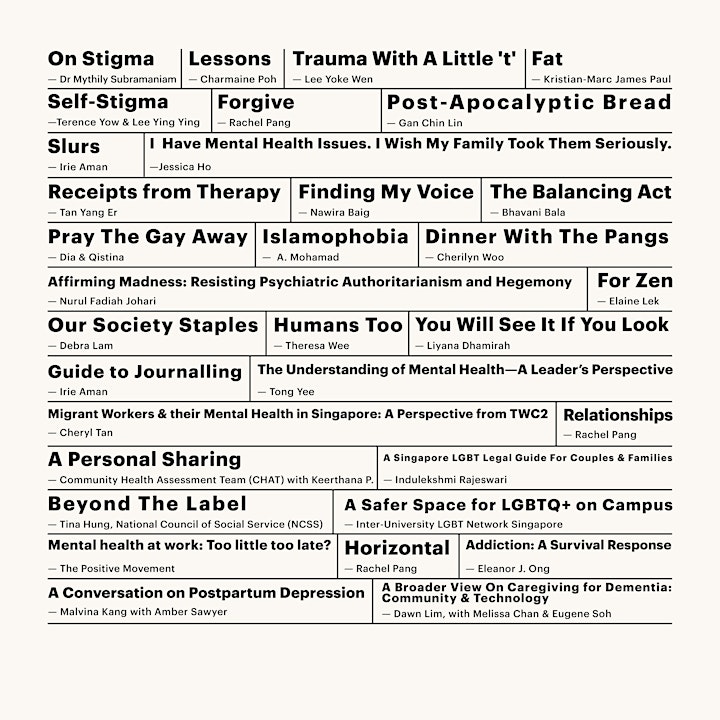 About the White Book
White: Behind Mental Health Stigma is a book about mental health in Singapore told through the perspectives of fifty voices. The first edition brings together academic perspectives, professional insights and personal narratives over a broad range of topics such as addiction, dementia and childhood trauma, to seeking treatment, navigating mental health within families, and mental wellness in the workplace. These are accompanied by tips and frameworks that you may find useful in your own journey to take charge of your mental wellness.
About the Publisher
Xiangyun Lim (she/her) is the publisher and founder of KLIN STUDIO and KLIN PRESS. She is also the editor of @thewhitebooksg, which attempts to unpack and reset our language and norms around mental health. She believes that our relationship with mental health reflects much of what it means to be with ourselves and one another, and is constantly unlearning as she learns.
About Common Ground
Common Ground seeks to bring communities together and develop the innovation that arises from these collaborations.
With the White Book Book Club being the latest product of synergy between Common Ground and KLIN STUDIO, we hope to provide a platform for likeminded but diverse individuals to come together and share their perspectives on mental health and wellness, and leave with new ways of seeing and understanding.