"Do not judge me by my successes, judge me by how many times I fell down and got back up again." -Nelson Mandela
About this event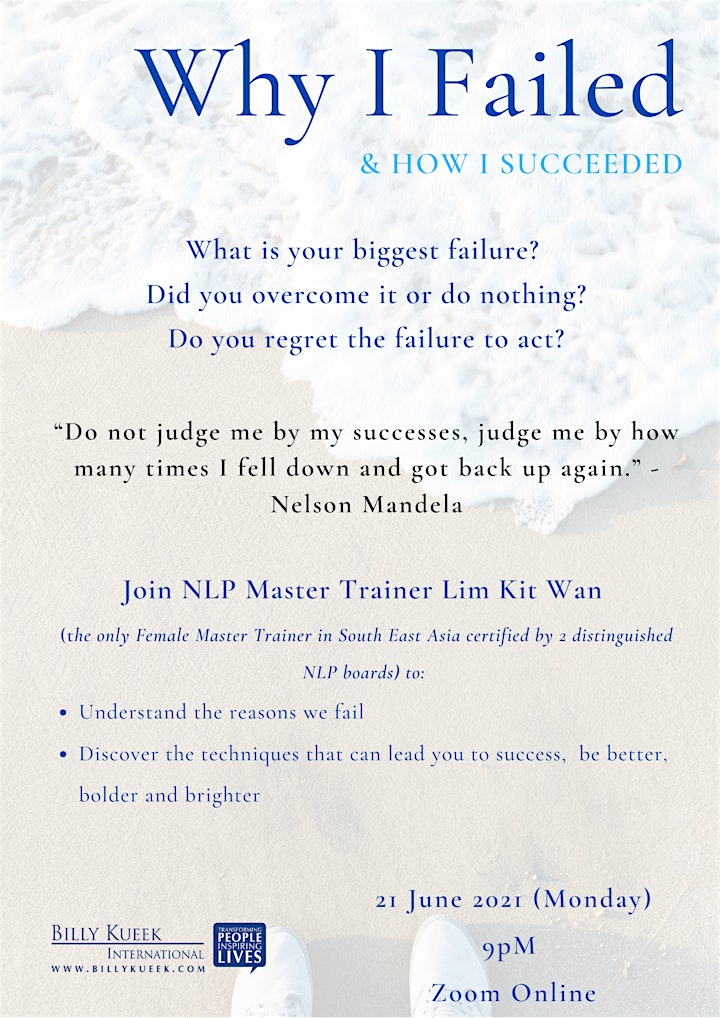 Thomas Edison, Oprah Winfrey, J.K Rowling and Bill Gates (to name a few) all have one thing in common among them and it is not the money or the fame or their successful enterprises. It is in fact, in their journey to their accomplished business and making their visualizations come true, none of them succeeded in their first attempt. They failed many times before attaining their sweetest victory. They see why they failed and never let the fear of failure conquer them.
Can we be like them? Can we be better? Can we get out of this catacomb we created?
The answer is Yes.
Most of us failure is always seen as a negative thing and often enough, we give up the intention to try and deemed our dreams as invalid and impractical. We refused to start again or be reluctant to do something new. We let in control our life and began thinking luck is just not on our side therefore better not attempt to do anything.
Think about this questions.
What is your biggest failure?
Did you overcome it or do nothing?
Do you regret the failure to act?
In reality, it is our attitude and beliefs about failure is what defines and determines whether we grow to be resilient and come back stronger with better perspectives or we fall hard, lose self-esteem and have many doubts.
Join NLP Master Trainer, Kit, (the only Female Master Trainer in South East Asia certified by 2 distinguished NLP boards) in understanding and embracing that true success does comes in many little failures and discover the power and techniques to do something about it than hiding from it. It is easier than it seems, and you will know how to overcome it and how to succeed.
Billy Kueek International is inviting you to a scheduled Zoom meeting.
Topic: Why I failed & How I Succeeded
Time: Jun 21, 2021 09:00 PM Kuala Lumpur
Join Zoom Meeting
https://zoom.us/j/98941224864
Meeting ID: 989 4122 4864
Passcode: Register for Password
Organiser of Why I failed and How I Succeeded
At Billy Kueek International, we take P.R.I.D.E. as a premier provider of excellent HR & Management Consulting and Training Solutions to Inspire, Motivate and Strengthen our clients to reach their highest potential and improve their lives wholesomely.
Recogized as the premier training company in the region, Billy Kueek International is led by Billy Kueek himself. Our office in Malaysia is run by Country Director Lim Kit Wan. Billy is the first Hypnotherapy Master Trainer in South-East Asia, and both Billy & Kit are the only NLP Master Trainers certified by both the American Board of NLP (ABNLP) & NLP University (NLPU). 
Today, the company has a team of trainers, associate consultants and coaches from varied industries who are able to offer their expertise and knowledge to meet our clients' diversified needs. All our trainers are hand-picked certified MasterClass Trainers while our coaches are certified in Impact System© Coaching and/or NLP Coaching, backed by their certifications in Neuro-Linguistic Programming (NLP), Time Line Therapy™ and Hypnotherapy.
To date, we have trained over 1,500 trainers regionally and we are the largest ABNLP, TLTA and ABH approved NLP, TLT and Hypnotherapy Training Institute in Asia. With offices in Singapore and Kuala Lumpur, Malaysia, Billy Kueek International also has representations in Australia, China, Indonesia, Hong Kong/ China, Japan, Taiwan, Vietnam and Thailand.
We continuously empower ourselves so that you too can be empowered!
For more info:
Google map link to our KL office
+6012 434 9500 / +6012 495 9500 /+6012 649 6500 (KL) 
+65 8388 0500 (SG)