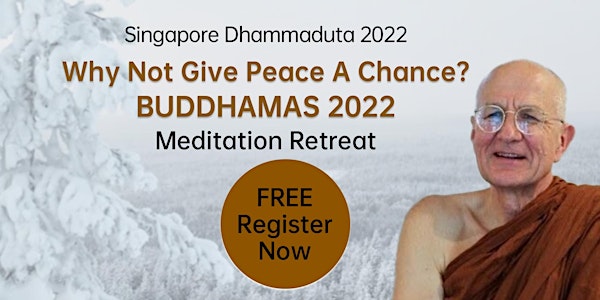 Why Not Give Peace A Chance? BUDDHAMAS Meditation Retreat Ajahn Viradhammo
Why Not Give Peace A Chance? A Buddhamas Meditation Retreat with Ajahn Viradhammo in Singapore from 16 - 18 Dec 2022
When and where
Location
Palelai Buddhist Temple 49 Bedok Walk Singapore, 469145 Singapore
About this event
Why Not Give Peace A Chance?
A Buddhamas Meditation Retreat with
Ajahn Viradhammo in Singapore
from 16 - 18 Dec 2022
8am - 5pm
AJAHN VIRADHAMMO
Abbot, Tisarana Buddhist Monastery (Canada)
Ajahn Viradhammo became a novice in 1973 and was ordained at Wat Pah Pong with Ajahn Chah in 1974. He was one of the first residents at Wat Pah Nanachat, the international monastery in Thailand. In 1977, Ajahn Chah asked him to join Ajahn Sumedho at the Hampstead Vihāra in London. Later, he also helped in the establishment of both the Chithurst and Harnham monasteries in the UK. In 1985, Ajahn Viradhammo was invited to New Zealand to set up Bodhinyānārāma monastery. In 1995, he went back to the UK to assist Ajahn Sumedho at Amarāvati Buddhist Monastery where he stayed for four years before returning to New Zealand and lived there until 2002. He was living in Ottawa caring for his mother for nine years and is now resident full time at Tisarana Buddhist Monastery, Canada.