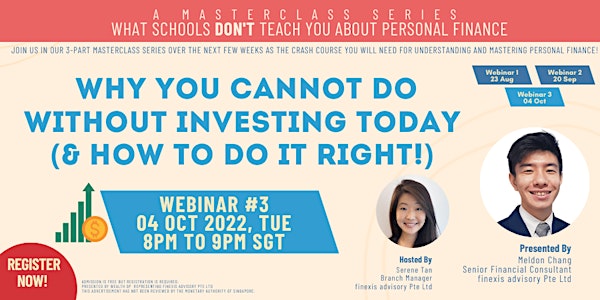 Why You Cannot Do Without Investing Today (& How To Do It Right)
Presented by Wealth GPs, representing finexis advisory Pte Ltd, a leading licensed financial advisory firm in Singapore.
About this event
Not sure what's investing about but curious to know more?
As we experience the impacts of inflation and global events personally, find out why you should have gotten on board with investing yesterday (or as early on as possible).
However, over the past few years, investing has become much more accessible but might also sound much more complicated. Join us to find out how you can start investing now and investing right!
What We Will Cover In The Webinar
What do you need to know about investing
Types of investments and risk factors
How to Start Investing Right (and in an easy manner)
About the Speaker
Living by his firm values to Educate, Envision, and Empower, Meldon hopes to bridge the gap in financial literacy and bring forth unbiased and objective advice to the people he meets. Being in the financial services industry for 4 years, he is highly sought after by young adults to bring them clarity on their financial planning journey, and to invest safer and smarter. Meldon is a member of the Million Dollar Round Table®, an international recognition of Financial Professionals in the world. Meldon is also currently pursuing his CFP® Certification (Certified Financial Planner™).
JOIN US!
This webinar is suitable for all that are keen to understand more about personal finance and managing their own finances.
This webinar is the last webinar of a 3 part Masterclass Series on Personal Finance: What Schools Don't Teach You About Personal Finance
Join us from Aug to Oct 2022 as this is THE crash course you will need for understanding and mastering personal finance:
Part I - 23 Aug, 8PM to 9PM: Why Your Bank Account Is Not Growing and How to Grow It
Part II - 20 Sep, 8PM to 9PM: What Your Insurance Agent Does Not Want You To Hear
Part III - 04 Oct, 8PM to 9PM: Why You Cannot Do Without Investing Today (& How To Do It Right)