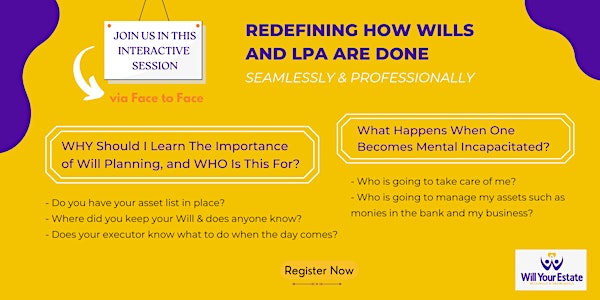 Multiple dates
Wills & LPA [Group Sharing]
(Physical event) Redefining how Wills and LPA are done - Seamlessly & Professionally
Date and time
May 6, 2021 · 7pm - February 27, 2025 · 8:30pm +08
Location
Chinatown 195 Pearl's Hill Terrace #03-41 Singapore, 168976 Singapore
About this event
CASE STUDY 1: 'Oh no, my grandma was recently diagnosed with dementia and the property is under joint tenancy with my grandpa. Their property is under en-bloc and the keys to their new unit is ready for collection. But we can't collect on her behalf. HOW?'
CASE STUDY 2: 'The news reported a family of 4 was on a holiday trip, unfortunately they met with a car accident, and only the 2 young children survived. Who's going to take care of them and what will happen to the deceased property and other estates?' (Source: The Straits Times)
The above are some examples of real cases from our client and from the news. We are here to share and help individual and families to protect their peace and dignity.
Whether you have done your Will & Lasting Power of Attorney (LPA), it is good to relearn what are important to mention in your Will & the things to note in appointing your donees for your LPA.
In this sharing session, we'll go through:
1. What is Advance Medical Directive (AMD)?
2. What is Lasting Power of Attorney (LPA)?
3. What are the consequences of not having an LPA?
4. What is a valid will?
5. The difference between Letters of Administration vs Wills
6. What will happen to my assets and minor children if I pass on without a valid will?
You will understand how to ensure that your loved ones are able to retain control over your estate according to your planning.
- Register your interest and our team will reach out to you
- All are welcome to attend
- Admission is complimentary