Description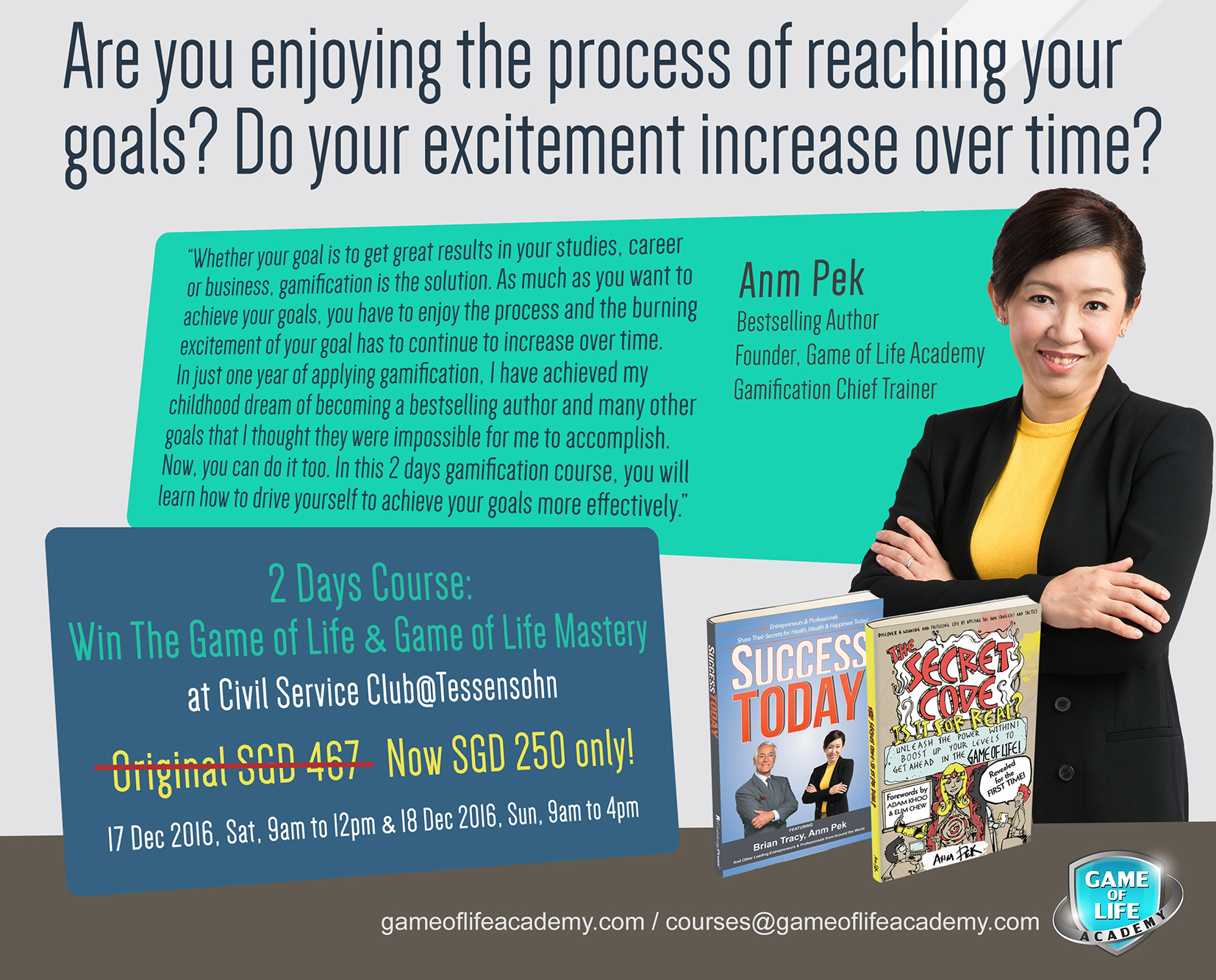 Are you enjoying the process of reaching your goals? Do your excitement increase over time?
"Whether your goal is to get great results in your studies, career or business, gamification is the solution. As much as you want to achieve your goals, you have to enjoy the process and the burning excitement of your goal has to continue to increase over time. In just one year of applying gamification, I have achieved my childhood dream of becoming a bestselling author and many other goals that I thought they were impossible for me to accomplish. Now, you can do it too. In this 2 days gamification course, you will learn how to drive yourself to achieve your goals more effectively." - Anm Pek, Bestselling Author, Founder of Game of Life Academy, Gamification Chief Trainer
Details of 2 Days Course:
Win The Game of Life & Game of Life Mastery
Fee: SGD 250 inclusive of course materials (PIC Claimable)
Original SGD467. Now SGD250 only!
17 Dec 2016 (Sat), 9am to 12pm
18 Dec 2016 (Sun), 9am to 4pm
17 Dec 2016, 9am to 12pm:
Course Title: Win The Game of Life
Duration: 3 hours
Course Outline:
1. Why Game? Why Gamification? The 10 positive emotions
2. Level Up You, Not Your Virtual Game Avatar
3. Gamer's Mindset
4. Epic Game of Life Strategy
5. Level 1 Quest: Discover your #1 Special Power?
6. Level 2 Quest: Solve Your Success Puzzle
7. Level 3 Quest: Doodle Your Winning Goal
8. Bonus Level Quest: Find Your Allies
18 Dec 2016, 9am to 4pm:
Course Title: Game of Life Mastery
Duration: 7 hours
Course Outline:
1. 8 Gamification Design Principles Put Into Practice
2. Epic Game of Life Strategy (Advanced)
3. Discover Your Character Class
4. Hero Transformational Model
5. Power Up Your Game Character
6. Getting into Your Game Character
7. Power Up Your Winning Goal
8. Form Alliance
9: Game Mapping For Strategies
10: Goal to Quest Model
11: Challenge Your Own Quest
Materials for the 2 Days Course:
Game of Life Prelude Booklet (Provided)
Game of Life: The Awakening of Heroes Booklet (Provided)
1 Recollect Deck and 1 Flashback Deck (Special Price: S$25, Retail Price: S$29.70)
Trainers:
Anm Pek
Anm Pek is the Founder of Gamification Solutions, Quextr and Chief Trainer of Game of Life Academy, devoted to providing gamification solutions to solve problems and create results in learning and empowerment. Anm has been in the game design field for over 15 years.
Anm is the creator of Game of Life: The Awakening of Heroes, the pioneer of gamified online course that she and her trainers have developed over the years, to train individuals to empower themselves and achieve their goals faster and easier than they ever imagined. In the gamified course, she is one of the Quest Masters, playing as "Metaphysics Cleric". She developed a Metaphysics Profiling system to identify people's game avatar and innate power. Anm also created Flashback and Recollect, collaborative learning card games to develop association skill, enhance creativity, memory, and Socratic questioning. Anm is a bestselling Author. She has written two books on gamification titled Success Today which hits 2 Amazon bestseller lists, and, The Secret Code: Is It for Real? with forewords by Asia's Top Success Coach, Adam Khoo and Social Entrepreneur, Elim Chew. Anm received her Best Seller Quilly Award on Best Seller's Summit & Golden Gala Awards by National Academy of Bestselling Authors on 25 September 2015 in Hollywood, California. It is one of the most influential, compelling events for Best Selling Authors who are committed to recognizing their success as a stepping stone on the path to further ambitions. The Best Seller Quilly Award is to honor Bestselling Authors around the world for their contribution to education, enlightenment and the advancement of business.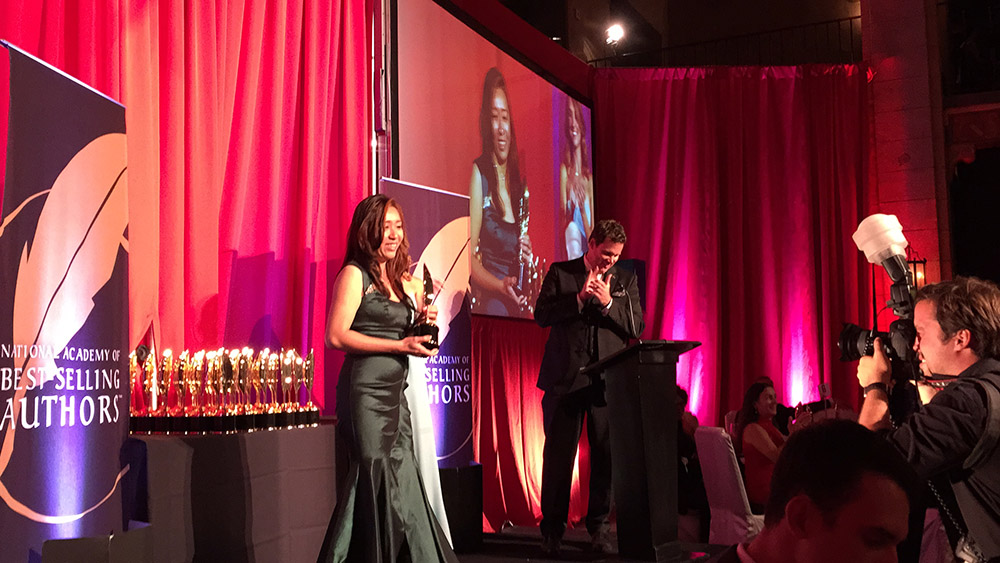 Anm appears on the Dean's list for her Bachelor of Science in Multimedia Technology and Design and received numerous distinctions and merit awards throughout her studies. In July 2014, she graduated with a Master of Science in Digital Media Technology (Nanyang Technological University, Singapore). Her research paper titled, Design and Development Beyond Fun: Serious Games with Social Impact has built her a strong foundation in the areas of gamification for empowering and learning. She is also an Educator since the year 2008, currently holding a position of associate lecturer at Nanyang Academy of Fine Arts, Singapore.
Vincent Soo
Vincent Soo believes strongly in helping individuals to develop their strengths to bring out the best in them. He has a Master of Social Science in Counselling and a Bachelor of Arts in Psychology. Vincent is a certified Positive Psychology Coach who specializes in coaching individuals and groups to identify, develop and apply their signature strengths to achieve personal and professional success. He has more than 15 years of experience working with youths, parents, couples and working adults in coaching, training and mentoring.
Zulqarnain Zulkiflee
Zulqarnain Zulkiflee, an avid doodler and a mind doodler trainer and consultant. He is also an author of an upcoming book "The Secret Code of Mind Doodling". Zul majored in Animation from Nanyang Academy of Fine Arts, Singapore. His vision is to level up people's life using doodle. His passion in doodling, combined with neurology and psychology as well in games, is to help people to develop life strategies to achieve their goals.
Registration:
Click on the TICKETS button now to begin your unbeatable and unstoppable quest to reach your goal.
For any inquiry on this course, feel free to email us at courses@gameoflifeacademy.com.
---
Click to Discover Your #1 Power for FREE