Win The Game of Life: Achieve Your Goal using Gamification (The Awakening o...
Description
Course Title:
Win The Game of Life: Achieve Your Goal using Gamification (The Awakening of Heroes Prelude)
Course Code: LC06

Duration: 3 hours
Fee: S$37 inclusive of course material
Register free with us now and pay at the later date. - Note: We will follow-up with an email for ticket fee payment of S$37 (per pax) when a minimum number of participants have registered. After payment, you will be received a confirmation email and details of the course from us.
Bring a friend along and pay lesser. You all just need to pay S$60 for 2 tickets.
Bring 2 friends along and pay even lesser. You all just need to pay S$90 for 3 tickets.
Bring 3 friends along and pay even much lesser. You all just need to pay S$100 for 4 tickets.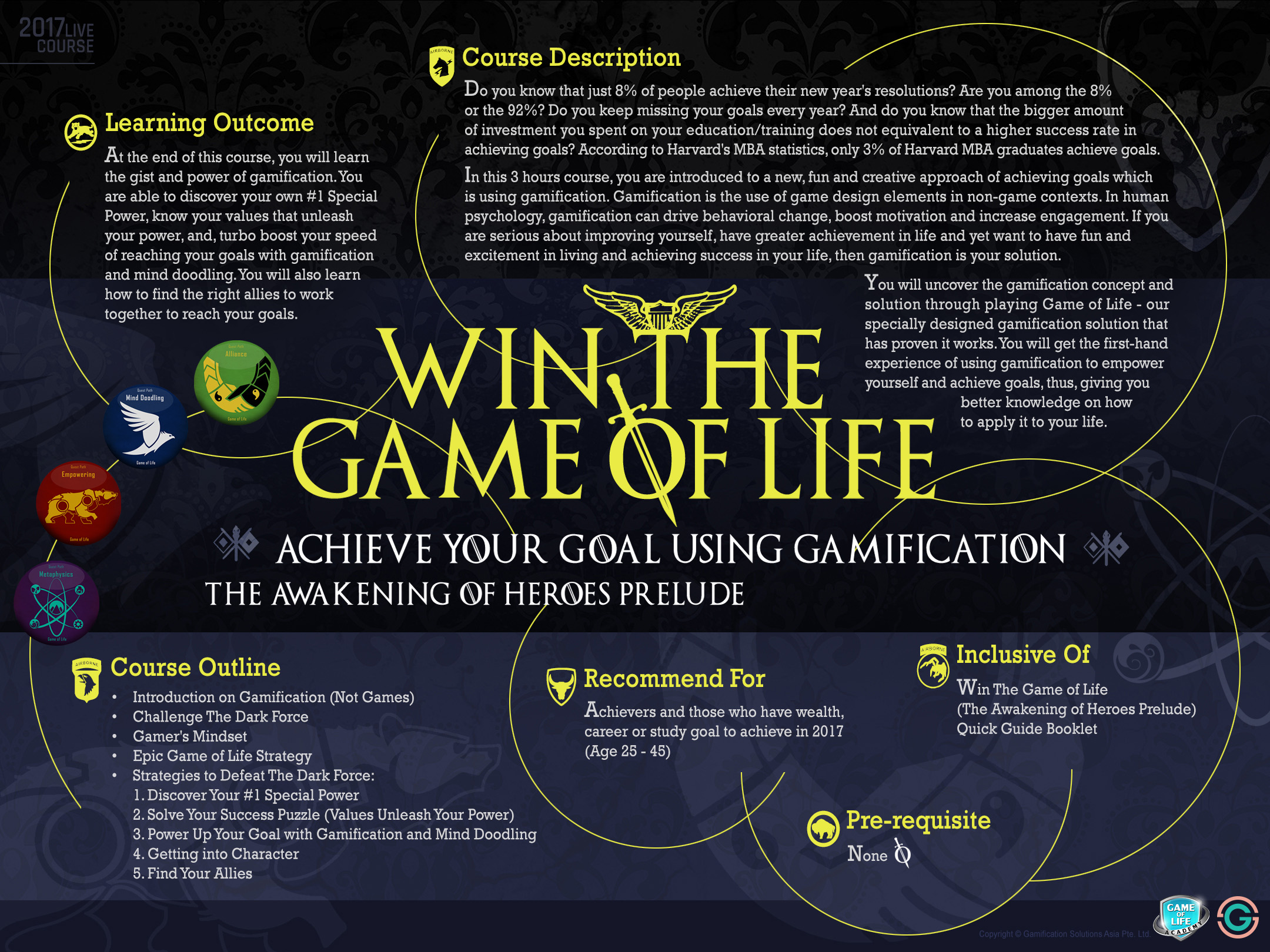 Click on the above course infographic image to download
Description:
Do you know that just 8% of people achieve their new year's resolutions? Are you among the 8% or the 92%? Do you keep missing your goals every year?
And do you know that the bigger amount of investment you spent on your education/training does not equivalent to a higher success rate in achieving goals? According to Harvard's MBA statistics, only 3% of Harvard MBA graduates achieve goals.
In this 3 hours course, you are introduced to a new, fun and creative approach of achieving goals which is using gamification. Gamification is the use of game design elements in non-game contexts. In human psychology, gamification can drive behavioral change, boost motivation and increase engagement. If you are serious about improving yourself, have greater achievement in life and yet want to have fun and excitement in living and achieving success in your life, then gamification is your solution.
You will uncover the gamification concept and solution through playing Game of Life - our specially designed gamification solution that has proven it works. You will get the first-hand experience of using gamification to empower yourself and achieve goals, thus, giving you better knowledge on how to apply it to your life.
Learning Outcomes:
At the end of this course, You will learn the gist and power of gamification. You are able to discover your own #1 Special Power, know your values that unleash your power, and, turbo boost your speed of reaching your goals with gamification and mind doodling. You will also learn how to find the right allies to work together to reach your goals.
Course Outline:
Introduction on Gamification (Not Games)
Challenge The Dark Force
Gamer's Mindset
Epic Game of Life Strategy
Strategies to Defeat The Dark Force:
- Discover Your #1 Special Power
- Solve Your Success Puzzle (Values Unleash Your Power)
- Power Up Your Goal with Gamification and Mind Doodling
Getting into Character
Find Your Allies
Recommend For: Achievers and those who have wealth, career or study goal to reach (Age 25 - 45)
Material Provided: Win The Game of Life (The Awakening of Heroes Prelude) Quick Guide Booklet
Note: We reserve the rights to alter the course content, class schedule and fee structure without prior notice.
Please write to us at courses@gameoflifeacademy.com if you would like to be on the mailing list for further enrolment updates.
_________________________________________________________________________________
Stories of participants of Win The Game of Life:
Fenn has extensive experience in supply chain. As she approaches her 35th birthday, she suffers from bouts migraines and begins to questions her purpose in life. Through a new migrant, Fenn becomes acquainted with me. Subsequently, Fenn has attended a series of workshops on 'Win The Game of Life' last year.
That becomes the turning point in her life. At the first live course, it dawns on Fenn that her personal strength is the "power of pioneering". The "power of pioneering" means she is innovative and inventive. As a result, she focuses on her interest in Japanese comics and works towards a brand-new e-commerce store. In order to realise her life goals, Fenn enrolls for Japanese language classes so that she can better interact with Japanese comic artists.
'Win The Game of Life' helps her to know more about herself. She starts to understand what are her strengths and how she can utilize her strengths to help her to achieve her goals. She believes it is important for people to understand their strengths and weaknesses as early as possible, so they can find a suitable way for them to achieve what they want in life. Thus, Fenn recommends this game for people who have difficulty to find a suitable method for them to achieve their goals.
With her newly-found zest in life, Fenn is ready to unleash her full potential in her work and the path to her successful career.
Hun is an IT project engineer with a Fortune 100 company. Intrigued by Fenn's rave review, Hun recently signs up for a 'Win The Game of Life' live course. Fascinated by how games could help oneself be empowered, Hun becomes more involved in my subsequent projects.
Prior to the first live course, Hun was at a loss with his life goals. He was constantly frustrated with fluctuating clients' demands and he suffered insomnia. Hun was fraught with anxiety with his career decisions and the right path to take.
At his first live course, Hun learns he has the "Power of analyzing". That is, the power of information. There was clear evidence he frequently uses words such as "system" and "organised". Hun is knowledgeable and great in learning abilities. He excels in academic and research. As the workshop draws to a close, Hun pinpoints his motivation using gamification.
Hun confesses, "I know about myself learn what must do to make my life more beneficial for me and others. It is interesting to find out about my inner character."
Hun is determined to take up a bigger job that focuses on his strength in analysis. His new role requires him to be more involved in programming which is his forte. As Hun's career flourishes, he enjoys restful sleep and better health.
* Names changed to protect the confidentiality of the participants.
_________________________________________________________________________________
Trainer:
Anm Pek
is the Founder of Gamification Solutions, Quextr and Chief Trainer of Game of Life Academy, devoted to providing gamification solutions to solve problems and create results in learning and empowerment. Anm has been in the game design field for over 15 years.
Anm is the creator of Game of Life: The Awakening of Heroes, the pioneer of gamified online course that she and her trainers have developed over the years, to train individuals to empower themselves and achieve their goals faster and easier than they ever imagined. In the gamified course, she is one of the Quest Masters, playing as "Metaphysics Cleric". She developed a Metaphysics Profiling system to identify people's game avatar and innate power. Anm also created Flashback and Recollect, collaborative learning card games to develop association skill, enhance creativity, memory, and Socratic questioning. Anm is a bestselling Author. She has written two books on gamification titled Success Today which hits 2 Amazon bestseller lists, and, The Secret Code: Is It for Real? with forewords by Asia's Top Success Coach, Adam Khoo and Social Entrepreneur, Elim Chew. Anm received her Best Seller Quilly Award on Best Seller's Summit & Golden Gala Awards by National Academy of Bestselling Authors on 25 September 2015 in Hollywood, California. It is one of the most influential, compelling events for Best Selling Authors who are committed to recognizing their success as a stepping stone on the path to further ambitions. The Best Seller Quilly Award is to honor Bestselling Authors around the world for their contribution to education, enlightenment and the advancement of business.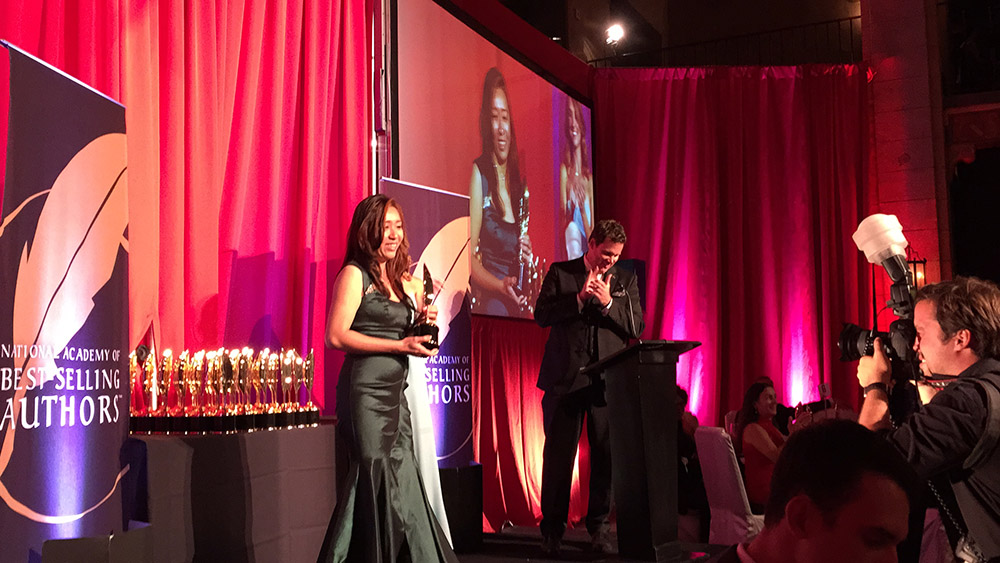 Anm appears on Dean's list for her Bachelor of Science in Multimedia Technology and Design and received numerous distinctions and merit awards throughout her studies. In July 2014, she graduated with a Master of Science in Digital Media Technology (Nanyang Technological University, Singapore). Her research paper titled, Design and Development Beyond Fun: Serious Games with Social Impact has built her a strong foundation in the areas of gamification for empowering and learning. She is also an Educator since the year 2008, currently holding a position of associate lecturer at Nanyang Academy of Fine Arts, Singapore.
Guests:
Zulqarnain Zulkiflee
is an avid doodler and a mind doodler trainer and consultant. He plays the character, Mind Doodler, in Game of Life. He is also an author of an upcoming book "The Secret Code of Mind Doodling". Zul majored in Animation from Nanyang Academy of Fine Arts, Singapore. His vision is to level up people's life using doodle. His passion in doodling, combined with neurology and psychology as well in games, is to help people to develop life strategies to achieve their goals.
Vincent Soo
believes strongly in helping individuals to develop their strengths to bring out the best in them. He plays the character, Strength Activist, in Game of Life. He has a Master of Social Science in Counselling and a Bachelor of Arts in Psychology. Vincent is a certified Positive Psychology Coach who specializes in coaching individuals and groups to identify, develop and apply their signature strengths to achieve personal and professional success. He has more than 15 years of experience working with youths, parents, couples and working adults in coaching, training and mentoring.
Free Registration, Pay Later:
Click on SELECT A DATE button now to secure your seat. Take a small first step to begin a fun and exciting adventurous journey to play and achieve your goals.
For any inquiry on this course, feel free to email us at courses@gameoflifeacademy.com.