About this event
Update:
Get your ticket on Bsport! Find out below.
Yoga For Women!
Join Coach Rhenita as she brings you through her yoga flow at the park!
BRING
Yoga Mat or Big Towel
Water Bottle
Yoga Belt
Yoga Block
MEETING POINT
Walk on the path through Bukit Timah Gate (just outside Botanic Gardens MRT Exit A) and you will find a big tree in a huge field. We are there!
*IMPORTANT*
Please gather *10 minutes earlier* for registration and temperature checks
Event is STRICTLY limited to registered participants due to government regulations.
Participants MUST register through Eventbrite and produce their ticket to be permitted to join the class.
All participants have to be separated into sub-groups of no more than 2 pax each, with at least 3m between sub-groups
Events are always free for helpers!
For the public, the first session is free, and then $15 thereafter should you join us in another class. This fee is to cover operational costs in making these HelpHer Do Better classes possible.
Don't worry, HelpHer Do Better events are still happening!
With Bsport, you will be able to easily view all our upcoming sessions in one page.
This Sunday morning at 9 January 2022, look forward to:
HIIT Cardiomix @ Botanic Gardens
Yoga for Women @ Botanic Gardens
Bootcamp @ Fort Canning Park
After installing the Bsport app, follow the visual guide below to learn how you can book your reservation for these events!
**If you are still facing issues with the app, you may refer to the desktop version of the HelpHerBetter calendar by clicking here!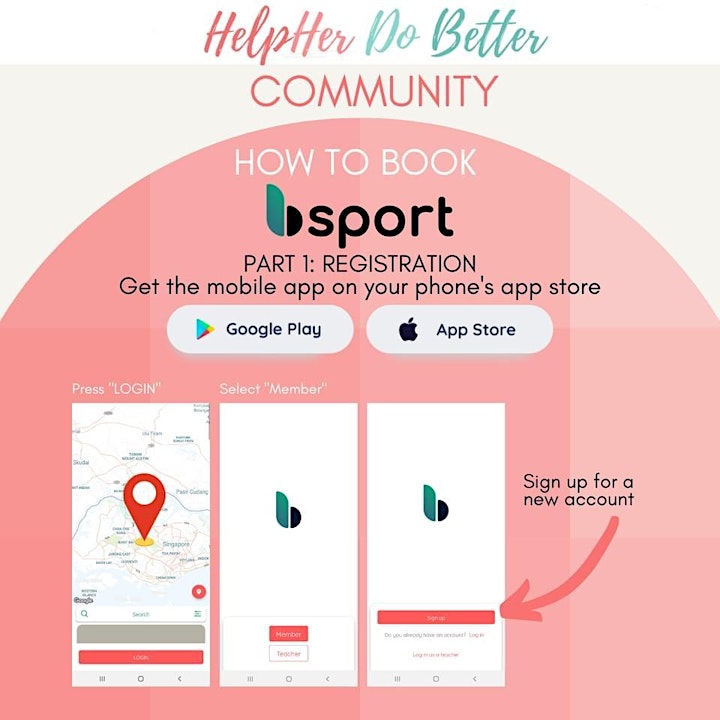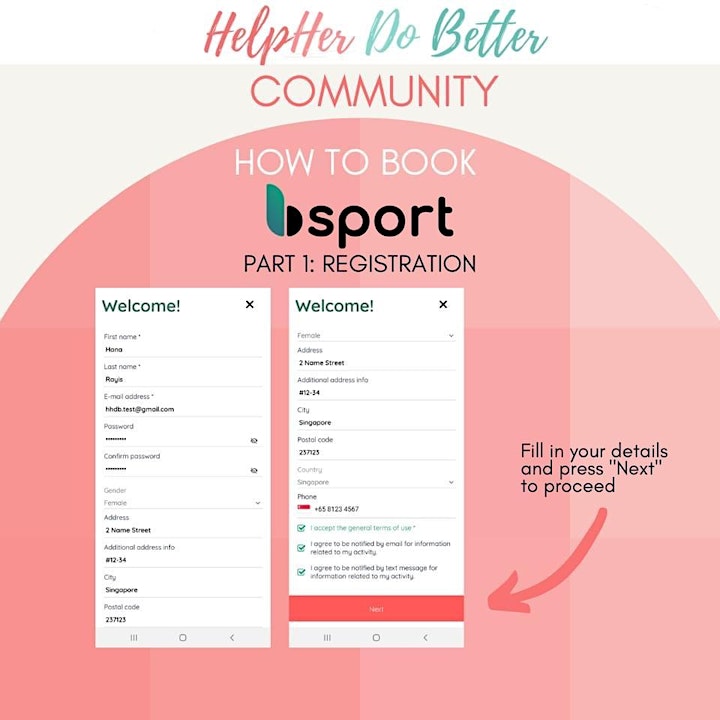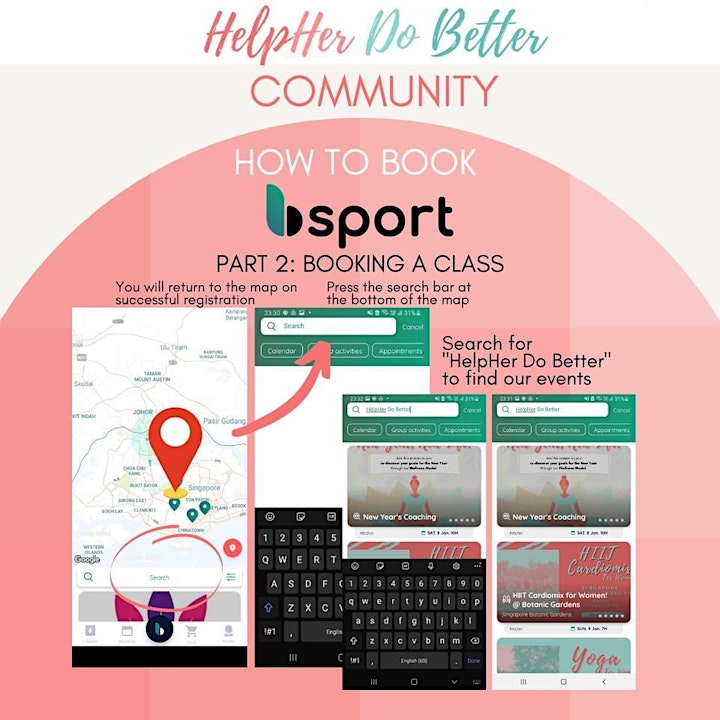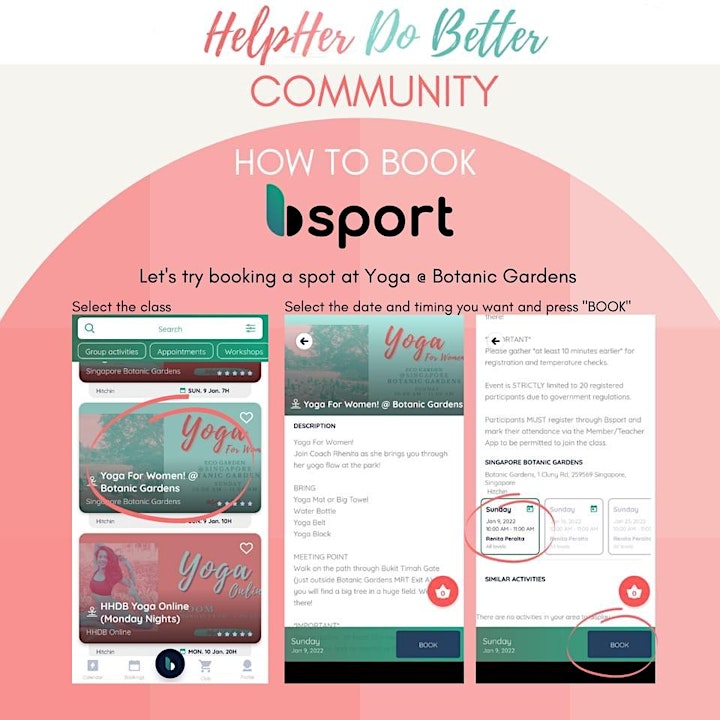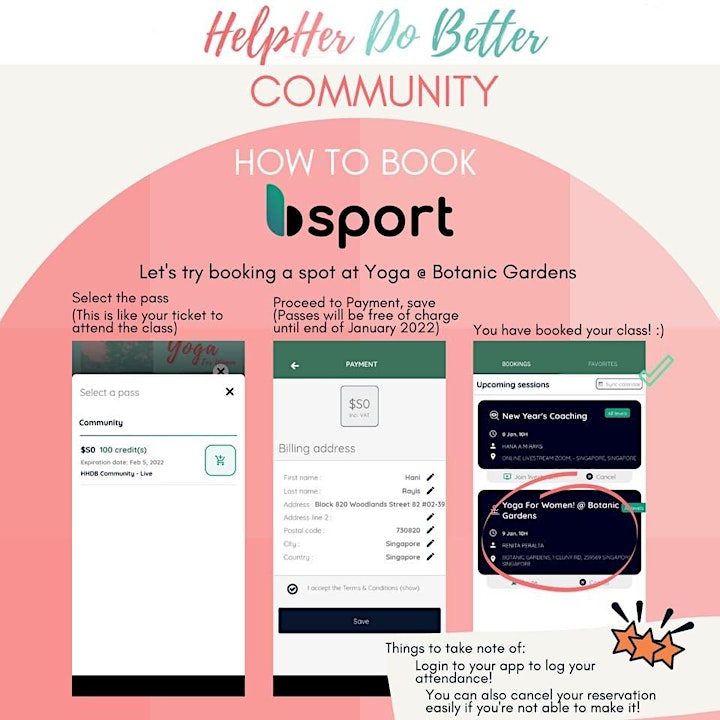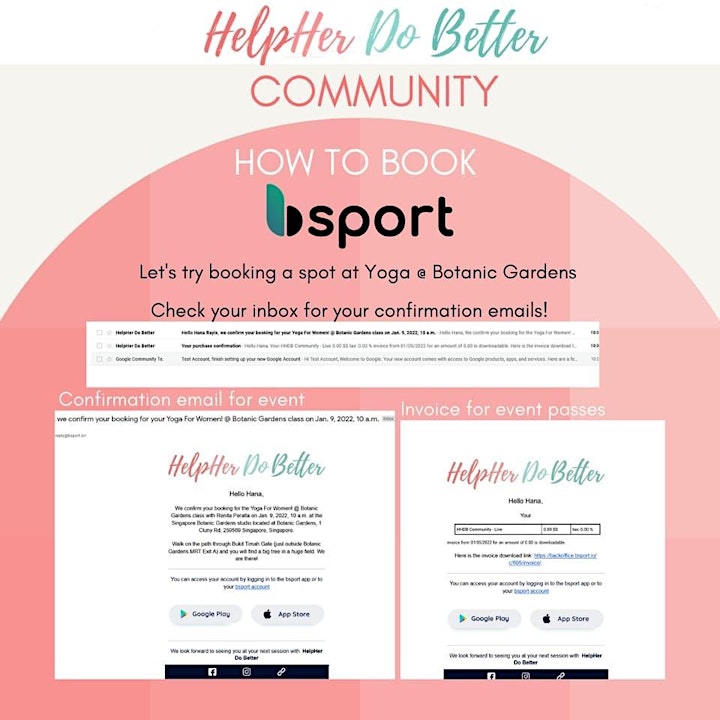 Organiser of Women @ Botanic Gardens
What started off as an inspiration to make Foreign Domestic Workers (FDWs or better known as helpers) feel better during their free time, it has evolved into a social enterprise that aims to help FDWs in gaining their humanity, womanhood, and self-esteem via the sharing of knowledge and mental wellness.