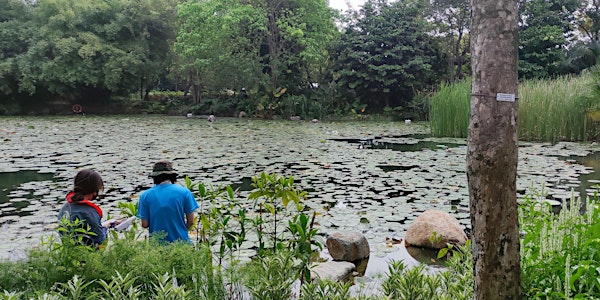 Wonderful Wetlands Series: Mangrove Monitoring
Join us as a citizen scientist to collect data for monitoring the growth of mangroves and biodiversity planted in Kingfisher Wetlands!
When and where
Location
Kingfisher Wetlands Wildlife Lookout 18 Marina Gardens Dr Singapore, 018953 Singapore
About this event
Through an outdoor field session, participants will get to experience first-hand on how mangroves are monitored using a science-based approach, learn about blue carbon and discover the importance of mangroves and coastal ecosystems. During the activity, participants will learn techniques to monitor mangrove health and conduct fauna survey.
This 2.5hour programme includes an on-site briefing on mangroves and introduction to Kingfisher Wetlands, before proceeding with hands-on session to monitor mangroves in the Wetlands and conduct terrestrial fauna survey.
As the activity requires entering the pond (up to knee-deep level), all participants have to meet the following requirements:
At least 18 years old
Physically fit to carry out strenuous exercise
Confident swimmer
Appropriately dressed (long pants, covered shoes) for the field session (More details on attire will be sent in the confirmation email)
Things to bring
Spare change of clothes and shoes . Kindly note that there are no shower facilities, but participants may use the toilets at Satay by the Bay for change of clothes.
Encouraged to bring sun-shielding (e.g. cap, sunblock, sunglasses) and rain-protection (E.g. poncho, umbrella) items
Pack light as there are no storage space at Kingfisher Wetlands for personal belongings. Encouraged to bring a dry bag/ waterproof bag and waterproof handphone pouch. Alternatively, you may use the locker at the Arrival Plaza near the taxi stand (next to the toilet at the Gift Shop) before heading to Kingfisher Wetlands.
You may wish to bring your binoculars if you have a pair.